5 Reasons We Love Patek Philippe's 50th Anniversary Golden Golden Ellipse
Introduced in 1968 with proportions inspired by the "golden ratio", the Patek Philippe Golden Ellipse is the second oldest watch in the Patek Philippe collection after the Calatrava (introduced in 1932). Originally offered with a shimmering blue dial framed in yellow gold, the elliptical case of the Golden Ellipse established itself as a symbol of elegance and style.
Over the years, Patek has created hundreds of versions of the original iconic model using multiple different precious metals in a variety of case sizes, including haute joaillerie versions for ladies. Five decades of the Golden Ellipse have seen adaptations for cuff links, rings, and lighters. To celebrate the 50th anniversary of the model this year, Patek Philippe has added two new versions to the Golden Ellipse collection. While there are many reasons to love any anniversary edition wristwatch produced by Patek, here are five reasons we love the 50th Anniversary Golden Ellipse Timepieces.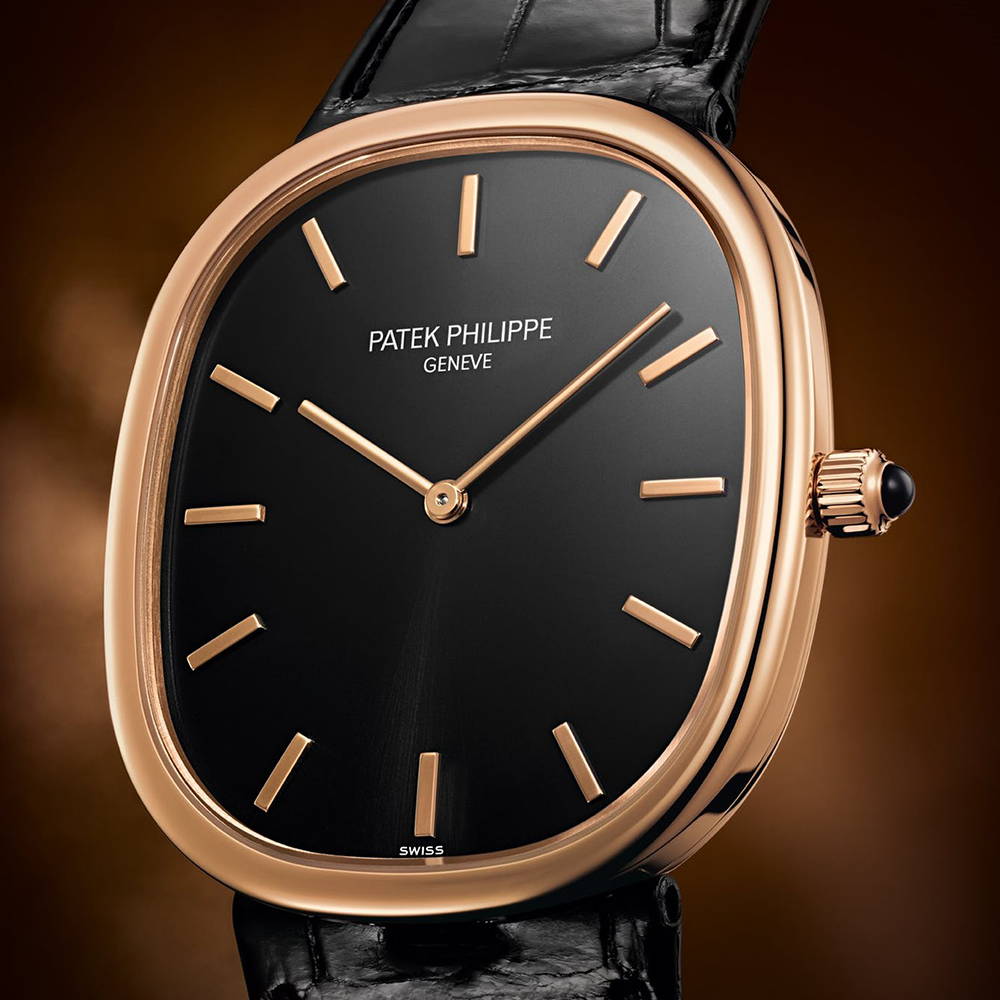 Oversized
Following the 40th anniversary edition of the Golden Ellipse introduced in 2008, the Golden Ellipse Reference 5738R-001, in rose gold with a black dial, follows the grande-taille size of 34mm x 39.5mm. While oversized, the case is also quite slim, with a thickness of only 5.9mm.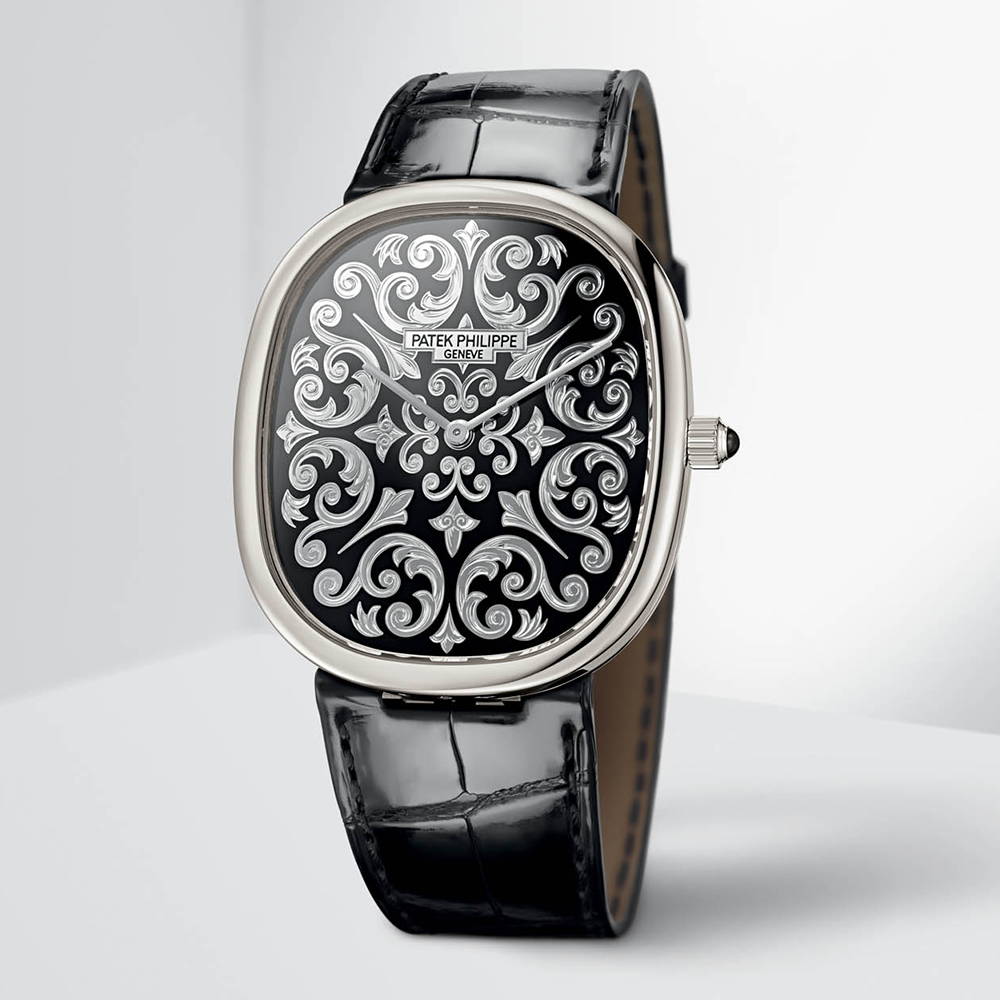 Contrasting Tones
Reference 5738R-001 features the warm tones of polished rose gold matched with an ebony black sunburst dial. Adorned with applied hour markers in rose gold, the 50th Anniversary Golden Ellipse's winding crown is set with a black onyx cabochon. Rose gold cheveu hands are complimented by a polished black alligator strap.
The limited edition Golden Ellipse Reference 5738/50P-001 is crafted in platinum. A black enamel dial is decorated in a volute pattern which is manually engraved in the white-gold plate. This decoration requires hours of work by a master engraver. White gold cheveu hands and platinum prong buckle shaped to echo the elliptical case shape are completed by a hand-stitched black alligator strap.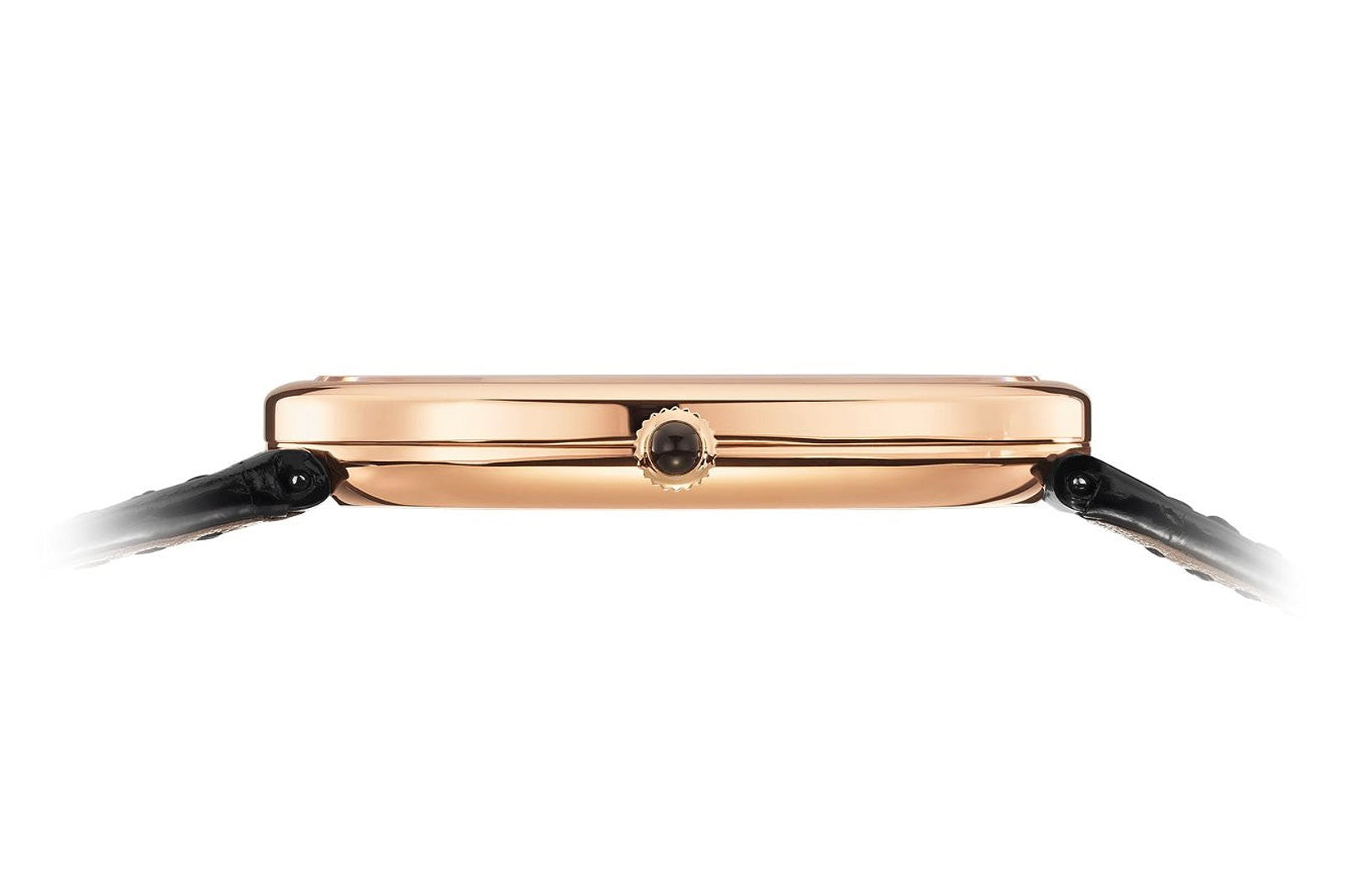 Ultra-Thin
Measuring a scant 5.9mm in thickness thanks to the ultra-thin self-winding Calibre 240 movement, the 50th anniversary Golden Ellipse timepieces beat at 21,600 vph (3 Hz) with a power reserve of 48 hours. A 22K gold minirotor helps limit the height of the movement to 2.53mm. Constructed of 161 parts and utilizing 6 bridges and 27 jewels, the Calibre 240 is classic Patek Philippe.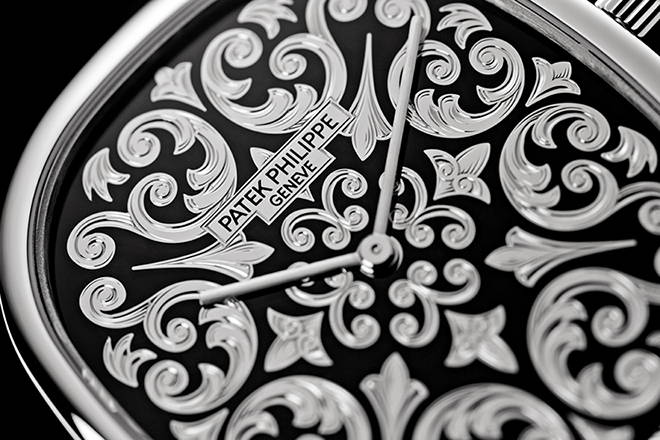 Limited Edition
Reference 5738/50P-001 is a 100-piece limited edition offering of the Golden Ellipse by Patek Philippe. Cased in platinum and decorated on the case back with the commemorative engraving "Ellipse d'Or 1968- 2018". As with all platinum Patek Philippe watches, Ref. 5738/50P-001 features a diamond set in the case band at six o'clock. The dial is faced with a black Grand Feu enamel layer which reveals the 18K white gold dial plate. The center is reminiscent of Patek Philippe's logo, the Calatrava cross and is surrounded by an intricate hand-engraved volute pattern.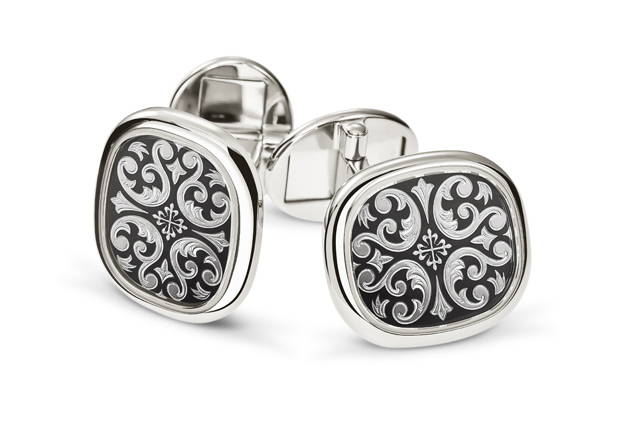 Matching Cuff Links
The Patek Philippe Golden Ellipse Reference 5738/50P-001 limited edition timepiece comes in a box with matching white-gold cufflinks in the Golden Ellipse design. The black enamel inlay of the cuff links highlights hand-engraved volutes around a Calatrava cross.
Every watch crafted by Patek Philippe is unique. Anniversary editions pay homage to the history of the brand while incorporating special features in limited editions. The 50th Anniversary Golden Ellipse timepieces are no exception, blending perfectly the intricacies of hand-engraved details with the contrast of timeless materials in an eye-catching classic design.
See our entire collection at our San Francisco or Palo Alto locations.