After the Proposal: How to Resize Your Ring
First of all, congratulations on your engagement! The perfect ring has found its permanent home on your left hand. Well, mostly perfect. Your fiancé, despite his best efforts, didn't quite get the size right. No problem. That's an easy fix! Here are some of the questions about resizing rings we often get:
What kind of rings can be resized?
As long as it's made of a metal that a jeweler can work with, like silver, gold, or platinum, you can have the ring resized. Rings with diamonds or more intricate designs on the band are a bit trickier. For example, if your ring has channel settings, the jeweler may need to rearrange some stones during the process. Metals like tungsten carbide and titanium cannot be resized, so the sizing must be right when you order it.
How much smaller or larger can a jeweler make my ring?
Typically, rings can be increased or decreased up to two sizes. Anything more than that puts too much stress on the ring and could damage it.
How does a jeweler make my ring smaller?
We begin by cutting out a piece of the band. Next, we form it back to a perfect circle and solder it together. The real artistry comes in polishing the metal to perfection. When that is done, you won't be able to see any evidence the ring was altered. It will look exactly like it did when you dropped it off. The only difference you'll notice is that it fits better!
How does a jeweler make my ring larger?
This one is a bit trickier. The jeweler will gently stretch the metal to get it up to a full size larger. If the ring needs to be any larger than that, the band will be cut and an extra piece of metal will be added. This will maintain the strength of the metal and, as mentioned above, will be polished so there is no trace that anything was ever changed.
Can eternity bands be resized?
This is one type of ring we do not recommend resizing. If your diamond is set in a full eternity band with the stones set all the way around, there is no bare metal for the jeweler to work with. Each design is a bit different, so we suggest you ask the opinion of our professional jewelers.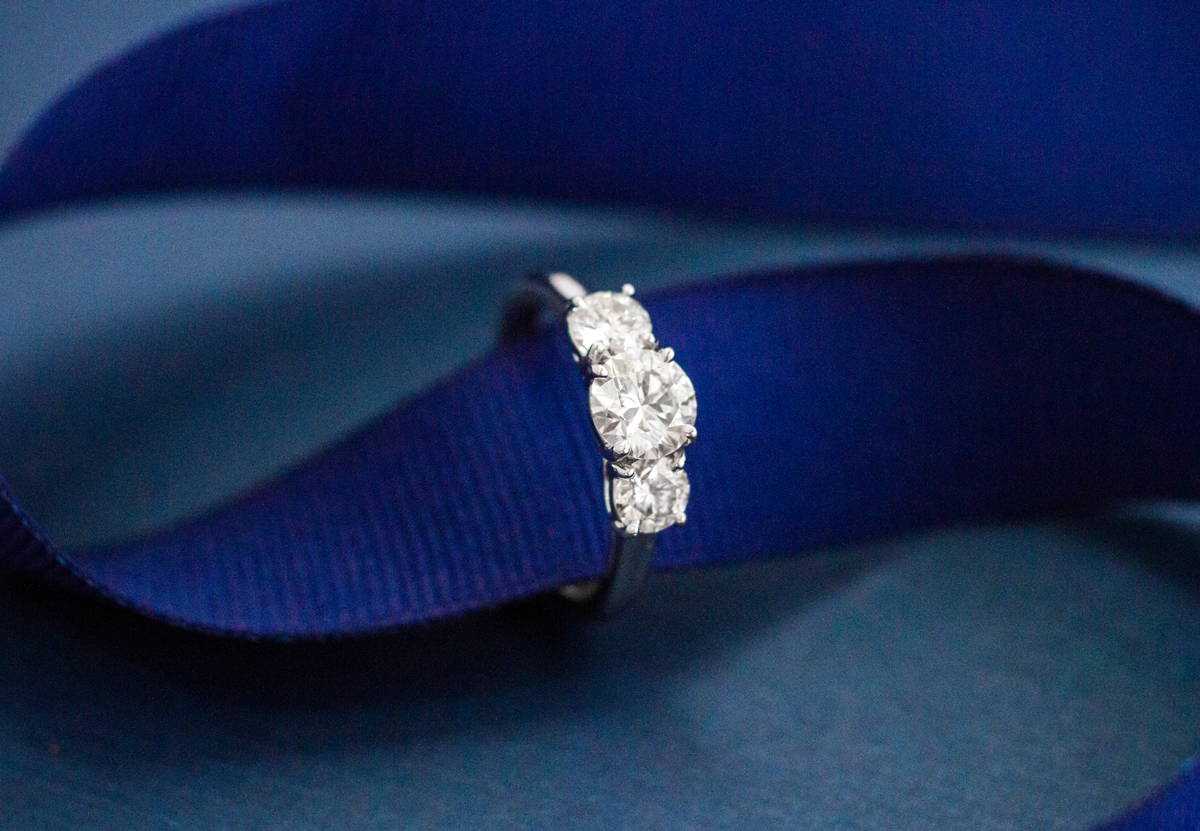 How long does it take to resize a ring?
We can typically resize your ring in one to two weeks.
How much does resizing cost?
The cost of resizing a ring can vary based on the type of metal the jeweler is working with, and the amount of time it takes to finish the project. We will provide you an estimate before we do any work.
How is a ring supposed to fit?
The answer to this is always "snug, but comfortable." It should go on your finger without a problem, and require just a little pull to get it off. If it is uncomfortably tight, it will need to be sized a bit larger. If it moves around too much or slips off easily, you'll want to go down a bit in size.
What can I do if the ring mostly fits, but moves from side to side?
Sometimes rings seem to fit just fine, but you'll notice the stones that were sitting atop your hand have rotated to the side. This means the ring is just a tad too big, but you may not need to resize it. Our jewelers can add something called a "sizing assistant" or a ring guard. That's a bar or two of small beads that are added to the interior of the ring. They'll reduce the size down by a mere quarter of a size, but their main function is to keep top-heavy rings from swinging to one side or the other.
What are my options if the ring is unable to be resized?
If the ring you love doesn't fit and can't be resized, there is still a solution. Our jewelers can remake the ring in the correct size using all the original materials.
Got another question we didn't cover here? You're welcome to stop in anytime at either of our California locations and speak to our staff about your individual piece.