After the Proposal: How to Select the Perfect Wedding Band
Engagement season is nearing an end which means its time to start planning. So, I thought what better way to ease the planning phase for all my recently engaged friends than to offer them some real advice on their next big purchase – buying her wedding band.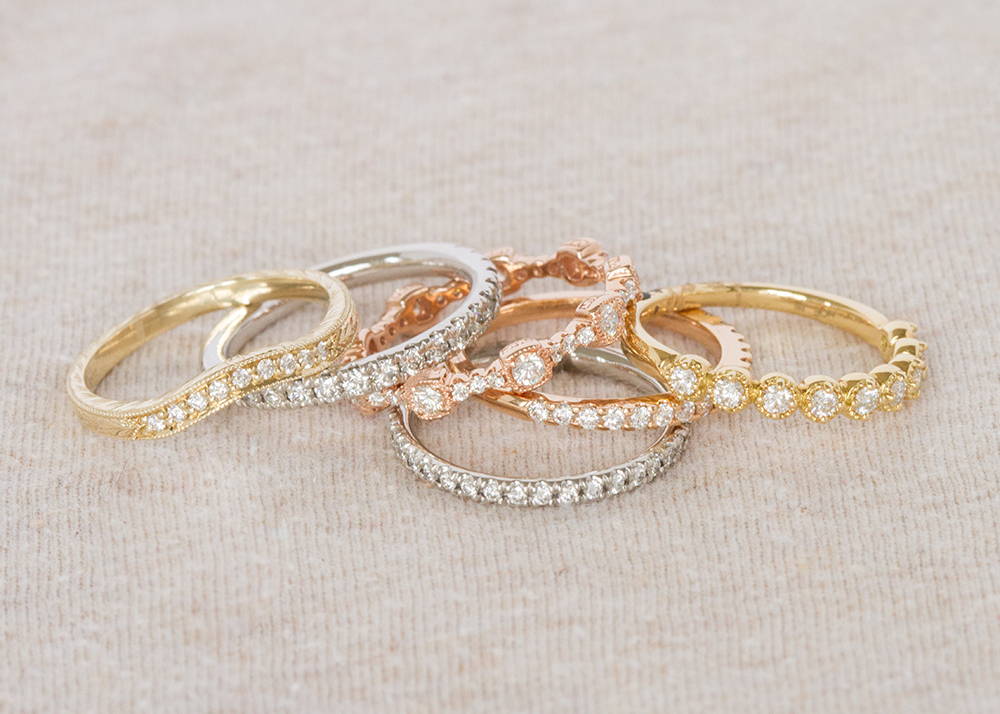 Your fiancé took the plunge and sweated the details over your stunning engagement ring. Now, it's you turn. Even though your engagement ring will always center stage, selecting the right wedding band is equally important to the overall look.
Your band should not only complement your engagement ring, it should highlight the commitment you will make on your wedding day. Depending on your aesthetic, your wedding band can either highlight your existing piece or make a statement of its own.
To help you find the perfect band, I've compiled a few shopping tips and paired our top 3 engagement ring styles with modern and unique band options to give you some ideas.
A Few Tips for Narrowing Down Your Choices
Like wedding dresses, there are thousands of bands to choice from and since its one of the few pieces of jewelry you'll wear every day, it's smart to make some preliminary choices before you visit one of our locations.
Here are a few questions you should think about beforehand so you can zero in on exactly what you're looking for:
1. Do you want your band to be the same color metal as your engagement ring? White, Yellow or Rose?
2. Are you interested in something simple, over-the-top or unique?
3. Would you like your band to include diamonds or gemstones?
4. Do you want your band to match that of your significant other's?
Once you have a general idea of what you like, it's time to start shopping. Give yourself at least two months before your wedding date to select and purchase a ring. You'll need time to browse and revisit rings that catch your eye and maybe get the opinion of family and friends.
If you have your heart set on a custom ring or would like to have your ring engraved, you will need to schedule an appointment with our service department at least 3 months in advance just to be safe.
It's also important to be open minded to trying options that aren't on your Pinterest board. We can pull all the options you've preselected and suggest a few more based on how you answer the questions above. Our staff is dedicated to helping you find you your dream wedding band.
One last thing – As you consider different styles, don't forget about comfort. You may love the look of a ring, but when you put it on, it's just not a good fit. Wear it around our store for a few minutes or try writing and texting as a comfort test.
We can always consult our service department to adjust any band to fit you perfectly.
Our Top Engagement Rings and Their Perfect Mates
If Your Engagement Ring is a Solitaire:
A solitaire engagement ring, whether its a princess, round, or emerald cut, is the most versatile ring style to match.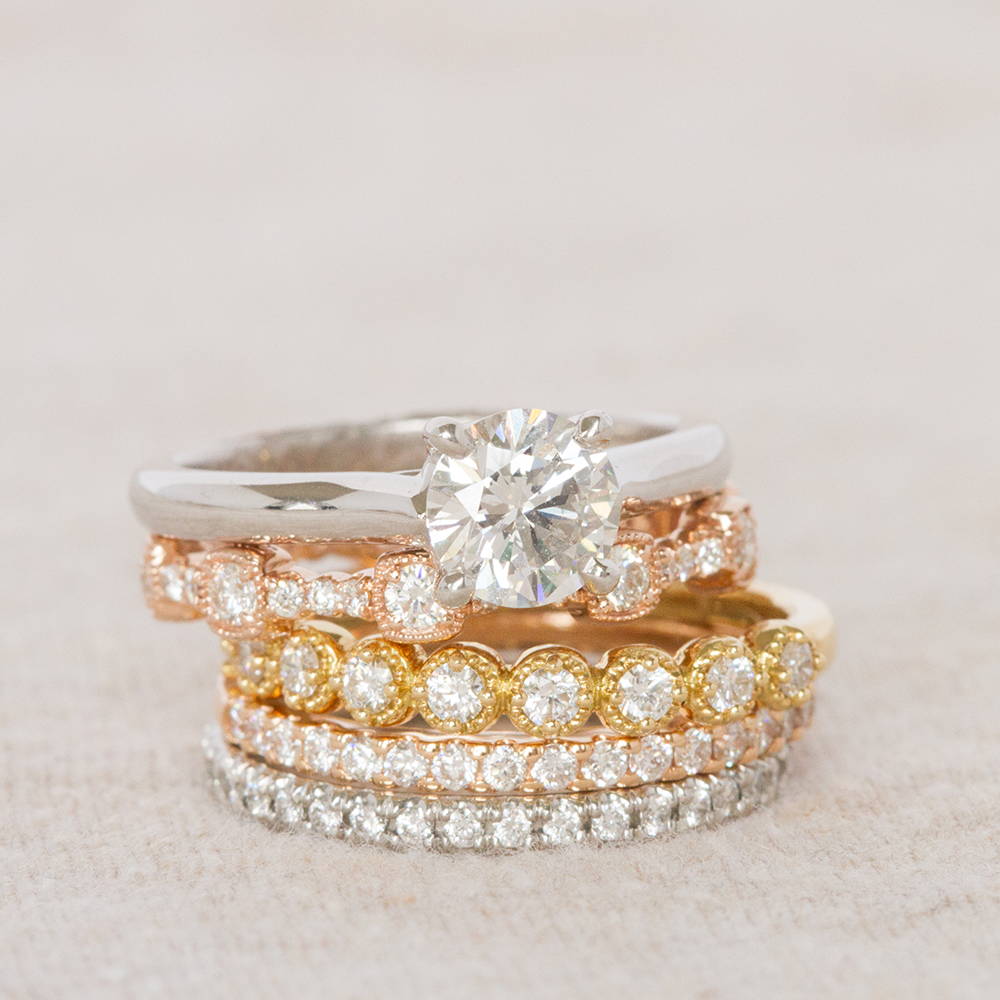 If you are looking for a more classic, elegant look, try one of our diamond eternity bands like this one from Memoire.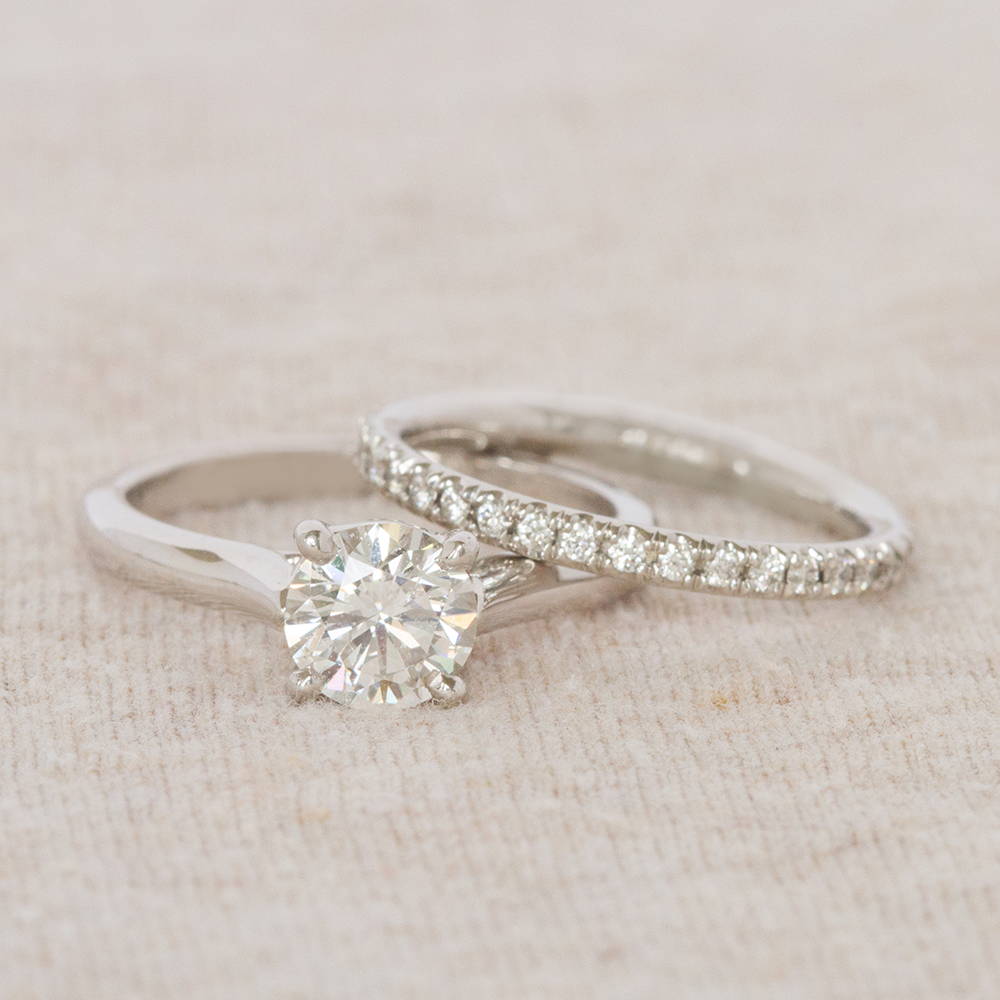 If you are looking for a more unique look, try on a metal that's different from the metal of your engagement ring like the rose and yellow gold options here from A. Jaffe and Hearts On Fire.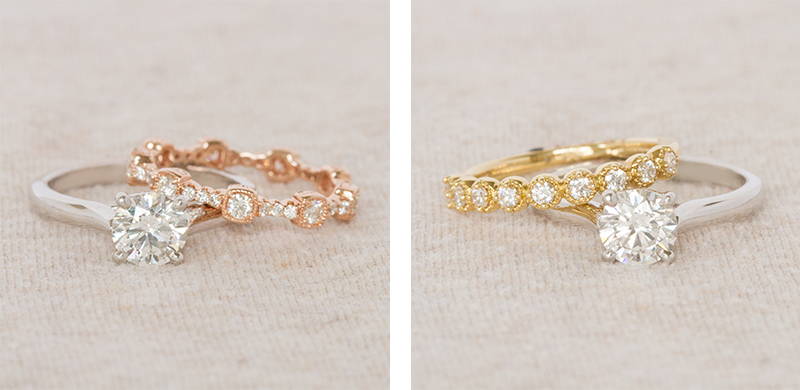 If Your Engagement Ring is a Three-Stone:
A three-stone engagement ring is easily matched with a band featuring the same cut of stone as the center or side stones. For example, if you have a ring that features round stones on the side, try pairing it with a band that also features round stones.
If you are looking for a more simple yet timeless look, try one of our diamond eternity bands like this one from Kwiat.
Mimicking the stones that are in your engagement ring in your wedding band, also allows you to mix up the metals and maintain and consistent, beautiful look. Try a curved, yellow gold band, like this one: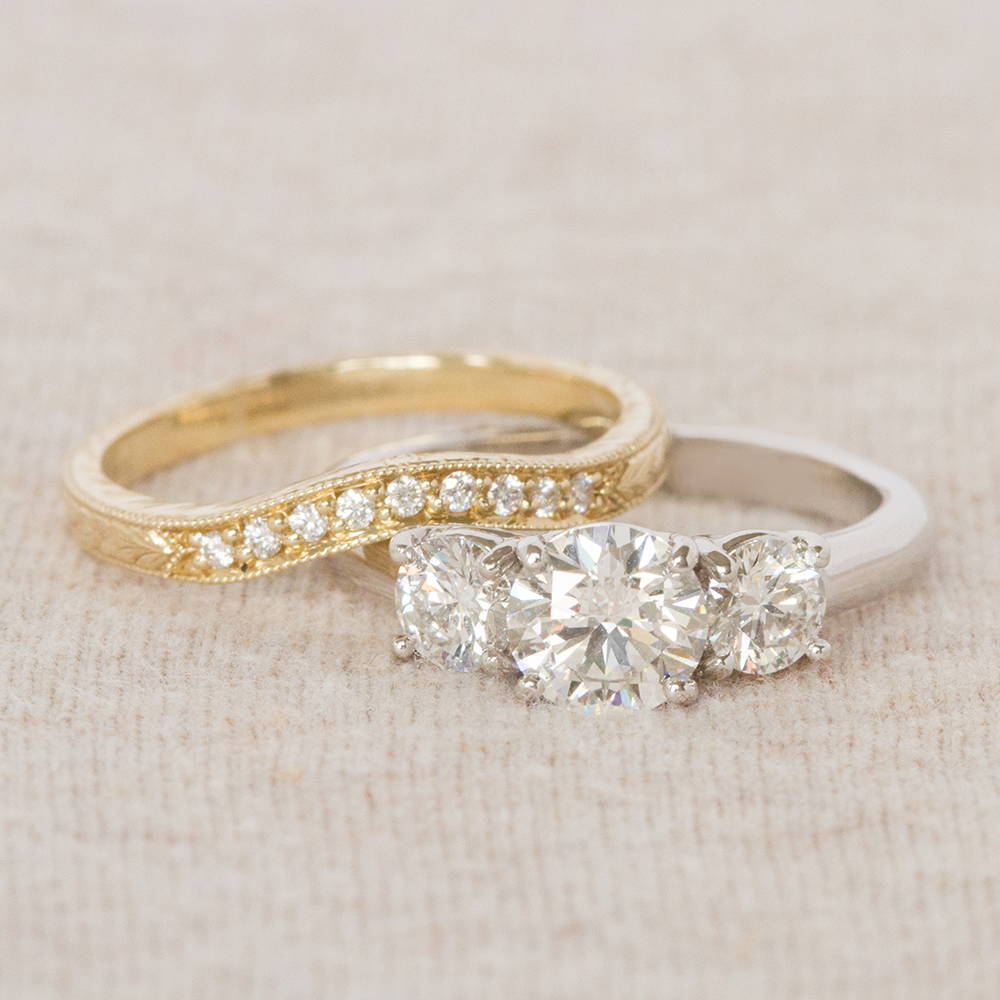 If Your Engagement Ring is a Halo:
Halo engagement rings are one of our most popular styles because you get a big look at a smaller price point. That being said, Halo rings tend to create a big look on their own so we would suggest that you pair yours with either an all metal band or one with a more simplistic design.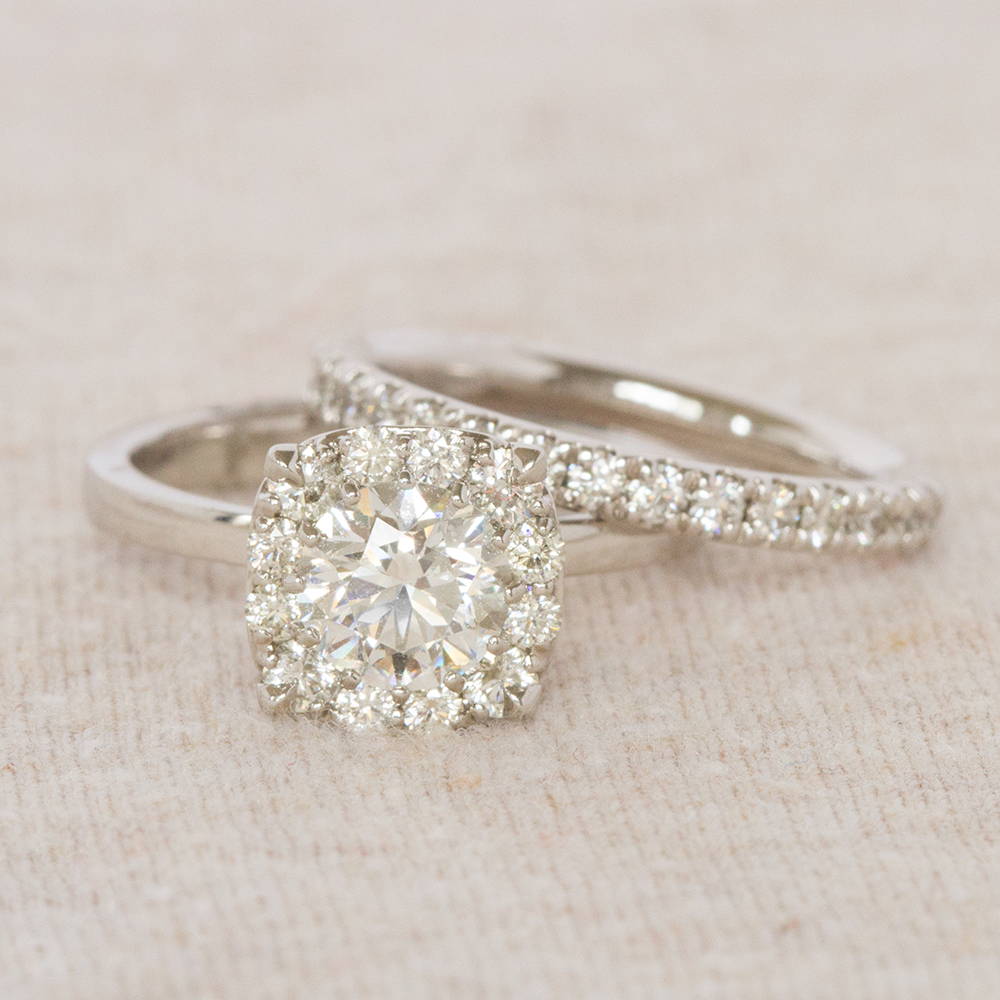 You can always choose to mix metals styles like with this Hearts On Fire engagement ring and rose gold band from Harry Kotlar. It's the most modern and fashion-forward way to express your sense of style.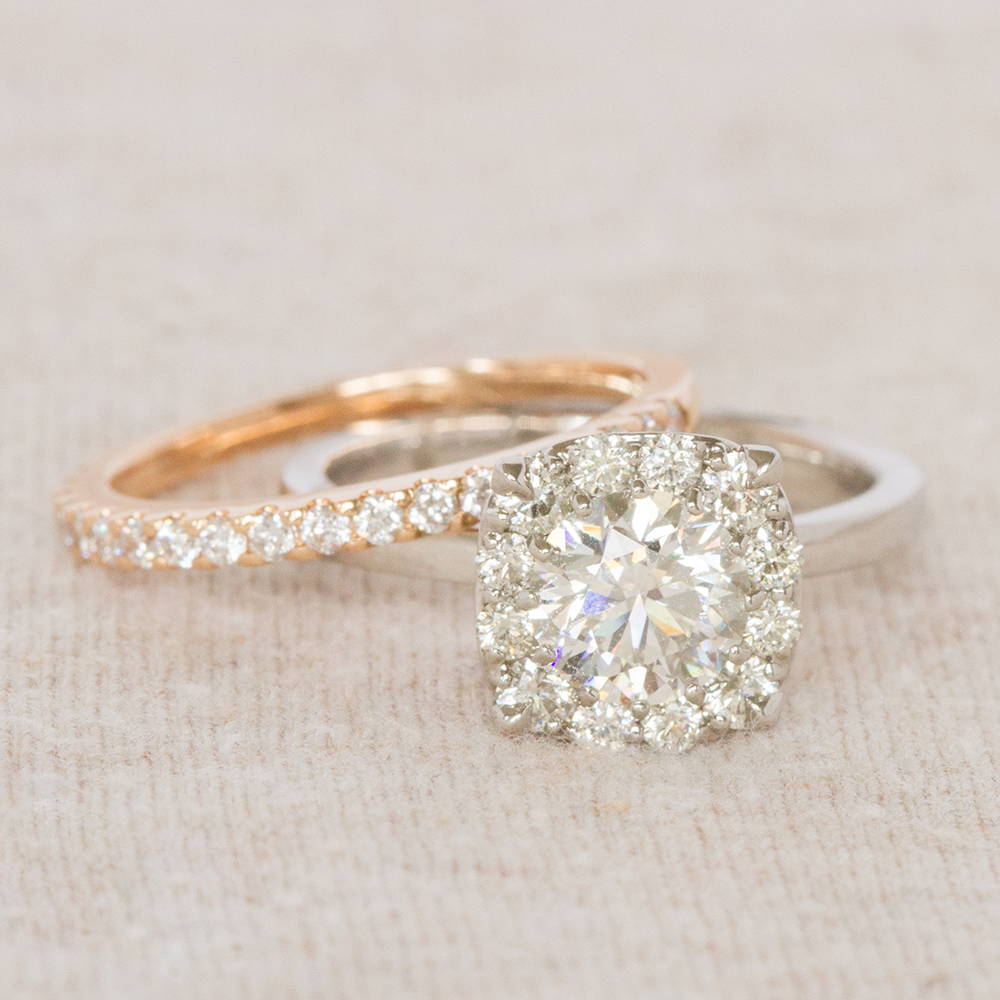 What Are My Next Steps?
Whether you've made an inspiration board and know exactly what you want or have no clue what so ever, our staff is dedicated to finding you the perfect wedding band. So please feel free to come into a Shreve & Co store and try on as many options as you like. You can also schedule an appointment here.