Big Time Players: NFL Stars and Their Favorite Watches
Before the era of Fantasy Football and Fox Sports robot animations, the world's finest watchmakers spent their lives developing luxury timepieces for historic figures and world leaders. Now, those fine watches are worn by some of the NFL's most famous MVPs as a symbol of their achievements. In honor of Super Bowl LI, we pulled together a short list of some of the league's best players and their most prized timepieces.
Aaron Rodgers – Patek Philippe Calatrava
The Green Bay Packers' Quarterback has quite the impressive resume – two MVP awards and a Super Bowl ring. Prior to losing in this year's NFC championship game, Rodgers led the league in touchdown passes with 40 this season alone. Even though Rogers won't play in this year's Super Bowl, he will be seen sporting his Patek PhilippeCalatrava timepiece – not a bad consolation prize if you ask us.
Rodger's Calatrava features a mechanical movement, rose gold case and brown alligator strap. It also features Patek's signature hobnail-patterned bezel, enamel dial with roman numerals and sapphire crystal case back – protecting the watch from any accidental collisions lest he be tacked by a fan in the off season.
Peyton Manning – Panerai Radiomir
Whether you watched last year's game for the sport, the commercials or the delectable wings, you were likely one of the 111.9 million viewers that tuned into to see quarterback Peyton Manning and the Broncos defeat the Panthers in Super Bowl 50. Ending your career with a Super Bowl ring and another MVP (his first in a Super Bowl, his 6th overall), is certainly a way to go out on top but we might argue that sporting a Panerai Radiomir is equally as great.
Manning's Radiomir is hard to miss with its 47mm case. It features an automatic movement, Panerai P.9000 calibre (executed entirely by Panerai), 3-day power reserve and sapphire crystal. Manning's version also features a brown Panerai composite case with removable wire loop strap attachments and a matching brown dial.
DeMarcus Ware – Rolex Sky Dweller
DeMarcus Ware is one of the league's most popular outside linebackers, known for his contributions to the Dallas Cowboys and Denver Broncos. Prior to winning Super Bowl 50 with the Broncos, Ware made a huge contribution in the AFC Championship game, hitting Patriots quarterback Tom Brady 27 times to help the Broncos win 20-18.
Off the field, DeMarcus Ware is popular with his fans for his personal sense of style. Ware is most often seen wearing his Rolex Sky Dweller. His watch features an automatic movement, 42mm Everose gold case, matching Oyster bracelet, bi-directional rotating fluted bezel and GMT subdial. It also features luminous hands, Roman numerals, scratch resistant sapphire crystal and Oysterlock clasp.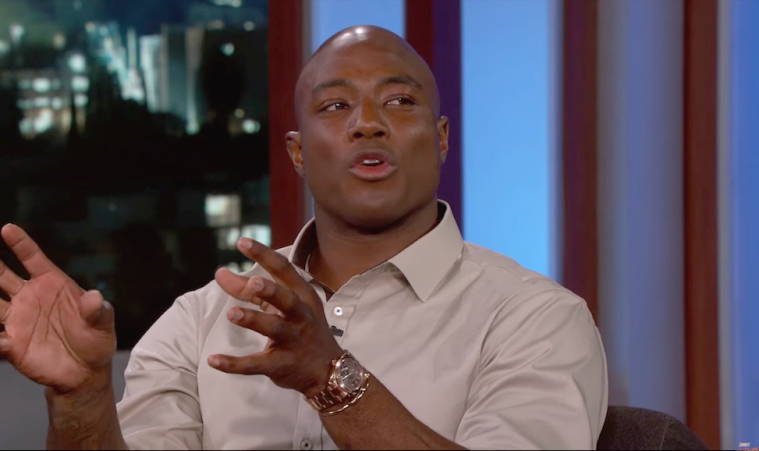 Odell Beckham Jr. – Custom Breitling Chronograph
Arguably one of the most stylish and controversial men in the NFL, Odell Beckham Jr. is also the fastest player in history to reach both 200 career receptions and 4,000 career receiving yards. In 2016, as wide receiver for the New York Giants, Beckham Jr. recorded his first 100 reception season and reached the playoffs for the first time in his career.
When Odell Beckham Jr. was first drafted to the NFL in 2014, he gifted himself a custom diamond encased Breitling watch. He posted a picture on his Instagram account of the timepiece with the caption: "We all have the same 24 hrs in a day. It's how we use them that makes all the difference… #blessed #Breitling."
Beckham Jr.'s custom model also features chronograph and date complications as well as a diamond dial and bezel.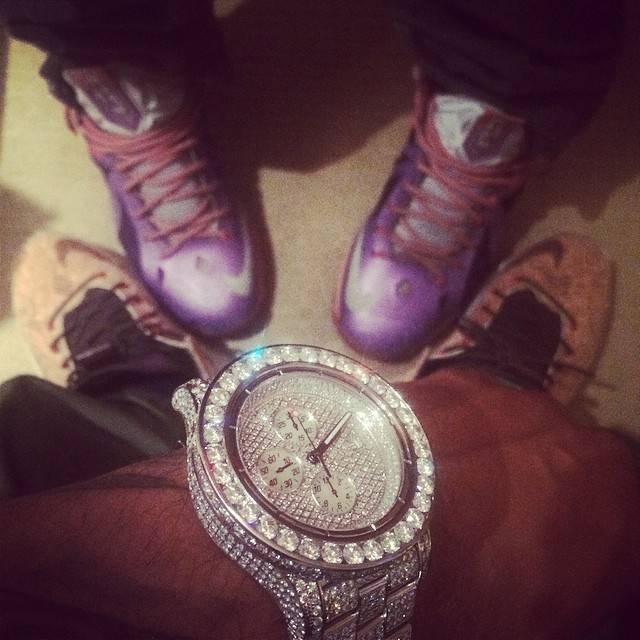 De'Anthony Thomas – Rolex Daytona
De'Anthony Thomas is best known for his career as a wide receiver and return specialist for the Kansas City Chiefs but has had a long standing history with the sport of football prior to the NFL. When Thomas was just 12 years old, he played for the Crenshaw Bears in Snoop Dogg's Snoop Youth Football League in Los Angeles, California.
Thomas went on to play for the Oregon Ducks as their star wide receiver in college. During the 2014 Valero Alamo Bowl, Thomas posted a picture of himself wearing a gold Rolex Daytona prior to the start of the game. Believe or not, he actually wore the watch through all four quarters and carried the ball three times for 13 yards and caught two passes for 24 yards as Oregon defeated the Longhorns in a 30-7 win.
To this day, Thomas still sports his Rolex that features a 40mm yellow gold case with a brown leather band, scratch resistant sapphire crystal and Sundust gold dial.
Want to See What the Pros Wear In-Person?
Feel free to come into a Shreve & Co store to see one for yourself. All of the staff can discuss the merits of each timepiece listed above, but if you really want to hear more about the history, ask for Maria in our San Francisco location or Tony in our Palo Alto location. You can also schedule an appointment here.