Our Top 5 Dress Watches for the 2017 Wedding Season
The best weddings I've been to are those that find a way to remain simple. There is a reason that classic details stand the test of time – white table linens, black tie dress and hints of metallic colors in the decorations. Now, simple doesn't mean boring – it's just focuses your attention on what really matters.
Much like these types of celebrations, a dress watch should check off the same qualifications. It should ooze elegance at its finest and focus on it's main purpose – telling (uncomplicated) time. There's nothing worse than complications on a wedding day, why would you want them in your dress watch?
A dress watch shouldn't distract – from the celebration, from your tailored suit and most importantly from the bride. It should be minimalistic – subtle, understated and charming. It's purpose isn't to be worn to the gym or deep sea fishing. It's best paired with those articles of clothing you wear to make the best impression – a business suit, a dinner jacket and yes, a tuxedo.
With that in mind, we've made your wardrobe selection a little easier this wedding season (and for seasons to come) with our top 5 picks for dress watches in 2017.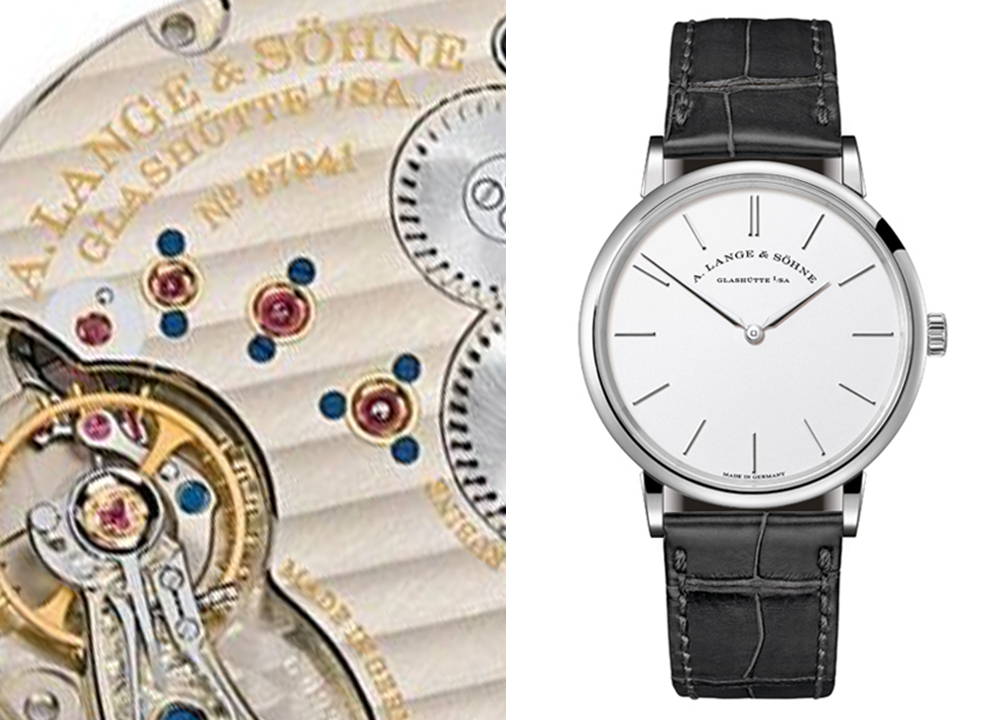 A. Lange & Söhne Saxonia Thin
Measuring in at just 5.9 mm in case height, the Saxonia Thin is the slimmest timepiece A. Lange & Söhne has ever made. Even though the company is better known for their more complicated watches, the Saxonia Thin is one of the most impressive dress watches on the market. It houses a calibre L093.1 movement that was developed specifically for the model and measures in at an impressive 2.9 mm in height and features a 72-hour power reserve.
The case and movement height of the Saxonia Thin are not the only features that make this dress watch perfect for wearing underneath any cuff sleeve. This refined, handsome dress timepiece is the essence of elegance as it balances a modern 40mm wide case with thin baton hour markers, small dot accents and lancet hands.
Second to none in terms of craftsmanship, A. Lange & Söhne outdoes their competition with a superb level of finish detail that might just draw a few admirers from the wedding party.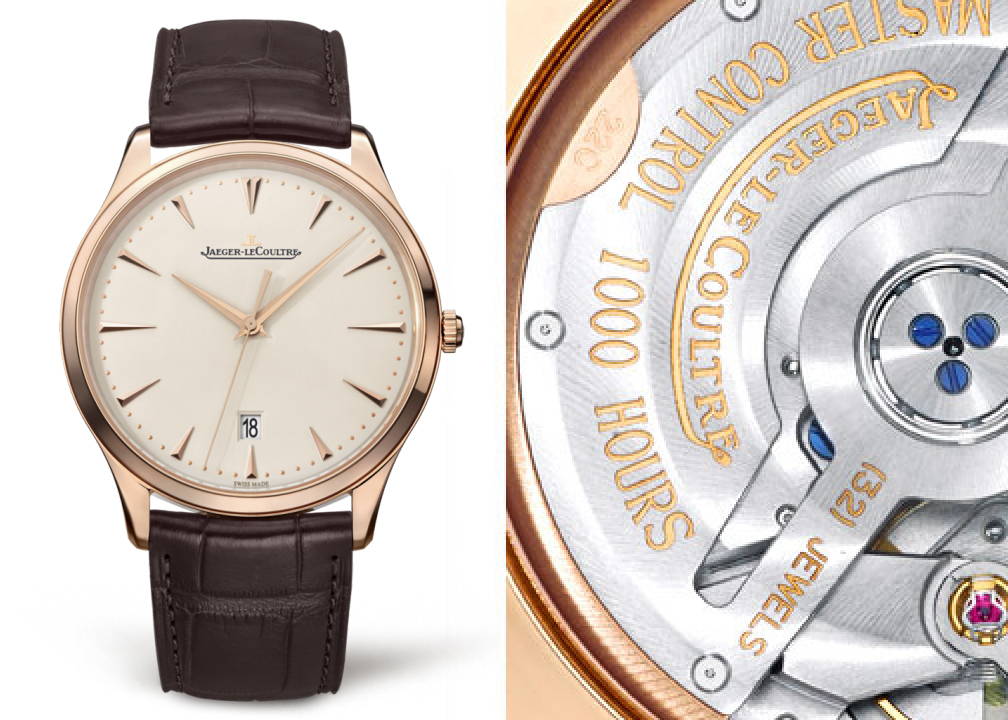 Jaeger-LeCoultre Master Control
Despite its robust name that was inspired by the merciless series of tests it took to develop it, the Jaeger-LeCoultre Master Control oozes elegance from every angle. Wanting to go beyond the standards of watch testing in the 90's, the company devised a six week series of exams called "1000 Hours of Control". Only after passing each and every challenge did the watch receive a signature from the master inspector inside the case and a gold seal bearing the test number.
The Master Control features a simplistic sunburst dial, tapered hour markers and Dauphine hands that give the timepiece a charming, handsome look. The watch houses Jaeger-LeCoultre's own caliber 899 automatic movement with a 43 hour power reserve. What we love about most about this watch for weddings is that it's business as usual in the front and, with a sapphire case back revealing a 22k gold rotor, a party in the back.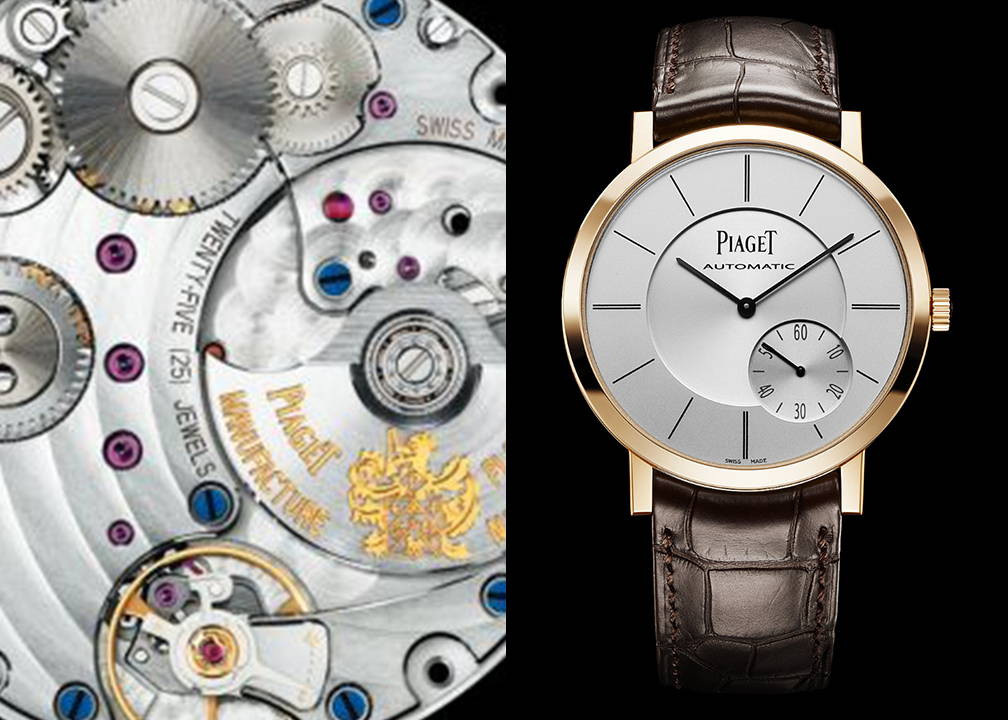 Piaget Altiplano (1200P)
Another ultra-thin favorite of ours for wedding season, the Piaget Altiplano has been one of the company's signature dress watches since it's creation. If you've heard of Piaget, its probably in reference to its 9P and 12P movements – the world's thinnest mechanical hand-wound movement (2mm thick) and the world's thinnest automatic movement (2.3mm thick), respectively. After the success of these movements in the 50's and 60's, Piaget's timepieces became the dress watch of choice of movie stars and international jet-setters across the globe.
But Piaget didn't stop there. In fact, they celebrated the 12P's 50th anniversary with the launch of the 1200P. The calibre became, at the time, the thinnest automatic movement at mere 2.35mm.
At 43mm wide, the Altiplano is the perfect timepiece for the man who wants bragging rights and modesty in one accessory. All in all, the timepiece has a highly versatile contemporary look that can be worn from the office and even down the aisle.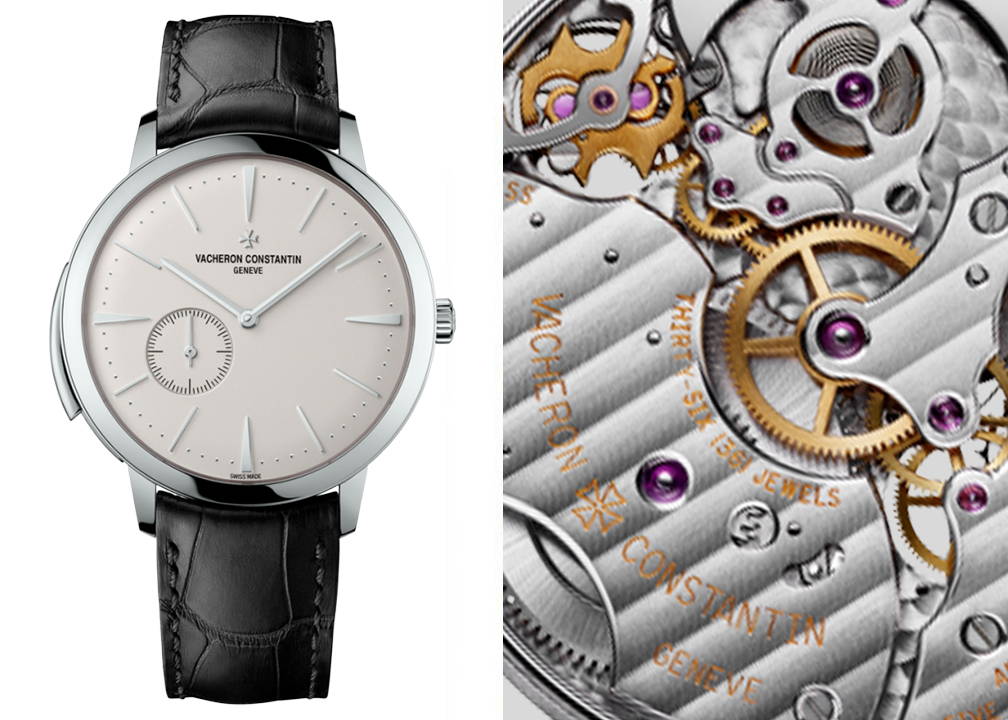 Vacheron Constantin Patrimony
Vacheron Constantin has a rich history of horology that's steeped in tradition. Few watchmakers have a history of producing dress watches so emblematic of the time in which they were made and the Patrimony is no exception.
This timepiece features the company's ultra-thin calibre 1731 – a movement with an important place in watchmaking history. A tribute to Jean-Marc Vacheron, founder of the brand in 1731, the calibre 1731 measures in at a thin 3.9mm in height and features an impressive 65 hour power reserve. The movement is one of few automatic movements that gives the piece credibility before it's even on the wrist.
Outside of its impressive history, the Patrimony features a 41mm case and comes in variety of colors to match every bowtie and set of suspenders your wardrobe.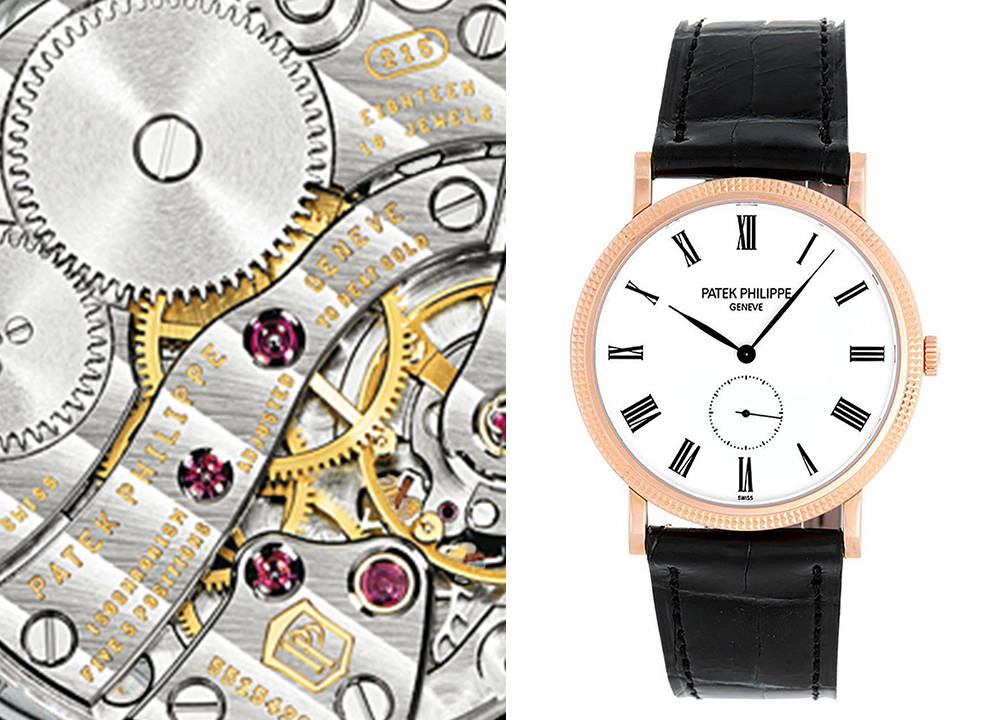 Patek Philippe Calatrava (Ref. 5119)
The original dress watch since 1932 – the Calatrava is Patek Philippe's most popular model. The company even made the Calatrava Cross their brand emblem. Compared to it's ancestors from the 20th century, the 5119 has an increased bezel diameter of 36mm – a change made to keep it on trend in the 2000's.
The Calatrava's dial is perfectly balanced with black Roman numerals and a white lacquered dial. The hour and minute hands are leaf-shaped and there is subdial located at 6 o'clock that features a discreet baton-style seconds hand.
Inside the ultra-thin case, Patek's in-house calibre 215 PS is manually-wound and provides 44 hours of power reserve. The Calatrava 5119 is considered to be one of the most quintessential dress watches of all time as it not only holds its value well but is designed with timeless style that can be worn for weddings in your life and by those in the next generation.
While these are our favorite pieces for this season, we have plenty more in-stock and ready for this weekend's celebration. Visit one of Shreve & Co. stores in San Francisco or Palo Alto and give each of these timepieces a rehearsal before the big day.