Stacked in Color: Kwiat Wedding Bands
Recently, women have been stacking jewelry of all shapes and sizes. Bracelets upon bracelets, necklaces of varying length, and even rings.
The rules of stacking say: "there are no rules." That's the first thing to remember. This is all about you and your personal style. Today you can mix stones, mix metals, and mix sizes to customize your look.
Some are wearing two, three, or four rings on the left-hand ring-finger while putting the engagement ring on the right. Others are stacking dainty rings paired with larger diamonds to make a big impact with minimal effort.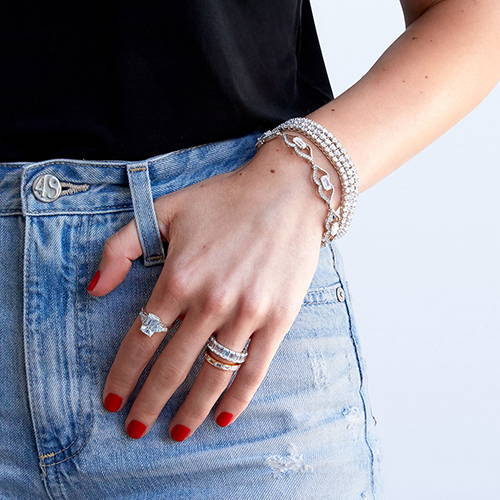 It's also becoming common to wear an anniversary band and stack it with wedding and engagement rings or to add stones for important milestones like the birth of a child.
Non-standard band shapes or textures are becoming popular and allowing people to use alternate metals like platinum or titanium. Stacking matte finish with highly polished finishes, or combining textures and geometric shapes are other ways people are stacking their way to making custom looks.
Kwiat has come along with ways to stack colors in wedding bands that make an unforgettable statement. This creative jewelry brand has put together some fantastic combinations that couples are finding irresistible.
Stackable Bands
The Kwiat Stackable Collection brings eye-popping combinations of metals and precious stones. Otherwise everyday bands are now built with different colored metals and stones that stack smoothly together. You just have to choose if you want to stack a couple or a whole bunch!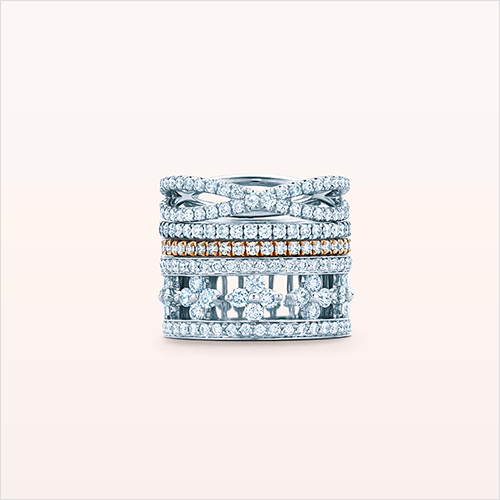 Diamond Wedding Rings
Kwiat has also created wedding rings that help you show your forever commitment to each other. You can choose from white, yellow, or rose-gold (or combine them all), along with platinum options that really take the stack up a notch! One impressive diamond can be turned into an array of sparkling glory with an infinity, pavé, or multi-stone setting.
Multi-Stone Wedding Rings
Couples are also commemorating milestones with multi-stone wedding rings with diamonds lining up the upper facing portion of the ring. Three and 5-stone rings along with anniversary rings are popular multi-stone bands, where each stone signifies milestones in your life together.
Colors, textures, metals, and stones are just a few ways to take one or two ordinary rings and stack them to make a statement as strong as your commitment to each other.