5 Myths You Should Know About Before Buying Your First Luxury Watch
There comes a time in every man's life – in my family it's more like a veritable rite of passage – when he feels the need to invest in his first luxury watch. The problem is that the world of men's watches can feel to an outsider like a plunge into the deep end – lots of complications, movements, high prices and confusion. To help ease your anxiety, I've busted the top 5 myths when it comes to first time watch buying and given you advice on how to avoid them (mostly from my personal experience).
Myth #1: The Movement Makes a Watch
Let's get one thing straight: the movement is a vital part of any watch. So before I bust this first myth, let's get a better understanding of what a movement is and why it is important. A movement, also known as a 'calibre', is the engine that drives the hands around a watch face and powers additional features, including dates, calendars, chronographs, and more. There are a variety of movements available on the market today, ranging from automatic watches that wind themselves through kinetic energy, to the complicated and extremely expensive tourbillons, which derive their energy from rotational motion. However, the two you should pay close attention to when buying your first watch are quartz and mechanical.
Quartz Movements
Quartz timepieces are favored most for everyday use given their superior accuracy and reliability. This type of movement contains a small battery that sends an electrical pulse through a piece of quartz, which acts as an oscillator, causing it to vibrate exactly 32,768 times per second. These vibrations are counted by the circuit and converted into a single pulse every second which results in the consistent movement of the watch hands.
Quartz watches are lower maintenance because they contain less moving parts and use a battery as their main power source. They are typically more durable than watches with other types of movements and are an excellent choice for those of you with an active lifestyle. The most popular Quartz movements are ETA calibres which were created in partnership by several Swiss manufacturers: Valjoux, Peseux, and Lemania. If you are in the market for a quartz timepiece and it doesn't have an in-house movement, chances are it has an ETA calibre.
Mechanical Movements
Instead of relying on battery power, mechanical watches rely on winding a spring, called a 'mainspring'. This spring transfers energy through a number of other springs and gears, which, in turn, powers the watch. Mechanical watch wearers appreciate the level of precision engineering required to make a series of springs and gears work together to be 99.98% accurate. Unfortunately, mechanical movements aren't as precise as quartz movements or the clock on your iPhone, but only by a few seconds a year.
The biggest difference between a quartz and a mechanical movement is that a well-cared for mechanical watch can last you a lifetime and even the lifetime of your offspring. Mechanical wristwatches are ideal for marking a significant event, like a promotion or a wedding day, because they can serve as a reminder for a very long time.
Okay, so the movement is important but why doesn't it make the watch?
There is so much more to a watch than just the movement. In fact, experts evaluate the quality of a watch by looking carefully at the case construction, dial design, exterior finishing, movement characteristics and movement finishing and how each feature works as part of the whole. The dial, hands, markers, the printing, the case, the bracelet and even the packaging are all opportunities to show off the craft of a watchmaker, not just their movement. In addition, both quartz and mechanical movements can be and are used in a variety of watches. Lemania, Valjoux, ETA, and Peseux calibres have been used for decades in watches spanning low, middle and high price points. The bottom line – evaluate all the features before selecting and purchasing your first timepiece.
Myth #2: A Lot Of Complications (And a Higher Price) Equals Quality
There seems to be a misconception among new watch buyers that a high price tag paired with a long list of complications automatically equal superior quality. The inclination for Swiss brands to advertise a watch's parts count is something we all fall for at some point in our watch buying career. That is, until we realize that all they are advertising is how many more components it takes to produce the same result.
Wait, let's back up – what is a complication and why are they so popular?
A complication is any function on a watch other than the display of the time. They can range from the very simple date displays to extremely rare works of horology that combine stopwatches, subdials, retrogrades and windows and can take years to create. Vacheron Constantin released the Reference 57260, the world's most complicated mechanical watch ever made with 57 complications (the previous record holder had a mere 33), in 2015. In fact, there are hundreds of individual complications on the market – date, chronograph, dual time zone, tourbillon, moonphase and more and most are rather useful even in our modern digital world. In addition to time, features such as the date, day of the week, calendar, timezone, chronograph (also referred to as a stopwatch) are some of the most sought after features in luxury watches. But, there is a fine line.
Experienced watch collectors would argue that watch buying should look to respect a watchmaker's craft and praise ingenuity over excess of features. As I mentioned above in Myth #1, the more complicated a watch's interworkings, the less durable it can be and the last thing you want when buying your first watch is to constantly have to service it. An experienced collector often looks for a thin, sophisticated watch that does something in a thoughtful way rather than one that features a large case and lots of parts (meant just for bragging rights). For your first watch, stick with the basics and then expand your collection with complicated, rare works of craftsmanship later.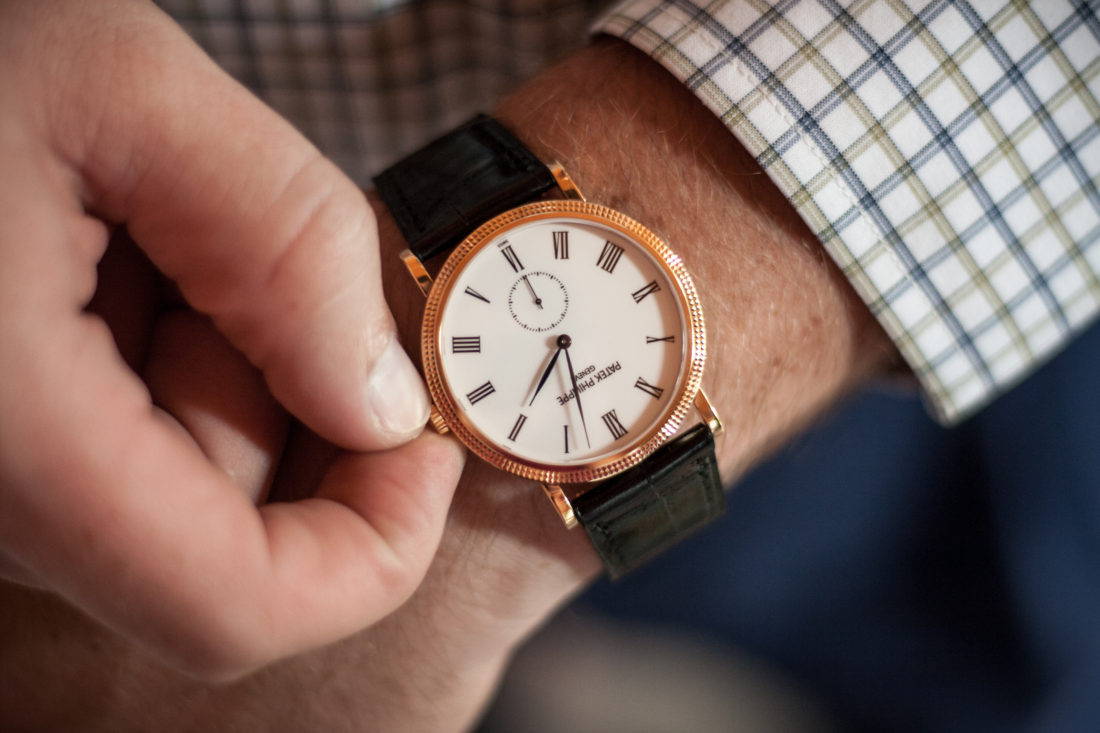 Patek Philippe Calatrava in Rose Gold
Myth #3: All Calendars are the Same
Let me be honest with you – there are plenty of journalists, trade publications, bloggers, dealers and collectors who have accidentally mistaken a simple calendar for an annual calendar so it's a common mistake. The annual calendar wasn't actually invented until 1996, by Swiss watchmaker Patek Philippe. This means that all of the calendar watches (if not a perpetual) from the middle and early part of the 20th century feature simple calendars that require you to manually change the date in February, April, June, September, and November each year. An annual calendar is an entirely different complication and manual adjustments are only required at the end of February.
Myth #4: Only Service a Watch When It Isn't Working
Even though most luxury timepieces are built to last more than a lifetime, watches are subject to everyday stresses like dings, magnetization and contact with rain or perspiration. A good rule of thumb is to visit an authorized repair shop every year or two for a quick look (and battery change if it's a quartz timepiece) and a full service at least every five years (more often if you see a change in how accurately the watch is keeping time). When serviced, your watch will be examined closely, tested for water resistance, cleaned and lubricated: ready to take whatever you'll dish out over the next five years.
I look at it like going to the dentist. People say once there's a problem then the damage is already done, and it could've been avoided by making regular appointments. Taking a watch apart, re-oiling it, and cleaning it where necessary will prevent parts from wearing. It's the reason there's such a market for used watches in need of work because owners don't always take care of their investments properly.
Myth #5: (Case) Size Doesn't Matter
Just as there's no typical wrist size, there's no typical case size for watches. While some timepieces are so large they can be seen from a mile away, most have a case diameter of between 34-44mm. If you're a man with a thinner to moderate build, a 34-40mm case will work best. A case that measures 40mm or more in diameter will work better for those with a bigger, broader build. Always, try on a piece before you purchase it because the thickness of the case also affects how the watch fits your wrist.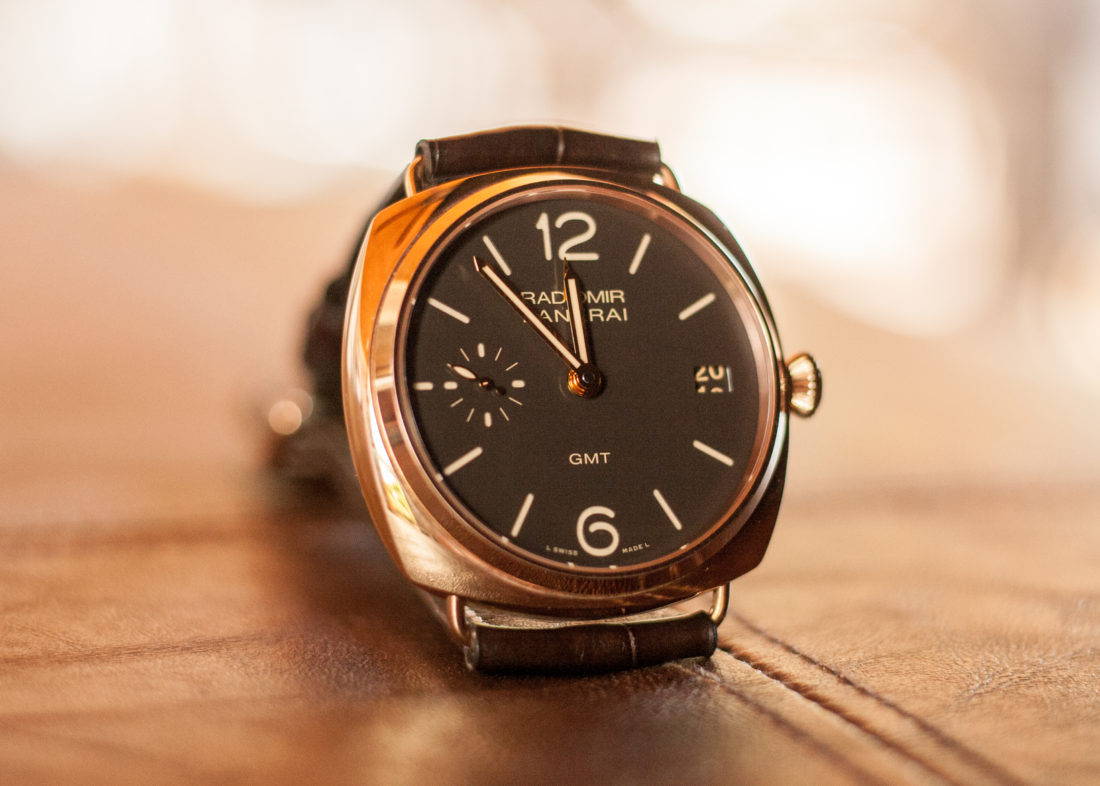 Panerai Radiomir GMT in Rose Gold
Now, you're ready to buy your first watch. Or maybe you have a few more questions?
Feel free to come into a Shreve & Co store and find the right luxury timepiece for your lifestyle. All of the staff can discuss the pros and cons of each brand, collection and piece, but if you really want to hear more about the complications of each watch, ask for Jeff in our San Francisco location or Tony in our Palo Alto location. You can also schedule an appointment here.