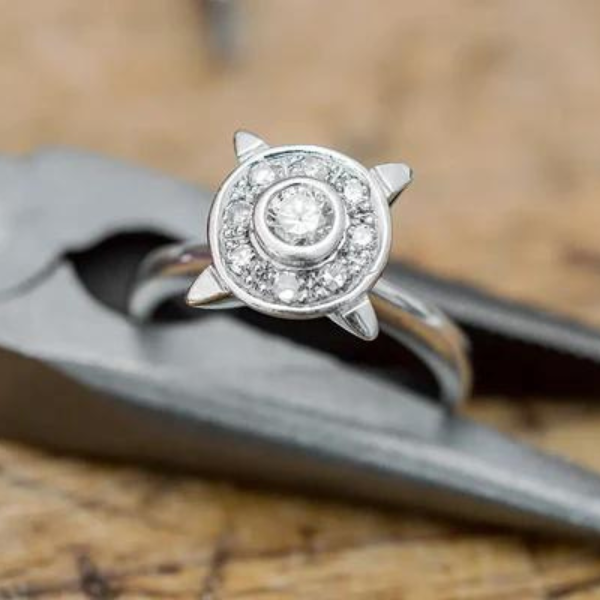 Assuming you've shared a big kiss, took selfies, and called all your friends, we've got a quick list of all the important things you should do with you ring after you get engaged.
1. Get Your Ring Sized
If you feel a bit of a slip, or feel a bit of a pinch, you'll want to come in and have it properly sized. If it slides at all, you risk losing it. If it is too tight, you'll turn your fingertip a not-so-Shreve blue. Depending on your setting, Shreve and Co. can do it in house and have it done in just a few days.
2. Get Insurance
Losing a ring is heartbreaking, and nothing can replace the sentimental value. You can, however, recoup the cost with insurance on the ring, and it's actually quite easy: If you have homeowners or renters insurance, you can have them add the ring to your policy. You'll simply have to supply them with an appraisal. Each ring we sell comes with documentation. If you purchased your ring elsewhere, we can do an appraisal starting at $150. Your insurance broker can help you with all the details.
Photo Credit: Hearts On Fire
3. Choose Your Wedding Bands
It's important to begin this process right away. If your engagement ring came with a matching band, or you are having one made, the process could take a couple months. We'll ask to hold onto your ring for a few days to make a wax cast or a computer model. This will ensure that we have the proper fit, and you'll still get to wear your ring. Depending on the intricacy, preparing your wedding band could take up to 8 weeks.
4. Find a Safe Place to Store Your Ring
Like many, you will likely take your ring off before bed or taking a shower (and you should!). Ring dishes are a good visual reminder to place your ring someplace where you'll remember it. We recommend having one in the kitchen, bathroom, and your bedside table.
5. Plan a Night Out with Your Fiancé and Celebrate!
Things are going to start moving pretty quickly, and there's a lot to do. Before the pace suddenly picks up, take a night and just enjoy each other's company. No talking about wedding plans! Just share and savor this time together.
Congratulations from Shreve & Co., and if we can ever answer any questions or make things easier for you, don't hesitate to ask!