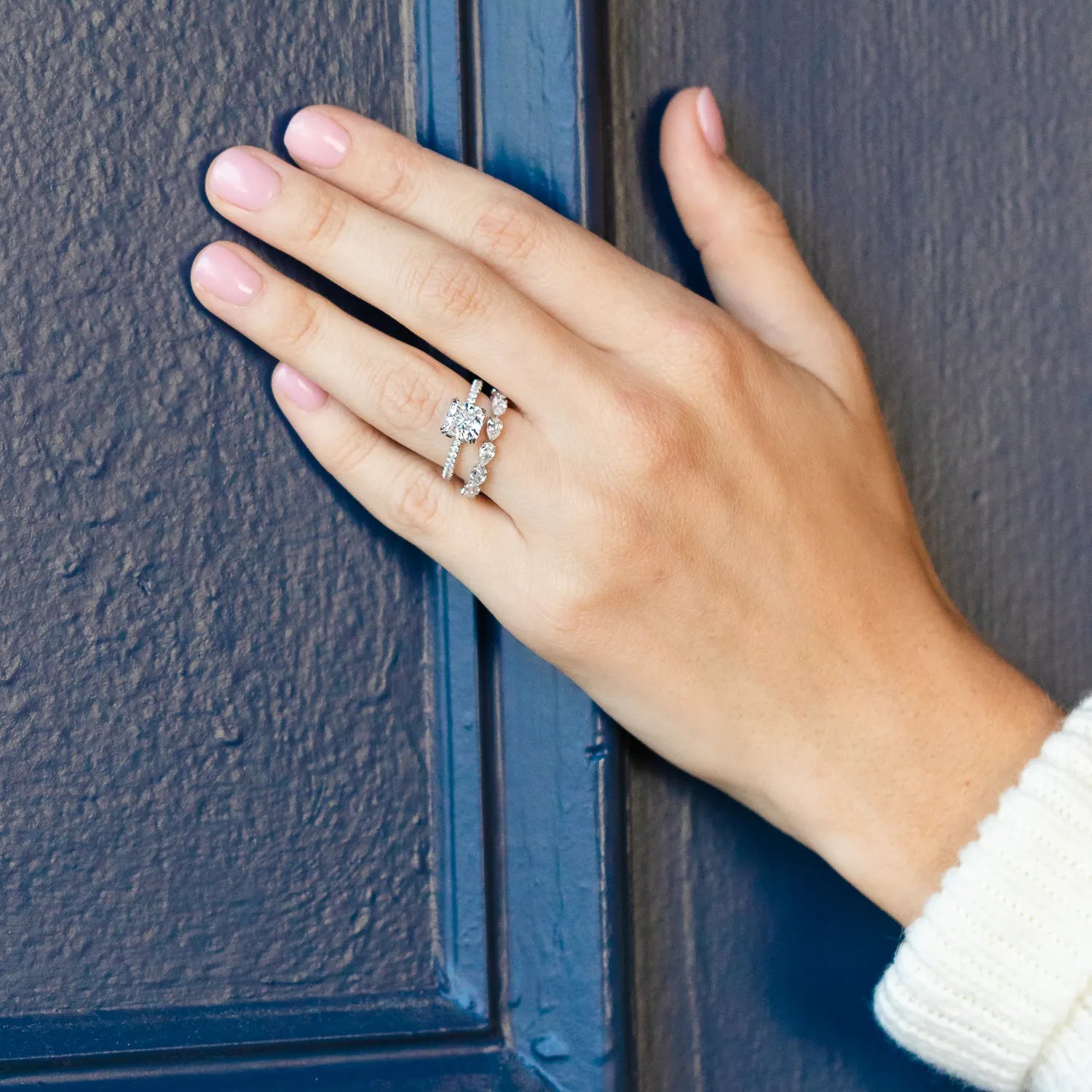 Love only grows each year, and an Anniversary Ring is a wonderful way to commemorate your time together.
Anniversary Rings come in all sizes and configurations, can be worn on any finger you choose, and are symbolic of your increasing love for each other. It's a way to let your partner know they mean even more to you today than the day you were married.
3, 5, and 7 Stone Rings
Some of the more popular Anniversary Rings right now include the 3, 5, and 7-stone rings. 3-stones represent the past, present, and future of your relationship. 5-stones are said to symbolize the five traits great relationships hold: Love, trust, communication, commitment, and empathy. 7-stone rings can represent seven years together, the luck of the number 7, or the continuing love that encircles you both.
Eternity Rings
The name says it all, doesn't it? Eternity rings have stones wrapping all the way around. These dynamic rings often have a more vintage appearance to them, adding another nod to the years you've spent together. With different styles and sizes, Eternity rings can be worn on any finger on either hand. Their beauty is undeniable, but more importantly, Eternity rings have a deeper meaning. You're telling your partner that forever really means forever.
A Multitude of Rings
Other options for Anniversary Rings include stacking an additional ring with the wedding band and engagement ring. Others choose a ring that will act as a compliment to their wedding ring but worn on the opposite hand. And other couples will get rings both partners wear to show their everlasting love for each other.
The true beauty lies in the meaning you put behind the ring and stones you choose. Anniversary rings are your way to remind each other, and the world, that you are together forever. We can show you many different rings that are traditionally given for anniversaries, but always remember: You can make up the rules. While it's common for husbands to give anniversary rings to their wives, there's nothing stopping wives from giving rings to husbands…or couples shopping together for a pair of bands that are meaningful.
Anniversary Rings are one of our favorite traditions to come along, and our we have something loving and magical waiting for you today!