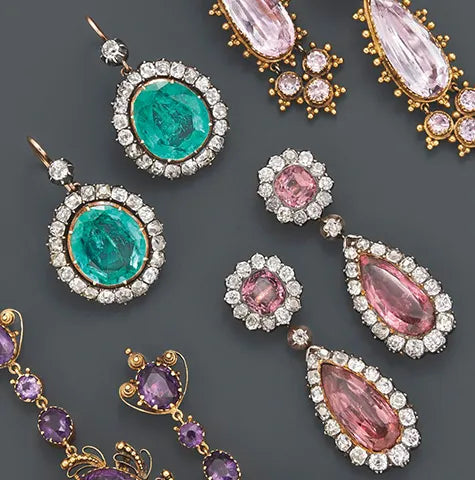 There's a bit of history behind all the history that made Fred Leighton such a sought-after designer. Today, people looking for a unique piece of jewelry and a certain audacious style turn to one company: Fred Leighton.
It's not uncommon to see dynamic vintage jewelry worn by both celebrities and people with an appreciation for classic designs. But, 50 years ago that wasn't the case. Most vintage jewelry was taken apart for the precious stones, and a bit of fashion history melted down.
Fred Leighton's career began as the owner of a bohemian clothing store in Greenwich Village. As he watched fashions come and go, he developed a keen eye and sophisticated taste. While others were passing vintage jewelry by, Leighton became intrigued. In the 70s, he moved his store to the Upper East Side and began to focus on his affinity for "old" jewelry. In short order, his boutique was attracting celebrities from around the world. Josephine Baker, Diana Vreeland, Elizabeth Taylor, Brigitte Bardot and Jackie Onassis were just a few of his customers.
Today, Fred Leighton's company curates the most coveted vintage jewelry in the world. They have rare pieces from the Georgian, Victorian, Edwardian, Art Nouveau, Art Deco, and retro years. Mr. Leighton's wish to elevate the appeal of vintage jewelry has come true. Today, rare vintage jewels both grace Hollywood stars and live next to masterpiece art in the world's private collections.
The fusion of new and old now makes this history available to everyone. In addition to curating estate jewelry, Fred Leighton also creates new pieces, drawing inspiration from historical periods. These are not reproductions, but a new flair for classic art. The likes of Elizabeth Taylor and Jackie Onassis have given way to a new generation. You'll often find Fred Leighton jewelry worn by today's celebrities like Nicole Kidman, Lupita Nyong'o, Charlize Theron and Meryl Streep.
Carlee Kloss Wearing Fred Leighton; Photo Credit:
connoisseurs.com
Whether you are looking for a vintage piece, a new piece inspired by history, or an heirloom to pass from generation to generation, Fred Leighton creations allow you to both wear history, and make history. It's vintage jewelry that is surprisingly modern.