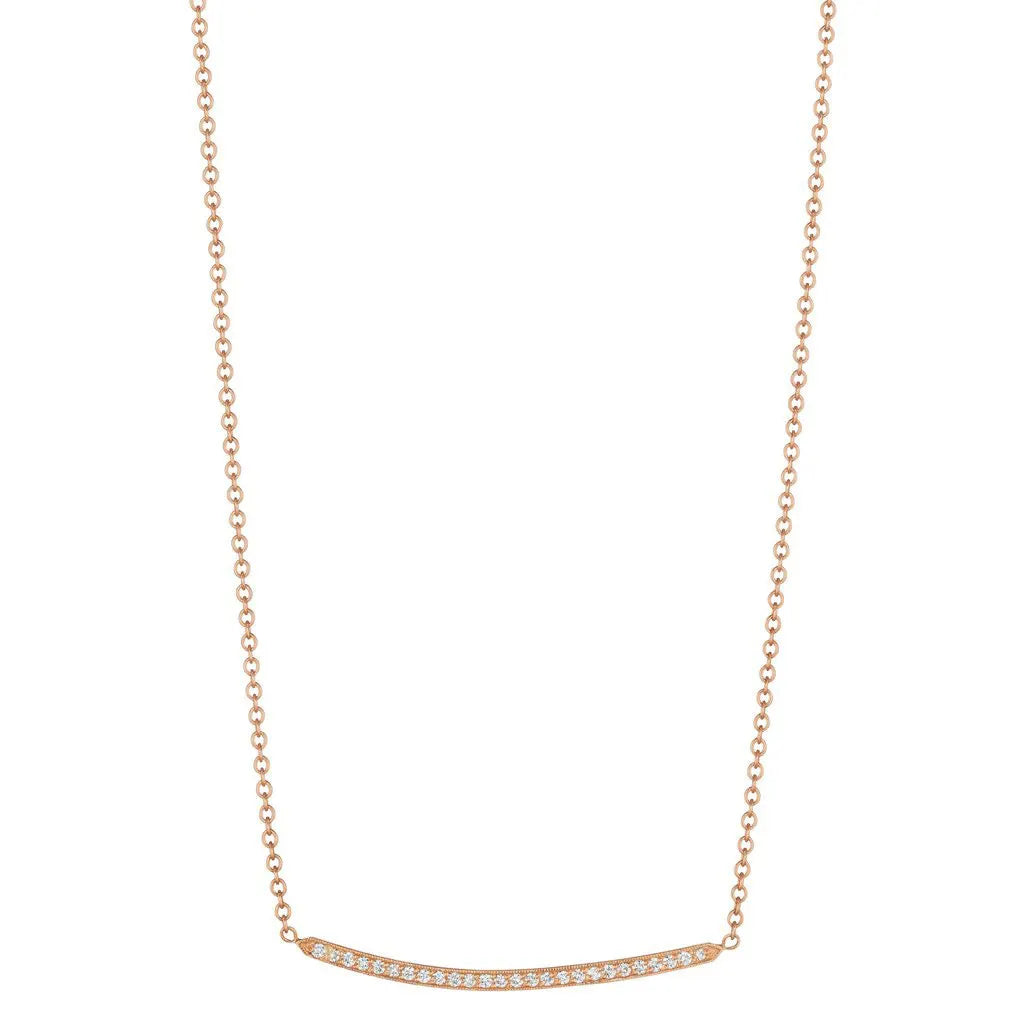 Penny Preville, like most young girls, was captivated by her Grandmother's jewelry box. Her interest quickly went from common schoolgirl daydreams to wondering how she may one day learn to design such elegant styles. Today, Penny Preville's designs are the choice for women looking for that elusive balance between high-fashion and everyday wear.  
Here are some of our favorite pieces from Penny that can be worn with just about anything:
Pavé Diamond Bar Necklace
This comes from the Penny Preville Classic Collection and features an 18-karat yellow-gold bar necklace that is 18 inches long. On it, you'll find 26 full cut diamonds weighing approximately 0.26 total carats
Diamond Eternity Band
You really get a sense of Penny's childhood spent admiring her Grandmother's jewelry when you look at this diamond eternity band. It's 18-karat rose gold featuring 14 rose cut bezel set diamonds weighing approximately 0.90 total carats, each approximately 3.0M/M.Teardrop
Blue Jean Earrings
These earrings do an amazing job of being the perfect accessory to casual and elegant clothes. 18-karat yellow-gold teardrop shape holds blue jean aqua stones weighing approximately 0.24 carats and diamonds that are also 0.24 carats.
Diamond Star Bangle from the Stardust Collection
This irresistible bracelet will be at home on your wrist whether you're spending the day at the office or the night out at a 5-star restaurant. Made with 18-karat yellow gold, this bracelet has 12 full cut diamonds set in a subtle starburst design. The diamonds weight approximately 0.36 total carats with a figure-8 safety clasp.
Starburst Earrings from the Starburst Collection
A nice compliment to the Diamond Star Bangle are these dramatic Starburst Earrings. You'll find 66 full cut diamonds weighing approximately 0.69 carats set in beautiful 18-karat rose gold. There's a hint of mid-century appeal in the style that still works perfectly today.
 Looking to add some everyday essentials to your jewelry collection? Explore our selection of Penny Preville pieces at both our San Francisco and Palo Alto locations.