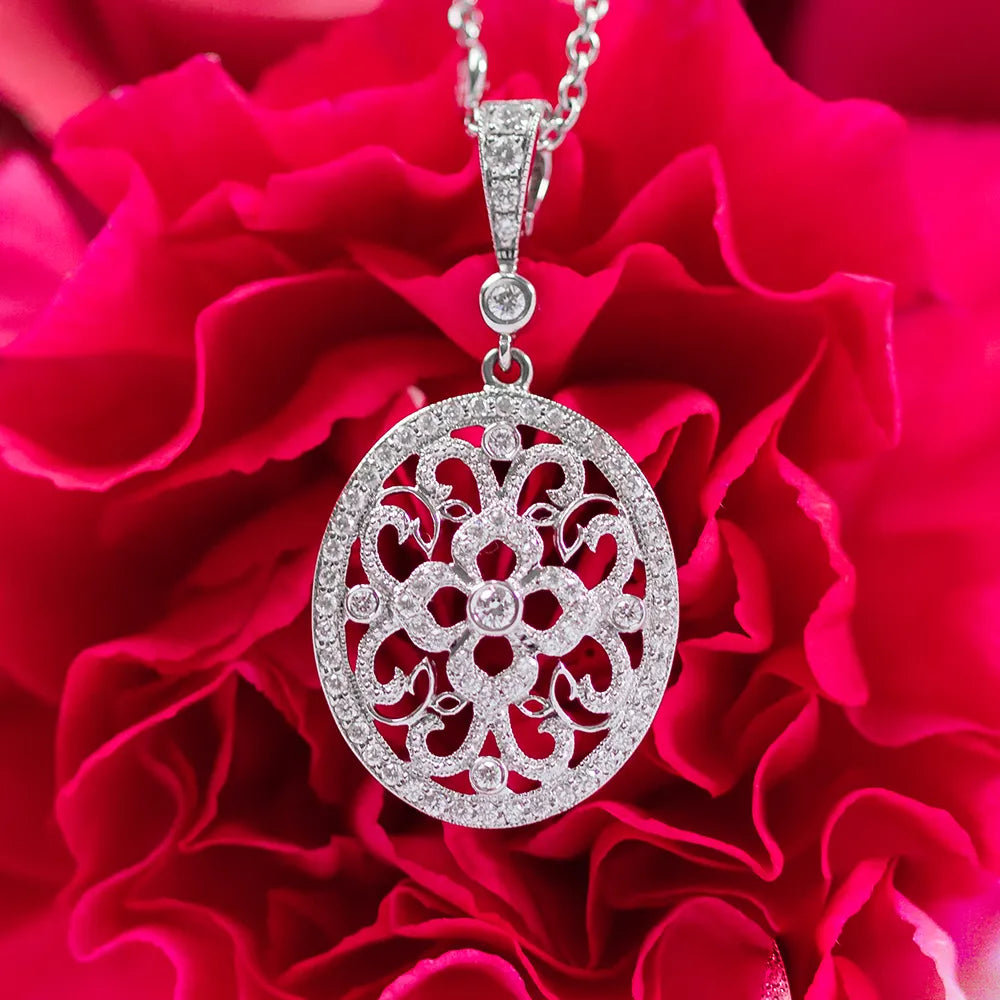 Stuck on what to get her for Valentine's Day? With February 14 swiftly approaching, we gathered some of our most wished for gifts for her. Whether she's aching for a pair of classic hoop earrings or a new necklace to show off at your next cocktail party, we promise each of these presents will set her heart aflutter.
Gift Idea #1: A Statement Necklace
Perfect for layering with other necklaces or wearing alone, a statement necklace is one of the most stylish pieces you could adorn her with this year. For Valentine's Day, we suggest that you add a touch of elegance to this bold style with an Oval Lace Pendant from award winning jewelry designer, Penny Preville. Don't forget to mention that the design for this pendant was inspired by delicate interwoven strands of lace reminiscent of Penny's grandmother's heirlooms. As an added bonus, the necklace's long but delicate chain features petite diamonds that are bezel set within the links to match its enhancer.
Gift Idea #2: Modern Hoops
If you are worried about finding something she'll truly love, classic hoop earrings are the way to go. This classic jewelry staple has never gone out of style and goes with virtually everything. Depending on how she's styles them, they can be dressed up or down and are perfect for a night out or just to get coffee. We love these Diamond Hoop Earrings from Penny Preville, that feature a variety of shapes and textures for a little modern twist on an old favorite.
Gift Idea #3: Stackable Rings
Stackable rings have grown in popularity in the last few years and are now on every woman's wish list. If you choose to purchase this gift, know you've made shopping easy for the next decade. Stackable rings can be worn singularly as a beautiful accent or worn in multiples to create a bigger look. She can even wear them on either side of her wedding rings.
The best part? Unlike shopping for an engagement ring, you don't have to worry about selecting the perfect piece. Starting or growing her collection means you can mix styles, materials and shapes. Not to mention, you don't have to buy them all from one designer, you can invest in a few of her favorite styles from various collections. Each of our stores carry a variety of colors and styles, like the ones featured below, from Hearts On Fire, A. Jaffe, JB Star, Memoire, Harry Kotlar and many more
Gift #4: Everyday Necklace
While statement necklaces stand out and can make an entire outfit, a delicate, more simple necklace can add effortless beauty to anything she wears with it. Like stackable rings, bar necklaces have also recently grown in popularity but remain timeless. If you are looking to wow her but want to gift her something she can truly wear everyday, we suggest this sophisticated and on-trend diamond necklace from Penny Preville. As an added touch of romance, the diamonds in this chain necklace are encased in a white gold setting with a luxurious feel to touch.
Ready to Wow Her on Valentine's Day?
Feel free to come into a Shreve & Co store and ask to see any of the pieces we mentioned above. All of the staff can help you find the perfect gift for your significant other. You can also schedule an appointment.