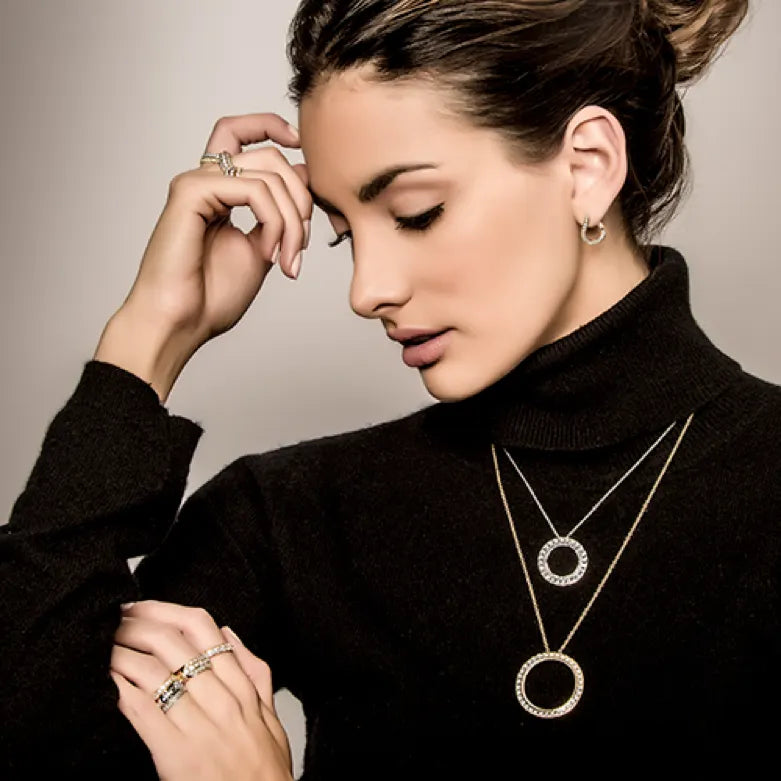 Harry Kotlar is known for walking the red carpet with countless celebrities. Celine Dion, Gal Gadot, Lady Gaga, and Scarlett Johansson are just some of the women who have relied on Harry Kotlar to help them shine. What do these celebrities know that countless others should as well? It's simple: whether on an arm, draped around a neck, or dangling from an ear, a Harry Kotlar design is distinct and enviable—everything a luxury jewelry icon should be. With its long-standing tradition, heritage, and unparalleled designs, Harry Kotlar has earned its way to becoming one of the most revered design houses across the globe.
Harry Kotlar, the namesake of the company's founder, was founded in 1948, after Harry and his wife, Helen, emigrated to Los Angeles. The couple started their business by purchasing diamonds from Helen's brother, whose small mine in Israel allowed them to launch a successful company in the Los Angeles diamond district. As demand grew to supply larger and larger diamonds to buyers, it was Harry's unparalleled customer service and impeccable quality that made him one of the most sought-out names in the diamond industry. And it's a fact that remains true today.
Now, three generations later, the company continues to create time-honored pieces that are backed by the same service, attention to detail, and ethical resourcing that helped launch it into success. With the Kotlar name comes a history and heritage that has been masterfully grown through time. And while the brand has maintained its old-world artistry, it also continues to be an icon in the modern day.
 Harry Kotlar continues to deliver upon the most premium luxury jewelry experience by introducing new innovations that also meet the demands of the Kotlar legacy. Each piece is handled by just four artisans—a forger, a carver/setter, a polisher, and a quality control expert—to keep the integrity of its craftsmanship. This ensures that the jewelry remains strong and beautiful for a lifetime.
It's known for its Kotlar Cushion diamonds, which are up to 20 carats and known as "the World's Most Brilliant Cushion Cut diamond," as well as its hallmark design, the Artisan Pavé. And as the company continues to grow into its sixth decade, Harry Kotlar offers even more premium offerings, such as an online Concierge service and a digital Passport for registration of each piece. And for top clients, the Kotlar Luxury Experience provides them with a luxury trip to Hong Kong to claim their jewelry in person.
Breathtaking beauty. Unmatched craftsmanship. Time-honored designs. An undeniable heritage. Impeccable service. Harry Kotlar is everything you'd dream of from a luxury jewelry maker.