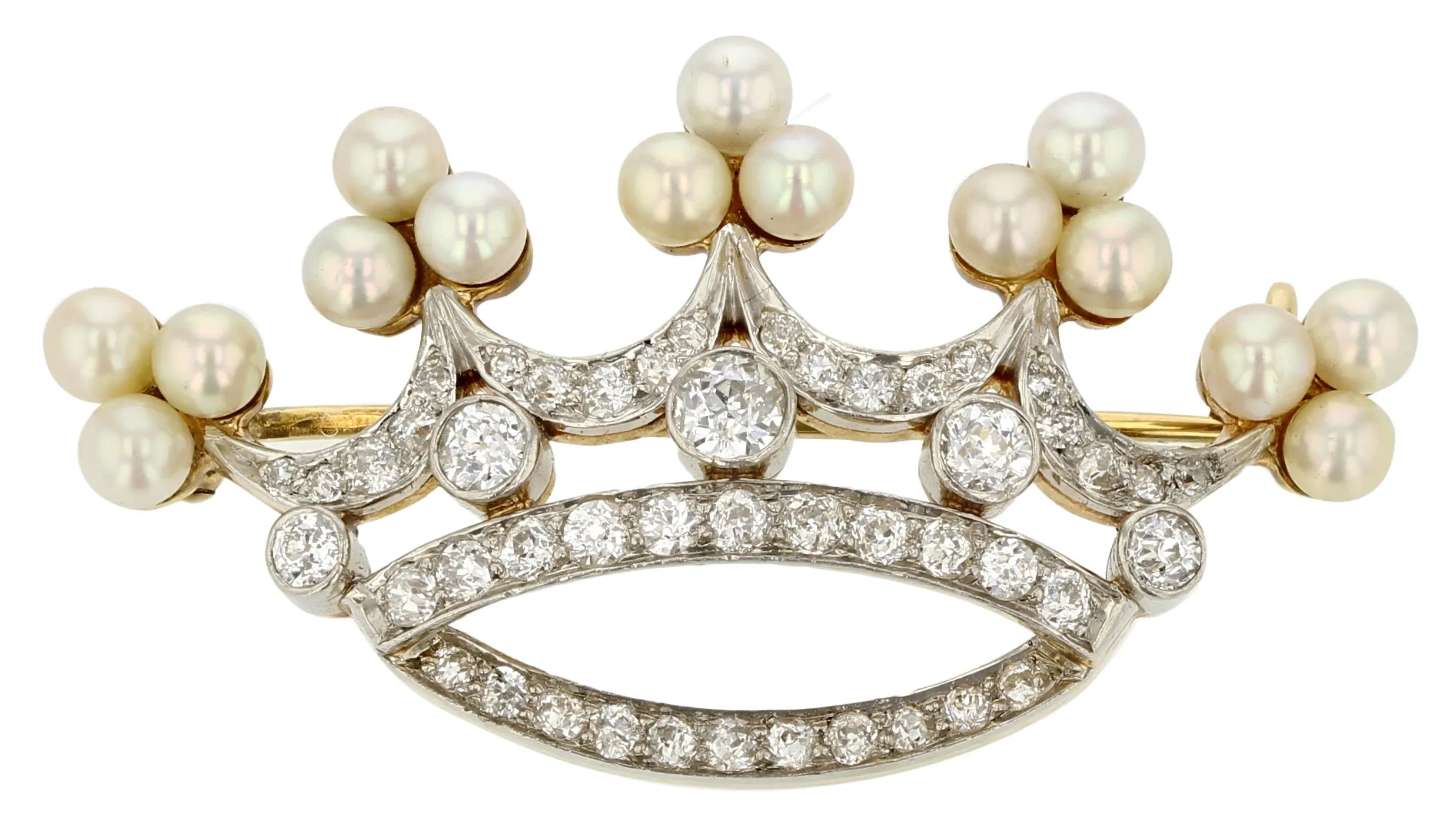 For many years, the humble brooch has been overlooked and left to collect dust in a grandmother's jewelry box or found in catch-all bins at neighborhood flea markets. But now they've come back with a bang, showing up as statement accessories on the runways of Prada, Dolce & Gabbana, Suno, Edun, Balenziaga and more.
Brooches are perhaps the oldest type of jewelry, dating back to when man evolved from the simple loin cloth. Aboriginals used flint found in the caves of the Paleolithic age to fasten together larger pieces of cloth that couldn't simply be tied. As time went on, brooches were made with various metals and fastening mechanisms and eventually were adorned with gemstones.
Today, brooches are worn in the hair, on the neckline, with open back dresses, pinned to the waist of gowns and scattered all over jackets. Not only have they come back into style, they are once again on the mind of estate jewelry collectors who seek out brooches from all design eras.
The timing for this "new" trend couldn't be more fitting as bulky statement necklaces have started to fall in popularity – they could only get so big before causing actual neck pain. And with the influx of capes in fashion now, a brooch can actually serve its original purpose as a practical fastener as well as a decoration.
Pin one on in the glamorous style of Elizabeth Taylor or turn it into an embellishment for a modern clutch or dress, but before you do, keep these 4 styling tips in mind:
Tip #1: Wear a vintage brooch with a structured, printed dress or pin it to a brightly colored clutch for a look that's classic with added modern flair.
Tip #2: A brooch works when worn over the bust but it can also be a surprising embellishment at the center of a buttoned up collar.
Tip #3: A new way to individualize your go-to, tailored black blazer is to add a playful brooch to the lapel.
Tip #4: If you've got a little black purse you love to carry from day to night, adding a brooch to the top corner is a great way to dress it up for a special occasion.
So, are you ready to start your own brooch collection? You can in get in on the trend with this list of pieces currently available in our stores. Find one that fits your style, and start pinning everything from sweaters to scarves.
The Art Deco Bow
This feminine brooch features an era specific design element – the bow – as well as over 3 carats of diamonds and sapphires set in platinum. The matching pin makes it easy to adhere the piece to any one of your go-to outfits.
The Edwardian Crown
One of our favorites – this platinum and yellow gold brooch with matching safety pin highlights natural pearls and diamonds in royal fashion.
 The Parrot Riding Crop
The Victorian era was known for brooches that highlighted several gemstones in one design. This brooch features diamonds, emeralds and rubies in a yellow gold Parrot head setting with matching pin fastener.
The Bar Pin
Made in 1900 by original Shreve & Co. jewelers, this Victorian bar pin highlights natural pearls that are bead set in one line. This piece would be an excellent choice as the first piece in your collection as it goes with everything.
Interested in Seeing Our Full Collection of Brooches?
Join us for our Annual Estate Event at our new San Francisco location from March 3rd-5th. We'll have an expanded collection of brooches from all the major design eras and our Estate manager, Pete, will be on location to give you the history of each and every piece. If you can't make it to our event and would prefer a private showing, schedule an appointment.