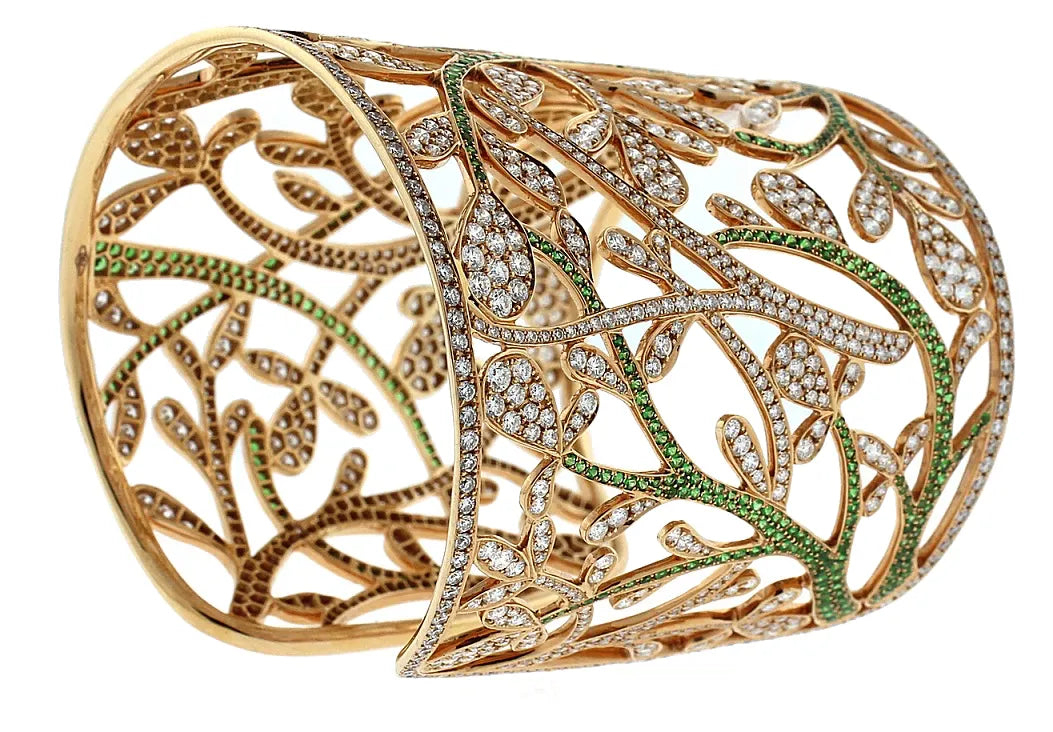 Even though we didn't get an invite to the wedding of the year (hint: it's this Saturday), we still like to fantasize about what pieces of jewelry we might adorn inside St. Georges Chapel. While accessorizing for the royal wedding might seem like a daunting task, finding the perfect accent for such an occasion is a piece of (wedding) cake at Shreve & Co.
Here are a few of our favorite pieces (that might even steal focus from Ms. Markle herself)…
A Diamond and Tsavorite Bracelet from Robert Procop
Robert Procop is known for dressing celebrities and royalty alike so we wouldn't be surprised to see a few of his one-of-a-kind pieces worn throughout the congregation. If we were planning to wear a short sleeve gown, perhaps a sleek black or emerald fit and flair, we'd be adorning our wrist with this stunning cuff bracelet. It features over fifteen carats of white diamonds and over four carats of tsavorites all set in 18 carat rose that is sure to be a talking point at the reception.
A Pair of Art Deco Drop Earrings from Shreve's Estate Collection
If we were planning to wear our hair up (with a hat of course!), drop or chandelier earrings would be our first choice to complete our wedding attire. This type of earring draws attention to the face and fills the negative space around your neck and shoulders effortlessly. The versatility of the white diamonds in these earrings is an added bonus as they could be paired with any dress - patterned or solid colored. These earrings are from the Art Deco period and feature 42 old European cut diamonds weighing a total of 3.44 carats along with white gold screw back studs for added security.
A Bold Emerald Cocktail Ring from Harry Kotlar
Regardless of your dress choice, a stunning right hand or cocktail ring is always appropriate for an event of this magnitude. Similar to Robert Procop, Harry Kotlar is also known for dressing celebrities like Kate Bosworth, Mariah Carey, Rihanna and more for black tie events and beyond. We love this ring because it showcases a cushion cut emerald weighing over five and a half carats and is accented by 2 half-moon diamonds and almost a carat of pave set diamonds. If we were looking to make a good first impression on the soon-to-be Duke and Duchess of Sussex at the reception, this is how we would do it.
Looking for the perfect accessory for your next big event? Stop by either of our locations in San Francisco or Palo Alto and our talented staff will help you find the perfect one-of-a-kind piece to make you feel like royalty.