For the Person Who Has Everything: A Guide to Last Minute Unique Gifts
Out of all the loved ones on your gift list, it's no surprise that you're most concerned with finding the perfect holiday present for your significant other. I bet you wish you had listened for all those subtle hints throughout the year but honestly, who can remember when you're on a time crunch. Buying a gift for that one person can definitely be tricky business. After all, what do you get that says "you are the love of my life" year after year? Before you settle for another gift certificate, know that I've got you covered. I've rounded up this year's top luxury gifts – a few favorites from our loyal customers and guaranteed to please.
FOR HER
We've all been there. You're searching for the perfect, meaningful holiday gift for your nearest and dearest and no matter where you look, your ideas seem to fall short of your expectations, causing you to wait until the last minute. To help ease the anxiety of gifting this season, we've created a short list of unique luxury gifts for the woman in your life.
Gift #1 – The Glitzy Get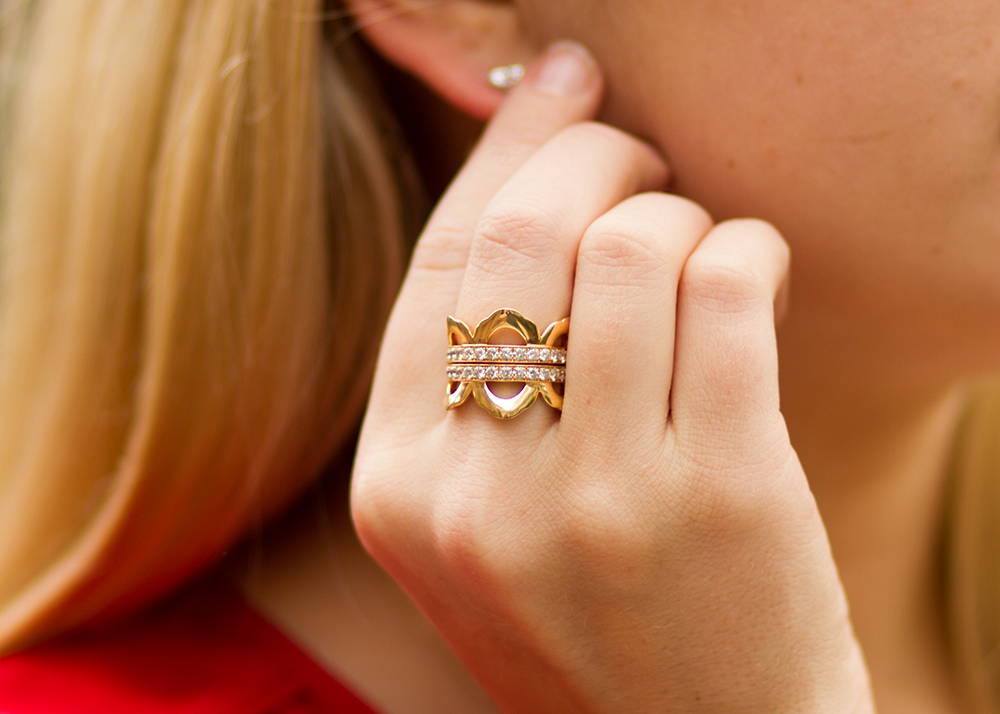 The Hearts On Fire Lorelei Right Hand Ring
The Hearts On Fire Lorelei Right Hand Ring is a modern, metal intensive design that is both feminine and fashion forward. Featuring two rows of perfectly cut diamonds and the signature scalloped edging of the Lorelei Collection, this beautiful right hand ring can truly be worn day or night. The inspiration for the Lorelei collection comes from Ilaria Lanzoni's, Hearts On Fire Director of Design, passion for integrating modern trends into pieces that portray a classic, elegant style. With Ilaria's signature touch, distinctive scalloped edges highlight every piece of this beautiful collection for a look any woman will love.
Gift #2 – A Splash of Color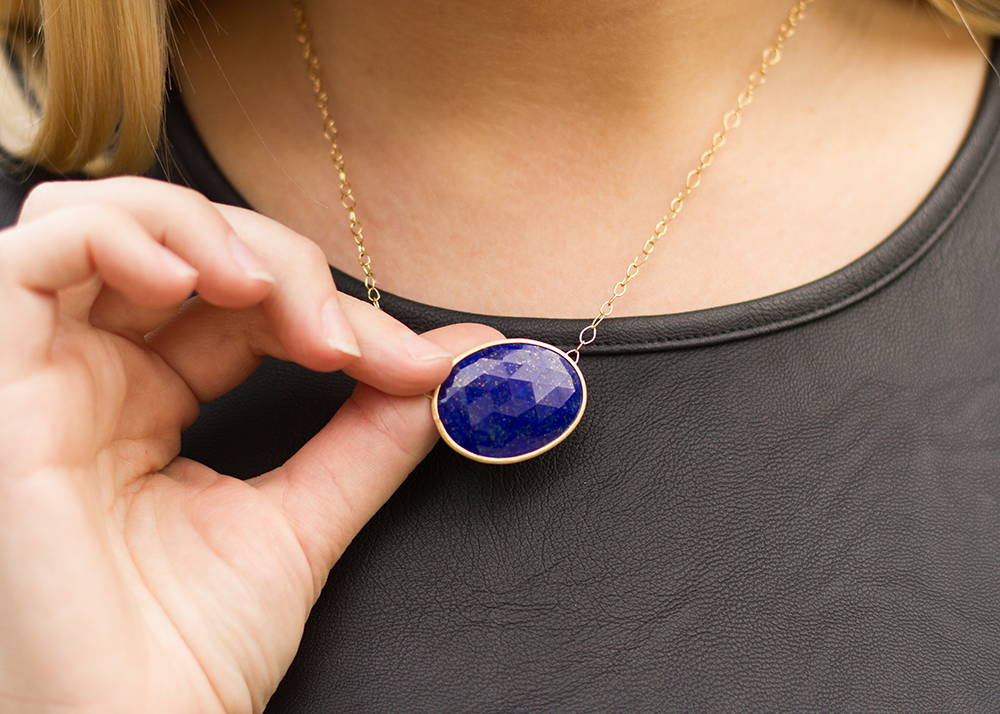 The Marco Bicego Lunaria Lapiz Gemstone Necklace
The Marco Bicego Lunaria Lapis Necklace is a colorful, trendy statement piece that is sure to please the boldest of women. The necklace features a rose cut, cushion shaped Lapis gemstone, a hammered and hand engraved 18K yellow gold pendant and matching 18" chain. Marco Bicego created the Lunaria collection to celebrate not only the Lunaria flower but nature as a whole. The distinctive features of his collection are embodied by the delicate gold accents molded by hand and made deliberately irregular by expert craftsmen to suggest the movement of Lunaria leaves rustling in the wind. The use of hand engraved elements gives the collection a lightness that could only be crafted by Marco Bicego himself.
Gift #3 – The Dream Buy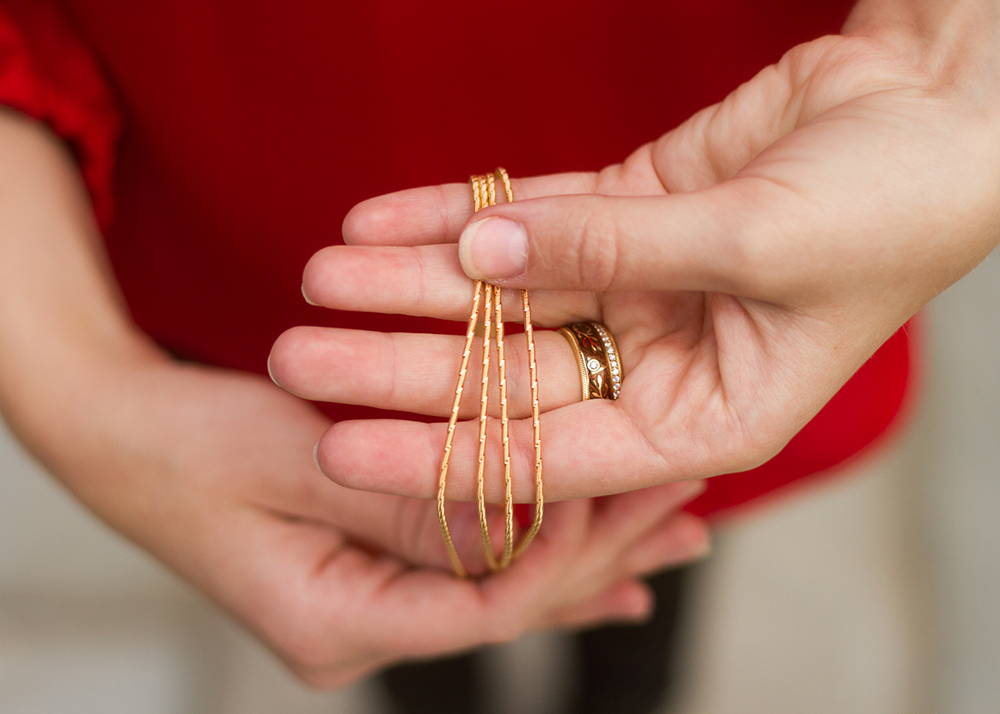 The Wellendorff Brilliance of the Sun Necklace and Spinning Ring
Fashioned using a technique developed over 35 years ago by Hanspeter Wellendorff, the Brilliance of the Sun Necklace is made of Wellendorff's famous 18-karat yellow gold rope that is as soft and smooth as silk to the touch. This necklace features several individual gold strands that produce glistening spots from within the hand coiled gold wire. Not to mention, it's also extremely versatile as this necklace can be worn short, doubled or long.
Paired with the necklace above is Wellendorff's signature Spinning Ring. Every Wellendorff ring consists of at least four individual rings that are closely connected but remain free enough to move on their own. The unique spinning effect of this ring can only be crafted by masters who embody the highest precision and technical skills. In fact, craftsmen are only allowed one hundredth of a millimeter of tolerance between rings. Just as unique as the woman who wears them, Wellendorff rings come in a variety of colors and widths to fit the wearer's style.
FOR HIM
Shopping for men is hard, period. Sure, you know everything about your man but when it comes to holiday shopping, it's not uncommon to feel like you going on your first date – all over again. I've carefully selected, from our customer's favorite purchases, a few watches that are sure to win you his approval.
Gift #1 – The Everyday Staple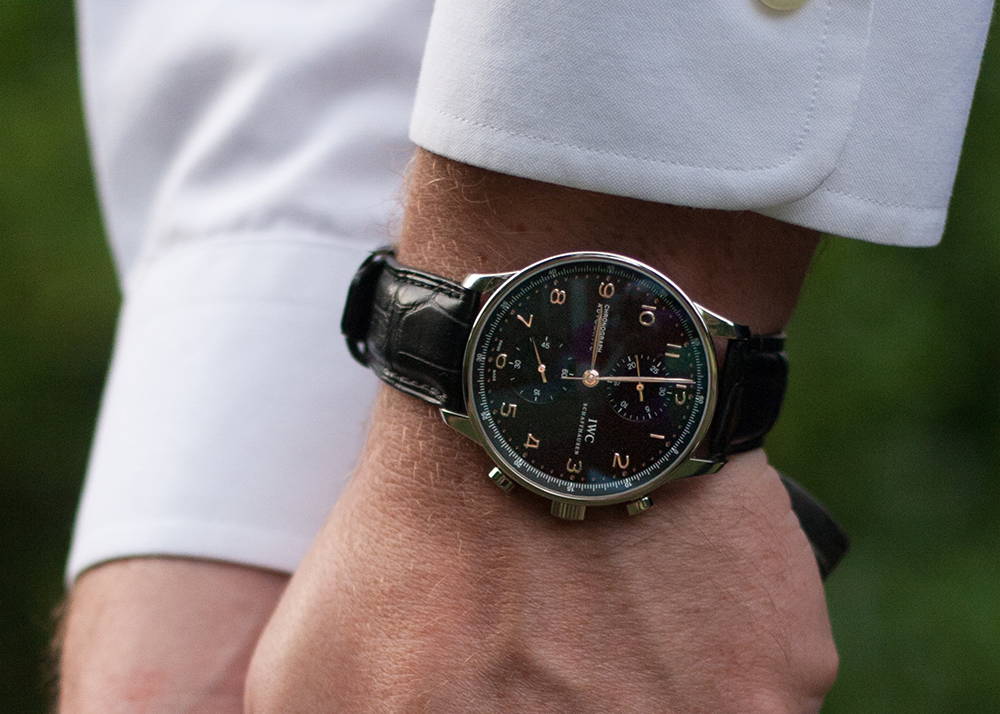 The IWC Portugueser Chronograph Watch
The tradition behind the IWC Portuguese family of watches dates back to the precision nautical instruments used by seafarers to discover the world. The elegant design and moderate height of the case have made the Portugueser Chronograph one of the most beloved watches of our young watch collectors. The IWC Portugueser Chronograph Watch features a mechanical automatic movement with a 44-hour power reserve, a 60-second subdial and a 40.9mm stainless steel case on a matte black alligator strap with a stainless steel ardillon buckle.
Gift #2 – Vintage Inspired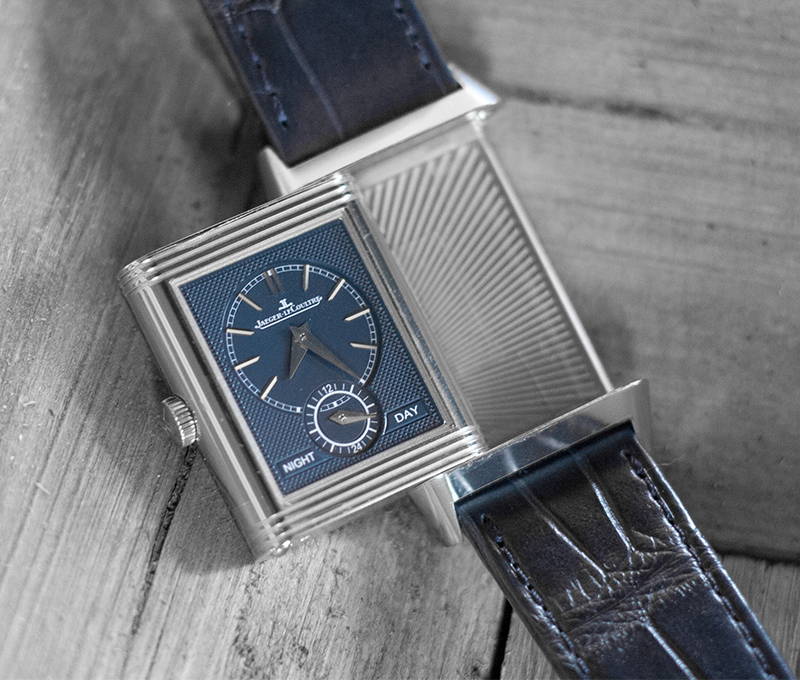 The Jaeger-LeCoultre Reverso Classic Large Duoface Watch
Inspired for more than 80 years by the principals of Art Deco, the Jaeger-LeCoultre Reverso Classic Large Duoface Watch is one of the most unique pieces we carry. It displays two dials, one on each side, both powered by the same movement. This model from Jaeger-LeCoultre not only allows the consumer to see what time it was, say, at home and abroad but also to change the look and feel as they please. It features the Caliber 969 automatic movement, a silvered guilloché dial with hour, minute and 24 hour display on the front dial and a second-time zone on the back dial. This watch also showcases a 47mm stainless steel case and a black alligator strap with a stainless steel clasp.
Gift #3 – Timeless Timekeeper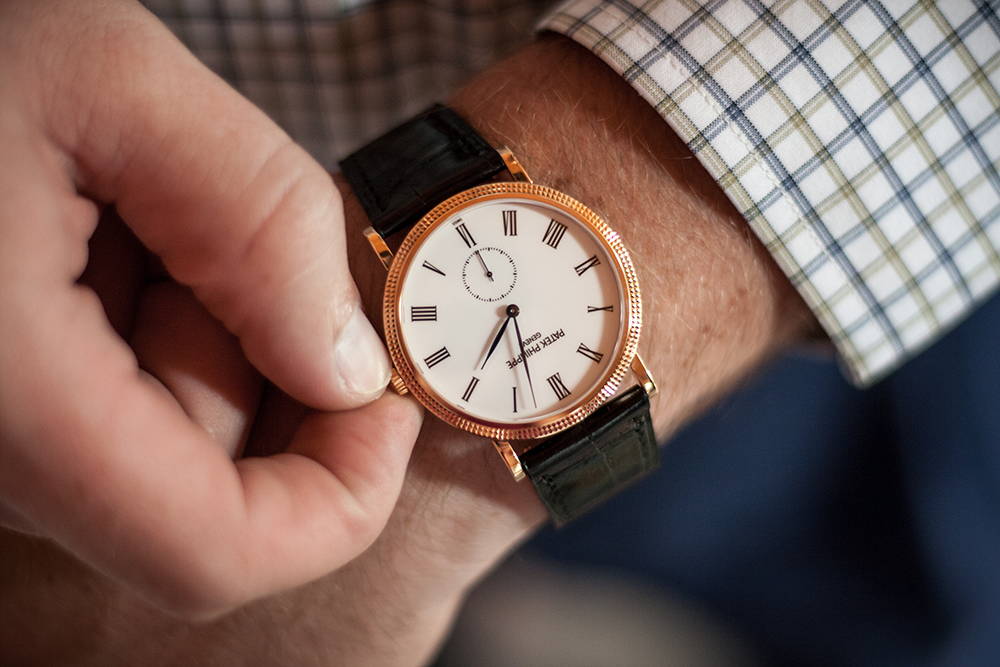 The Patek Philippe Calatrava Watch
Looking for the ultimate timepiece that your man can pass down to the next generation? The Patek Philippe Calatrava Watch is a classic yet robust example of Patek'sfinest time-only reference. Only a few are released each year making it truly a unique gift. This watch features the Caliber 215 PS mechanical manual winding movement, a classic Patek hobnail-patterned bezel, authentic white enamel dial with black Roman numerals, small seconds subdial, sapphire-crystal transparent case back, and a 36mm 18k rose gold case on a black alligator strap with an 18k rose gold ardillon buckle.
Ready to put one of these gifts under your tree?
Feel free to come into a Shreve & Co store and explore everyone these unique gifts. All of the staff can make sure to make you a hero this holiday season. Drop by our San Francisco or Palo Alto location or schedule an appointment here.