How To Clean Your Watch Strap
Everyone young man grows up with that favorite hat, you know, the one with sweat rings around the cap, the frayed brim that has a random string hanging down, and the slight expansion of size that means it still fits but maybe not the way it once did. While the appearance of a well-worn hat can be a point of pride, we do not recommend treating your watch straps with the same negligence as that favorite hat. Cleaning a timepiece is a complicated and delicate procedure and we always recommend taking your timepiece to an expert for thorough cleaning and maintenance on a regular schedule. Your watch straps, however, are much easier to care for and can help prolong the life of your entire timepiece by following some basic cleaning patterns. Today we will discuss how to care for your leather, nylon (NATO), and rubber watch straps.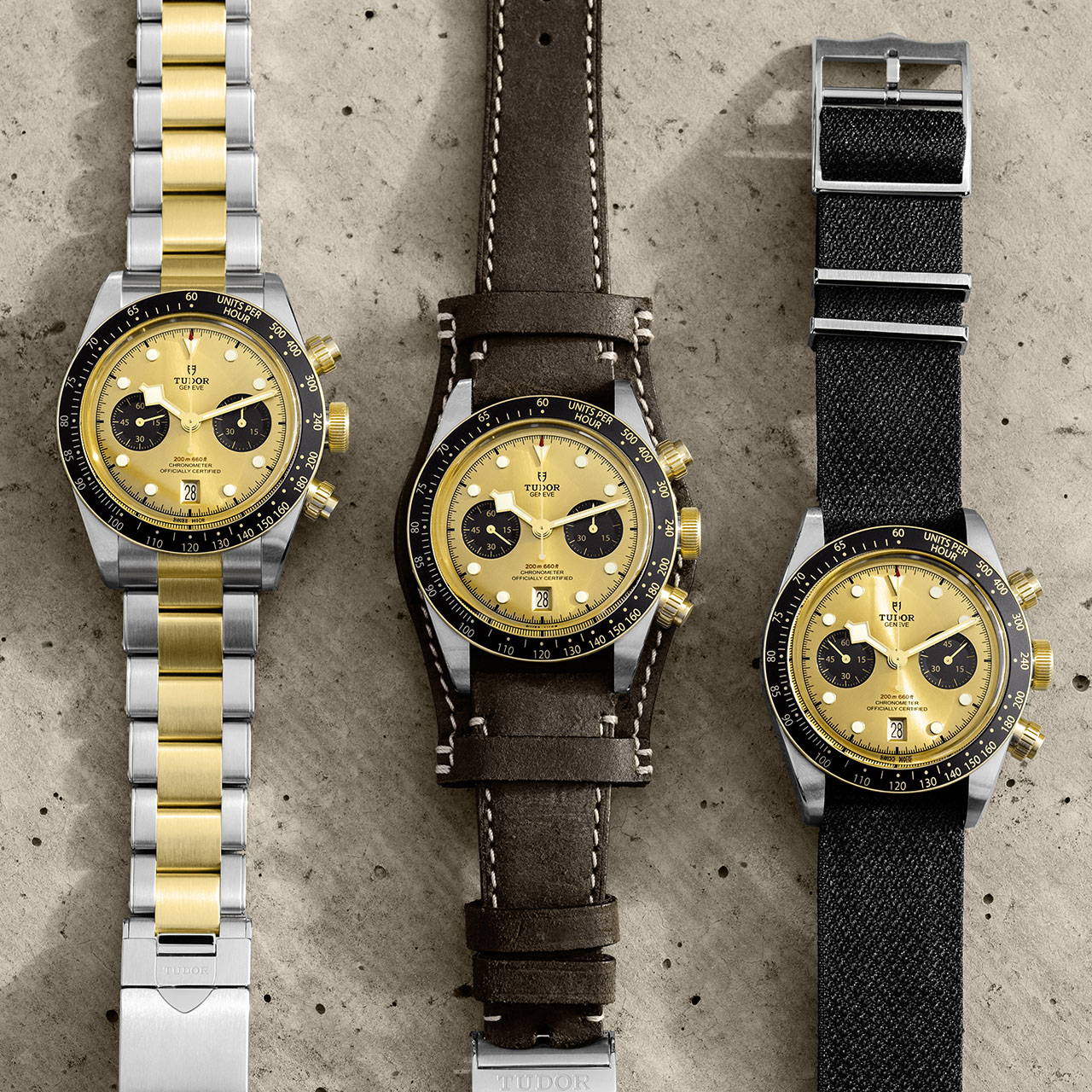 Leather watch straps lend an air of distinction to a special timepiece, helping to immediately dress up the case and create a beautiful, aged look as the strap begins to take on character with time. To keep your leather watch strap looking perfect, we recommend a few cautions for daily wear. Water is the enemy, so avoid soaking the strap in water while swimming, vacationing, or showering. These are great times to take your watch off and allow it to air out after a period of wear. Additionally, sweat can cause discoloration and staining on certain leather straps, so if you live an active lifestyle, we recommend keeping that in mind when choosing a strap for your timepiece and potentially keeping the leather strap for special occasions instead of daily wear. Consider your leather watch straps like your favorite pair of shoes, a little rest and some time between wears will help them to last much longer and remain looking fresh.
Cleaning leather is a fairly easy process which will extend the life of your watch strap. Start by removing the strap from the watch case and setting the case aside. You can wipe off the back of the case with a smooth, clean cloth to remove any particles or oils from your skin while cleaning your strap, which will also prolong the life of your wristwatch. Begin cleaning the strap by wiping with a cloth or a soft brush. If your watch strap is made of suede or nubuck, you can purchase a suede brush specifically designed for cleaning these types of leather. Next, for smooth grain leathers, use a small amount of water and a gentle soap to work through the strap and gently clean the leather, then allowing the strap to completely dry. Finally, treat your strap with leather conditioner, which will help keep the leather soft and protected during wear. As a tip, use a small dab of the leather conditioner on the inside of the strap first as some conditioners will darken the color of the leather. Allow the strap to sit and absorb the conditioner and then re-attach to your timepiece and continue wearing as usual.
Nylon or NATO straps have become increasingly popular for people with an active lifestyle as an option for their favorite wristwatch. These woven straps are comfortable, flexible, and stand up well to wear and tear when they are cared for properly and cleaned effectively. Over time, an active lifestyle can cause the material to retain dirt and chemicals from sunscreen, bug spray, lotion, and anything else you may come into contact with on a daily basis while wearing your timepiece. The good news for nylon straps is that they are exceptionally easy to care for and wash. Begin by removing the strap from the watch case. Wipe the strap clean with a cloth or soft brush (Reminder: this is a great time to wipe clean the back of your watch case). Mix water and a gentle soap in a small dish with room temperature water. Submerge the strap fully in the mixture of soap and water and allow it to soak for a few minutes. Try to avoid very hot water here as it can damage the nylon. After a few minutes, gently rub the strap between your fingers to work the soap into the fabric to really clean out anything trapped in the weave. Remove the strap from the dish and rinse thoroughly in cool water. Roll the strap in a hand towel and press down to help remove any last moisture, then hang the strap in a cool place away from direct sunlight to dry completely. You can also soak your nylon straps in an ice water bath with stronger detergents before repeating the cleaning process if you have some tough grime or build up, or you can place the strap in a wash bag and wash with your cold-water laundry. In the event you have some small frays or edges on a nylon strap, you can use an indirect heat source to melt away the frayed nylon and help seal the edges.
While leather and nylon are common strap types for many watches, the rise of rubber straps, especially on sport style timepieces has been massive in the last few years, particularly due to their ease of care and versatility. Rubber straps are the easiest to clean and maintain for long periods of time and can withstand regular exposure to sun, salt, sunscreen, bug spray, lotion, and pretty much anything you can throw at them. To wash your rubber watch strap, remove it from the watch case and wipe clean with a soft cloth. Rinse the strap under running warm water and then apply hand or dish soap to the strap while rubbing between your fingers to remove dirt. Rinse the strap in cool water and hang in a cool place away from direct sunlight to dry completely.
When you purchase a wristwatch, you are making an investment. Proper care and cleaning of your watches strap can help it to last a lifetime. Following these easy steps can keep your strap as fresh as the day you purchased your timepiece.