It's Time to Slim Down: Our Top 3 Picks for Ultra-Thin Watches
In recent years, many watch brands have focused their efforts not only on setting new records in thinness but also in increasing the level of complication and complexity in ultra-thin movements and cases. Ultra-thin watchmaking is something relatively few companies excel in, and for very good reasons – added expense, technical knowledge and time to develop. Still, making an ultra-thin movement, whether its simple or complicated, is considered a statement of watchmaking at its finest.
The Development of Thinner Watches
The evolution of the ultra-thin watch didn't begin until the development of the Lépine caliber, designed by Frenchman Jean-Antoine Lépine, in the mid 1700's. Before then, pocket watches were designed to be fairly thick to accommodate verge escapements – mechanisms that translated rotational energy into lateral impulses. Not only did verge escapements add an unavoidable height to watch movements, they were pretty lousy timekeepers (because of the lack of a constant force mechanism). In short, while these types of watches were extremely beautiful, they were also incredibly bulky and thick.
With the shift in men's style erring on the side of slim cut garments towards in the beginning of the 1800's, watchmakers needed to respond by pushing the limits of watch thinness. Luckily, the Lépine caliber was designed with a much flatter cylinder escapement and introduced the bridge and mainplate systems we still see today.
Jean-Antoine Lépine's solution did away with the top plate and substituted a series of cocks and bridges to hold the upper pivots of the train wheels in place. It dramatically altered the way watches were constructed and, by the 1900's, refinements in manufacturing techniques made it possible to design incredibly thin movements – like the LeCoultre caliber 145 which to this day holds the record for the thinnest hand wound movement in history.
Making ultra-thin movements was, and is, extremely technically challenging. It's the domain of a very few specialist watchmakers which is why it's an incredible achievement to break a world record with any movement. Some of our favorite brands – Piaget, Jaeger-LeCoultre and Vacheron Constantin – have managed the impossible all so that you can showcase a piece of history on your wrist each and everyday. Here are our favorite pieces that have won the title of world's thinnest watch:
The World's Thinnest Mechanical Watch: Piaget Altiplano 900P
It's no surprise that Piaget is at the top of our list as their brand has long been associated with ultra-thin watches and holds records for thinness in several horological categories. The Altiplano 900P is the slimmest mechanical movement watch in the world with a case thickness of 3.65mm. Piaget achieved the record through the use of the same basic concept pioneered by other brands in the 1980's – using the caseback as the mainplate.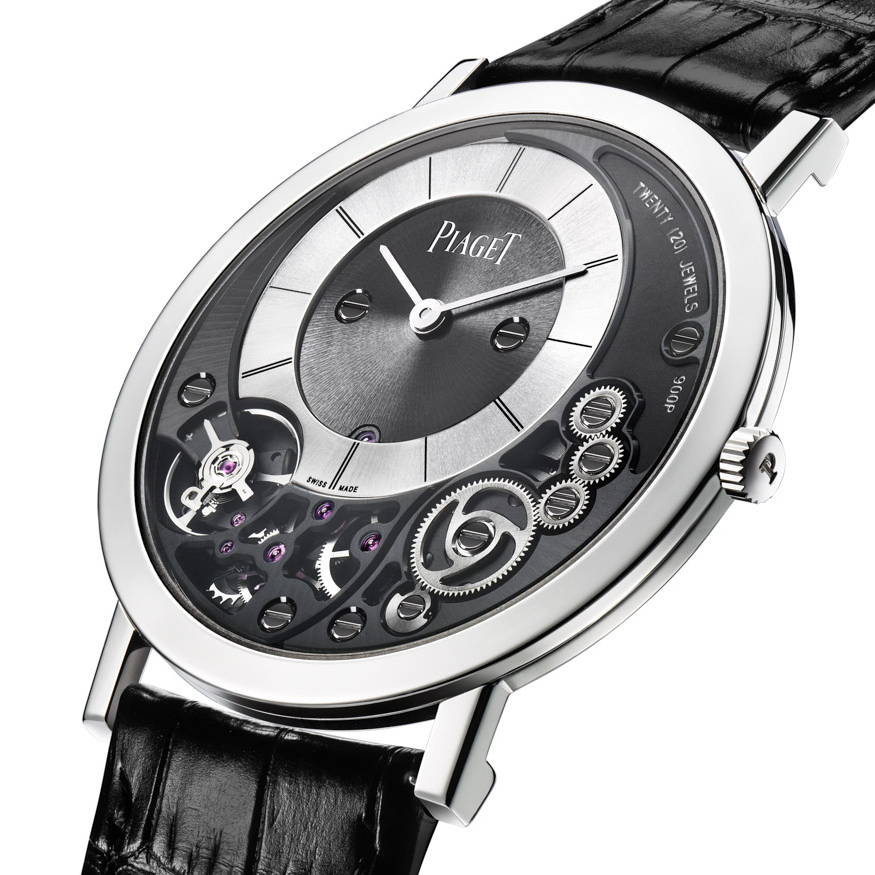 However, Piaget also moved the bottom pivots inside the watch which placed the dial on the same level as the train and made it possible to wind and set the watch from the same crown. It's hard to overstate what a technical achievement the 900P is and yet the company even manages to squeeze a full 48 hour power reserve into it as well.
The World's Thinnest Minute Repeater: Jaeger-LeCoultre Hybris Mechanica 11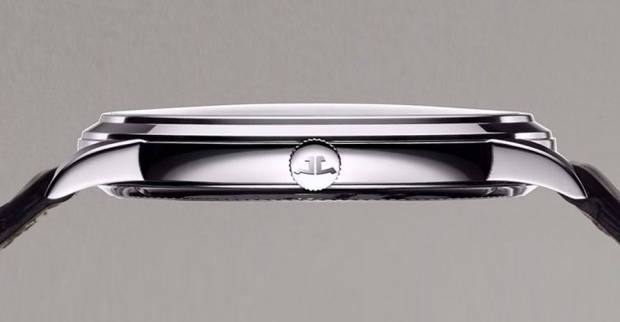 In 2014, the Jaeger-LeCoultre Master Ultra-Thin Minute Repeater Flying Tourbillon not only secured the record for the world's thinnest minute repeater, it also managed to combine automatic winding and a flying tourbillon in a 4.8mm thick movement. The case for the Hybris Mechanica 11 – its short name – measures 41mm in diameter and a mere 7.9mm in thickness which is unheard of for such a complicated timepiece.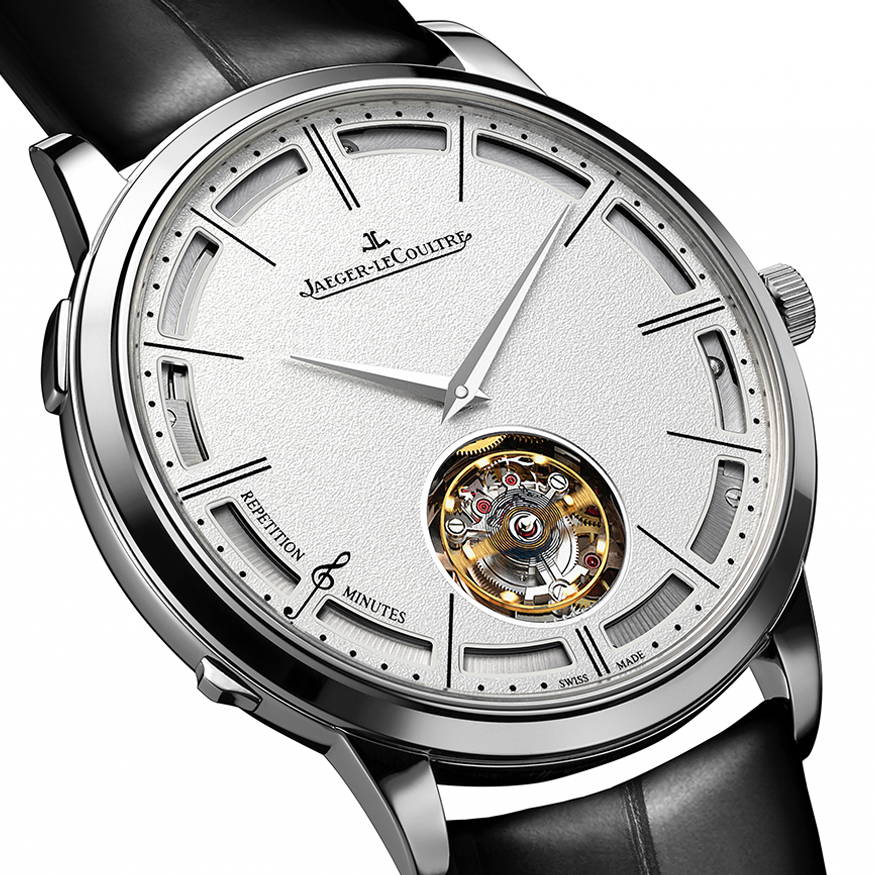 Jaeger-LeCoultre didn't just cram existing elements into a smaller movement and case size, they re-imagined and re-engineered the elements for this particular watch. In fact, Jaeger-LeCoultre obtained eight patents for the design alone.
The World's Thinnest Manual-Winding Minute Repeater: Vacheron Constantin Patrimony Contemporaine Ultra-Thin Calibre 1731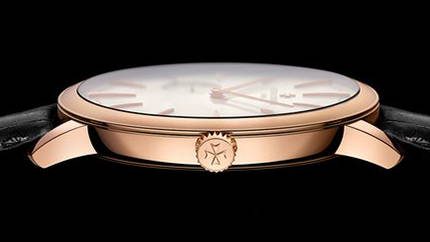 Measuring in at a respectable 8.09mm, the Vacheron Constantin Patrimony Contemporaine Calibre 1731 Minute Repeater has a slightly thicker case than that of the Jaeger-LeCoultre Hybris Mechanica 11. However, this watch actually showcases a minute-repeater movement that is a tad thinner than our previous top pick with a height of 3.9mm.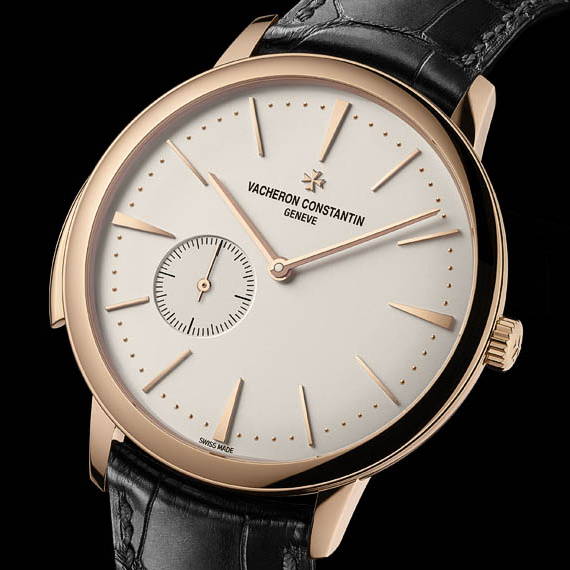 The Patrimony Contemporaine features a manual winding movement with a 65 hour power reserve and a flying strike governor – an innovative device that controls the speed and spacing of the repeater's chiming tones and reduce the audible whirring sounds that can accompany the chimes.
What's Next in Ultra-Thin?
Future developments in the evolution of ultra-thin horology will be interesting to watch, mainly because records have been broken in small intervals for some time. Remember, some of the world's thinnest watches ever made were produced in the early 1900's. Regardless, as we ready ourselves for this year's BaselWorld, we'll keep you posted on each and every development from behind the scenes.
Want to See These Record Breakers In Person?
Feel free to come into a Shreve & Co store to see one for yourself. All of the staff can discuss the merits of each timepiece list above, but if you really want to hear more about the history, ask for Maria in our San Francisco location or Tony in our Palo Alto location. You can also schedule an appointment here.