Meet the Volunteers Inspiring a Domino Effect of Love
Anna Louvierre was in shock when she got the call to evacuate her Santa Rosa home during the Tubbs Fire of 2017. "My neighbor called me around two in the morning and said, 'Anna, you gotta get up and get out of here. There's fire all around us!'"
Now dealing with smoke damage throughout her house, Anna considers herself one of the lucky ones — she and her husband made it out alive and her home is mostly intact. Putting a meal on the table, however, has become a struggle. Thankfully, there's Meals on Wheels.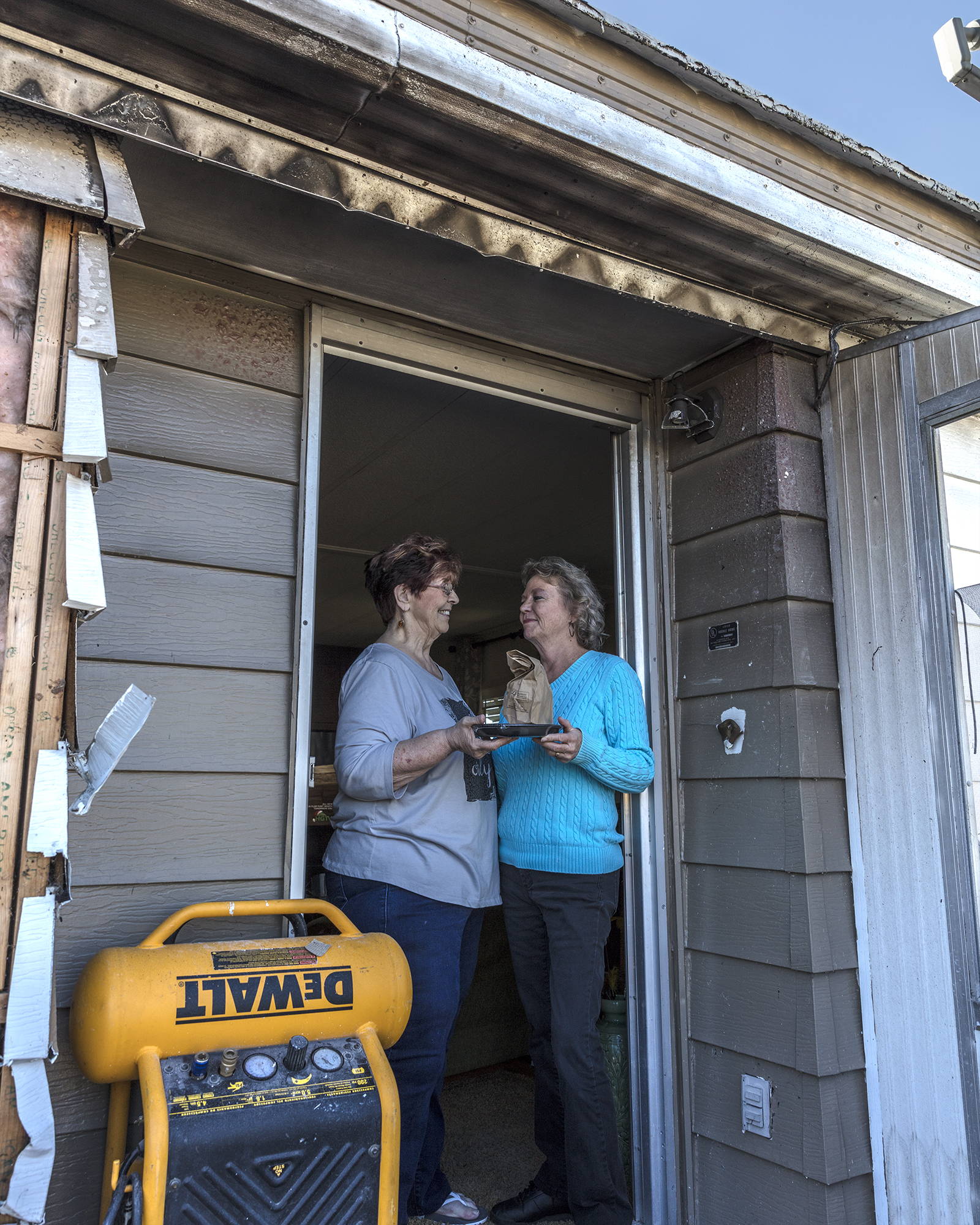 Anna Louviere (left) receives a Meals on Wheels delivery from Cheryl Humber.
On Thursday afternoons, Anna is greeted with fresh food and a warm smile from Cheryl Humber, an employee of the Sonoma Council on Aging. Cheryl is just one of several people stopping by throughout the week with Meals on Wheels deliveries for Anna and her husband. This service allows Anna more time to care for her husband, who uses a wheelchair while ensuring the two still get the daily nutrition they need.
The bright smile Cheryl saves for Anna quickly turns to tears as she describes what remains of her clients' homes in the Coffey Park area of Santa Rosa. "I had one client who lived over here," Cheryl says, pointing to the ash-filled remains of an empty lot. "They made it out ok, but they're just one of our many clients forced to relocate."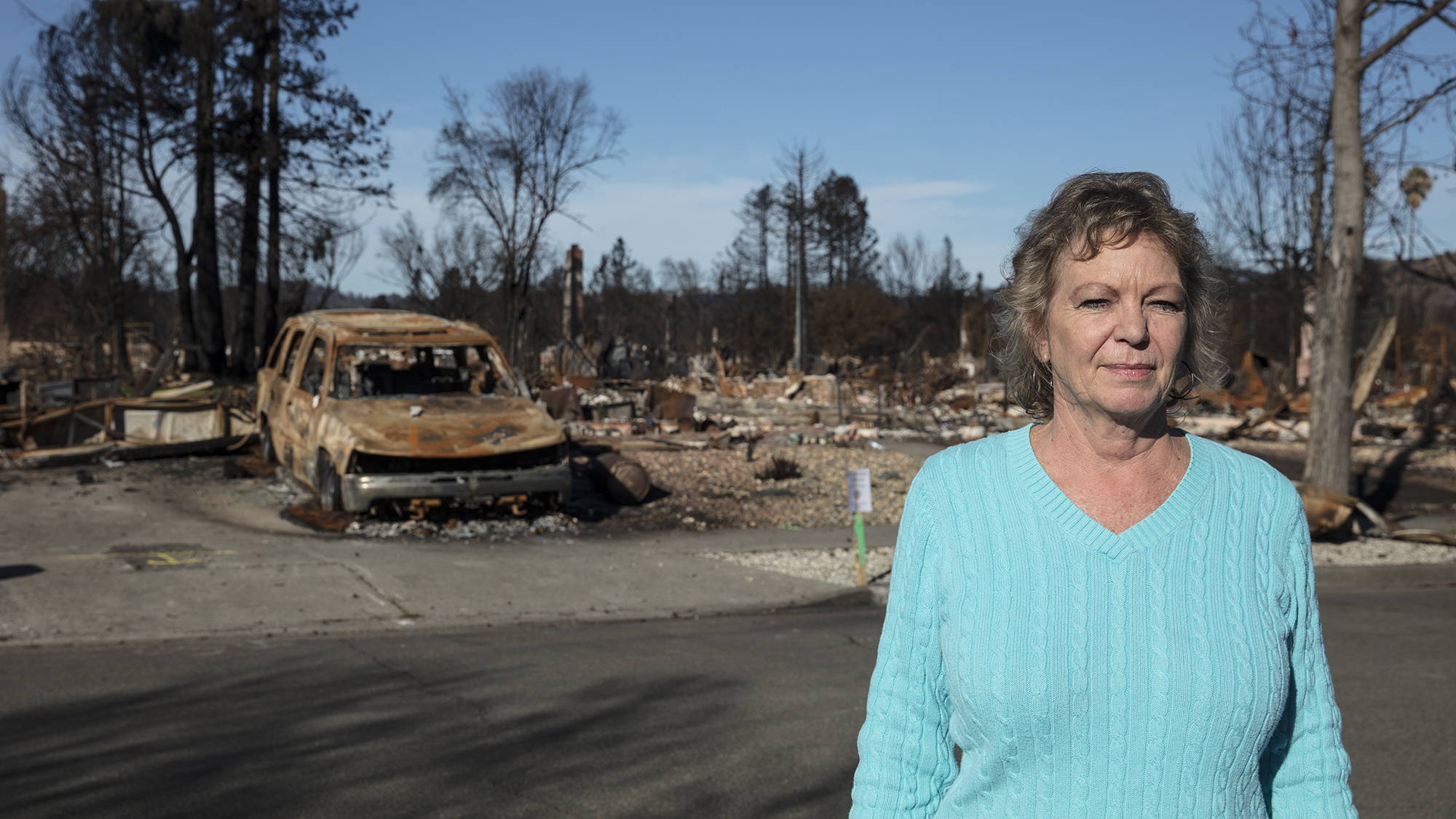 Cheryl Humber stands in front of the Coffey Park neighborhood where several of her Meals on Wheels clients once lived.
One of Cheryl's fellow volunteers, Clyde Lorentzen, can empathize with displaced Meals on Wheels clients. Clyde and his wife evacuated the night of the fires but never expected to lose their idyllic home of 49 years on Santa Rosa's Riebli Road.
"When we left around midnight, the wind was blowing away from our home and we saw nothing but a glow way out in the distance," said Clyde. "Then the wind shifted that night while we were away and everything was destroyed."
After delivering meals on his weekly route, Clyde brought us to what remains of his homestead. Not much is recognizable other than the chimney and a few soot-filled pages from his wife's personal library. And although the only home he has known for nearly half a century is gone, Clyde is still dedicated to serving others through Meals on Wheels.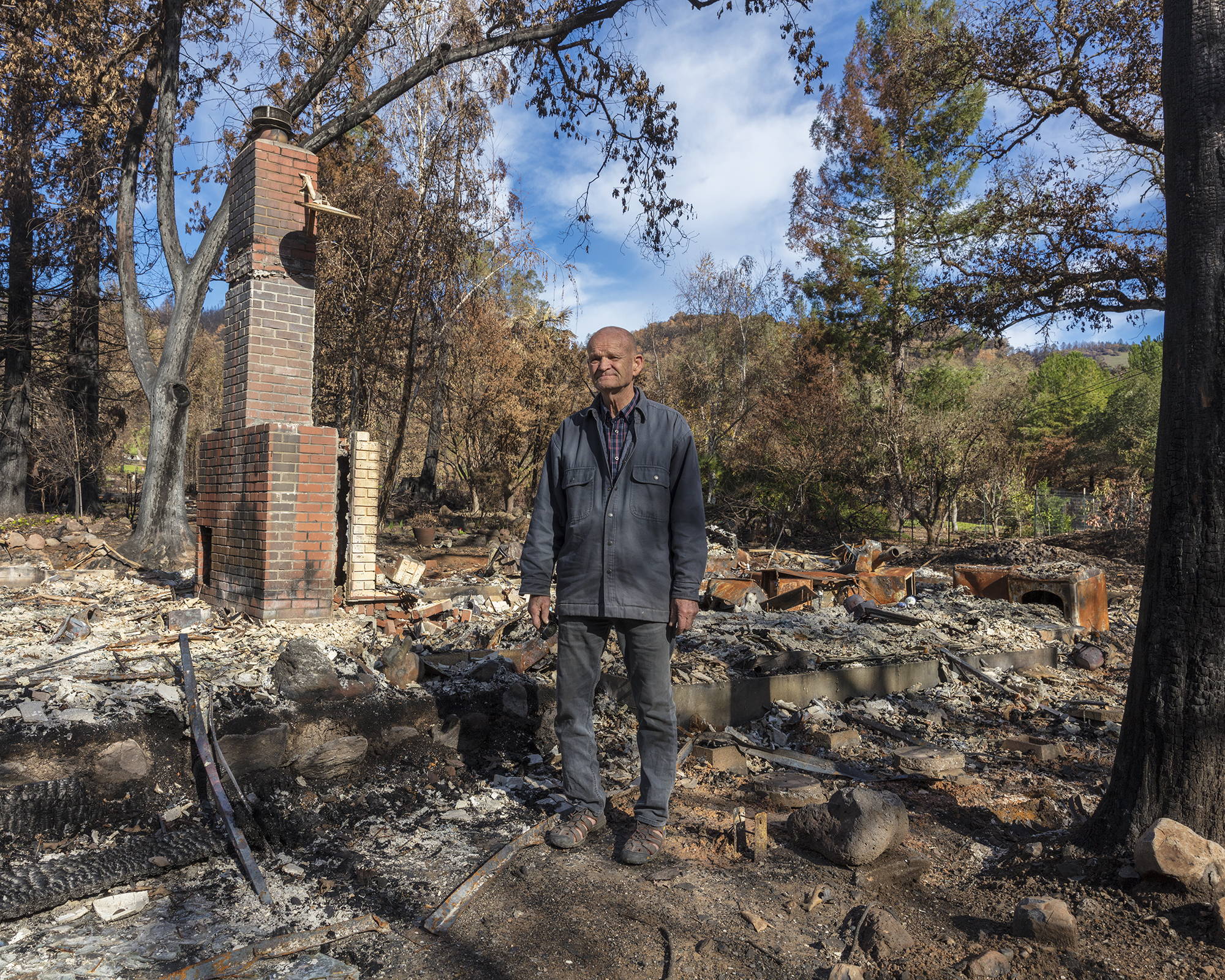 Although Clyde Lorentzen lost his home of 49 years in the Sonoma wildfires, he continues to drive his route, delivering critical nourishment for homebound seniors.
Each Thursday morning, Clyde cheerfully makes his way through the halls of an apartment building where many of his clients live. They trust him so faithfully that he's allowed to enter when they aren't home and leave his deliveries in their refrigerators. The heartfelt thanks he receives each week is enough to keep him going.
"Everywhere you go, you hear how much people appreciate Meals on Wheels," said Clyde. "Imagine some of the people that can't get out of their homes... how would they survive without it? What we're doing here — it's a good thing. It's an important thing."
Clyde takes a moment to chat with one of his many Meals on Wheels clients.
The work of Meals on Wheels is an inspiration to our entire team. This passion for serving our community reminds us that we are nothing without the support of one another. That's why we are supporting Meals on Wheels' emergency relief program in Sonoma County, helping the Sonoma Council on Aging deliver more than 9,000 meals to seniors still reeling from this tragedy.
Our funding will also be used to hire a new case manager to help those struggling with displacement and anxiety. As a family-owned business rooted in Northern California, nothing is more important to us than the community that has supported us for more than 150 years. We are so grateful to come across such remarkable people like Cheryl and Clyde who so obviously feel the same way. Their work proves that the love in this community will burn longest of all.
For more information on how you can help, click here.