Nomos Glashutte is NOW in San Francisco
Shortly after the fall of the Berlin wall in 1990, serial entrepreneur and businessman Roland Schwertner founded a small watchmaking company in the hills of Saxony, Germany. Having previously worked in photography and IT, Shwertner became intent on a watch brand, acquiring the rights to several defunct German manufacturers. He named his company NOMOS Glashütte, incorporating the name of a small pocket watch company active in the early twentieth century.
Setting up shop in a rented flat with only three watchmakers, NOMOS began in the town of Glashütte. The watches made in Glashütte are world-famous, and the watchmakers who work their count among the leaders in fine watch craftsmanship. So how did the small company in the ancient town tucked away between the forest and hills of Saxony in the eastern Ore Mountains south of Berlin begin to produce globally recognized watches?
By enrolling German designer Susanne Günther, NOMOS produced their first four watches after two years of research and development. Designing and manufacturing clean, simple watches, NOMOS first sourced many of their parts from Switzerland. By hand finishing and adjusting the Swiss parts, the company could keep their prices reasonable and begin to build their notoriety as a German watch-making company.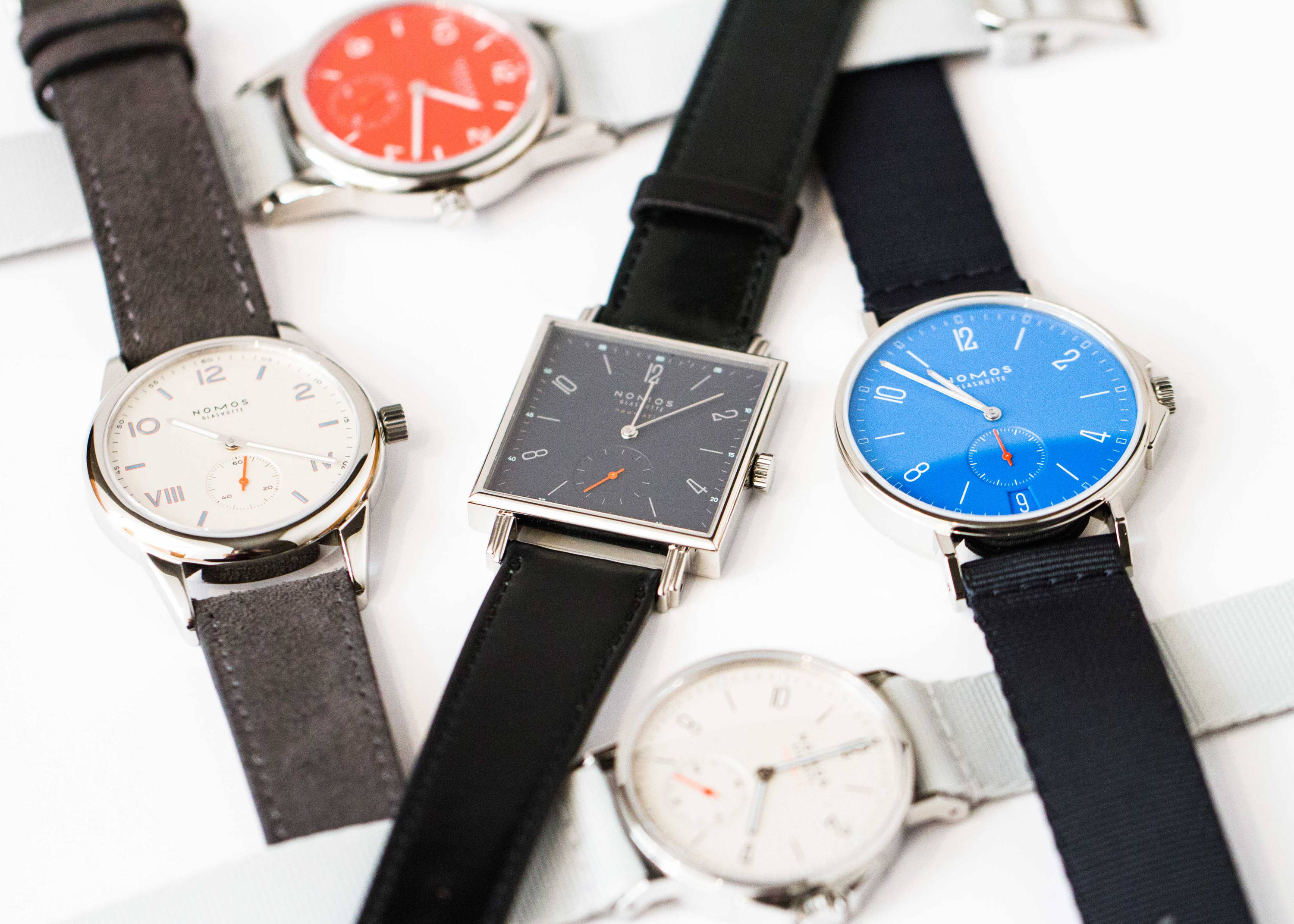 First producing the Tangente, with design elements strikingly similar to their Glashütte neighbor A. Lange & Söhne, the two major tenets of NOMOS design were clear. Reduction and functionality. While it is assumed that the NOMOS aesthetic is entirely Bauhaus influenced, nearly all German design can be traced to the 1920s design school, the process of designing NOMOS watches is a collaboration between the urban Berlin team and the watchmakers in Glashütte. Maintaining their stated goal of producing (mostly) in-house, affordable, well-designed wristwatches, the two elements of the company work together to produce watches that are both entirely modern and uninfluenced by fashion trends.
NOMOS Glashütte relies on their team of designers in Berlin to tune in to the modern aesthetic while remaining purposefully simple in their designs. This divided approach, young designers in the cultural hub of Berlin and manufacturing by traditionally trained watchmakers in Glashütte, allows NOMOS to create watches which appeal to the eye of the consumer and last for generations to come. The 240 employees have earned over 130 awards for watchmaking performance and design.
By refusing quartz and focusing on good old-fashioned movements, NOMOS has been able to design and implement many of their own innovations, including the production of their own escapement, a feat General Manager Uwe Ahrendt described as feeling "a little like landing on the moon". How then, does NOMOS continue to offer well-made mechanical movement watches which primarily fall under $3000?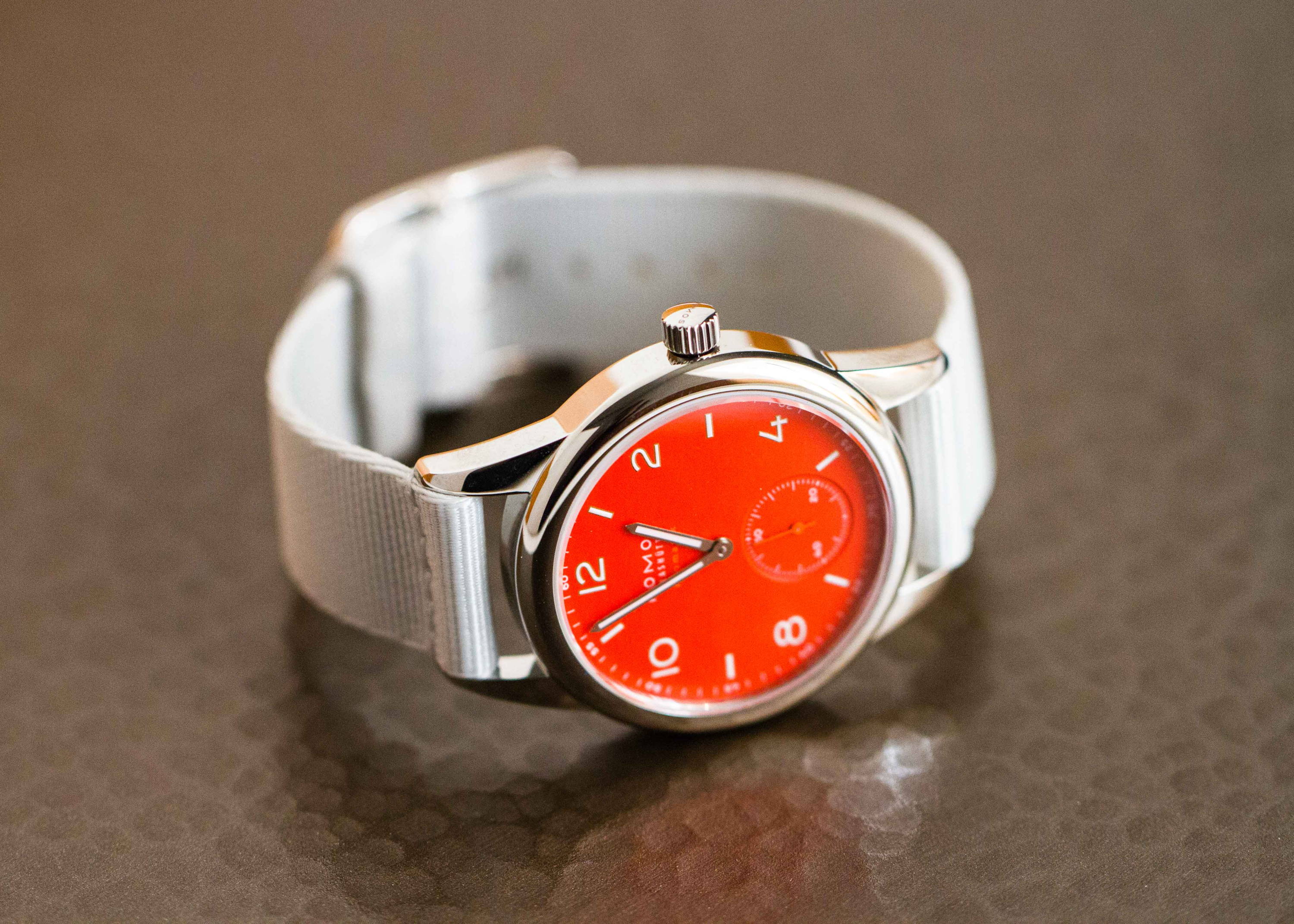 Efficiency. While many high-end luxury watch manufacturers produce and finish all of the pieces of a movement by hand, NOMOS has struck a balance between mechanical production and hand-finishing. Maintaining the integrity of the product and keeping total manufacturing costs in line with their preferred price point, NOMOS blends high tech production and traditional craftsmanship to produce individual pieces with the highest precision.
Maintaining production in the city of Glashütte, only those companies who create at least 50% of the value of a watch's caliber in Glashütte may benefit from the reputation of this German watchmaking "center of excellence" and stamp their products as "DUW". NOMOS calibers are engraved with the title "NOMOS Glashütte Deutsche Uhrenwerke" (DUW for short), a mark well earned by the standard of producing nearly 95 percent of the value of the movement in-house.
A close relationship with the SAB (the central development agency of the Free State of Saxony), NOMOS receives allocated funds to improve the local economy. NOMOS puts a percentage of shares forward and the SAB grants the remainder of the funds for research and development. This has allowed for substantial breakthroughs in growth and development for NOMOS while enabling the brand to maintain their pricing.
Cosmopolitan in function and design, with production handled by watchmakers of fifth generation families, NOMOS is the perfect blend of historical technique and modern elegance. And now, you can find NOMOS in San Francisco, at Shreve & Co.