Wear a Piece of Royalty: The Leaves Collection from Ole Lynggaard Copenhagen
For the first time, you can feel like royalty with a tiara made for royalty. The story of the Leaves Collection from OLE LYNGGAARD COPENHAGEN is just as fascinating as the tiara itself. Like something out of a storybook, the stars seemed to line up perfectly.
Charlotte Lynggaard, Creative Director and daughter of founder Ole Lynggaard, crafted a magical tiara for an exhibit at Amalienborg Royal Palace Museum. Like so many other pieces, the Midnight Tiara was hand crafted by the goldsmiths in the OLE LYNGGAARD COPENHAGEN studio.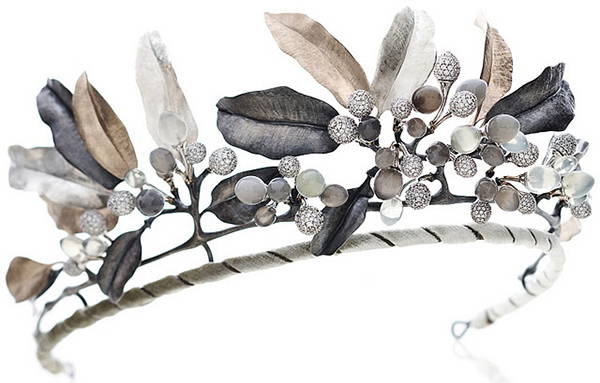 This event just happened to coincide with the marriage of Crown Princess Mary of Denmark. She was looking for a tiara that was less formal, and had a more modern design. As the jeweler to the Royal Danish Court, Princess Mary was shown, and immediately fell in love with, The Midnight Tiara. She now has exclusive rights to borrow it.
From the excitement around The Midnight Tiara, The Leaves Collection was born. The collection features several stunning rings, and an ensemble of leaf pendants in a variety of shapes, sizes and colors of gold. The leaves are beautifully hand engraved. Look closely and you'll see intricate hand-satin designs in gold, white gold and rose gold. A technique that requires the time honored talents and a passion for craftsmanship.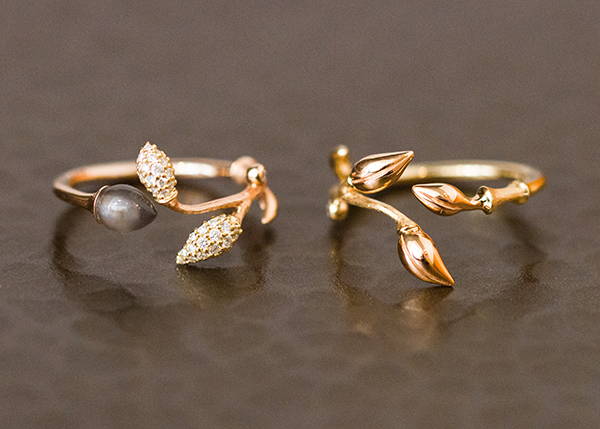 OLE LYNGGAARD COPENHAGEN Diamond Pave Leaf Ring and Rose Gold Leaf Ring
What began as an experiment of creativity, using non-traditional materials, 1,300 small brilliant cut diamonds and polished moonstones, that peek and sparkle through leaves and branches in a royal tiara, is now a robust collection available to you.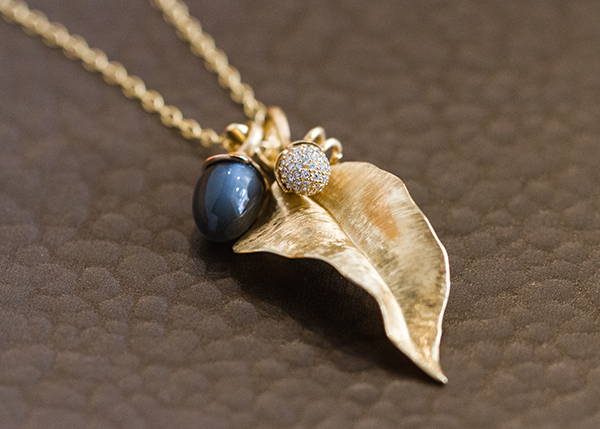 OLE LYNGGAARD COPENHAGEN Leaf and Acorn Pendant
Like so many other pieces crafted by Charlotte Lynggaard, the Leaves Collection has a look of its own. Perfect for fall weather, or anytime you want to look and feel like royalty. You can see these storybook-perfect pieces of art today at our San Francisco location.