When to Give an Anniversary Band: The New (Old) Rules
They used to make little cards to keep in your wallet so you knew what present to give on different anniversaries. And by "they," we mean the people who want you to buy the things on that little card. The whole tradition of giving paper, crystal, silver, and gold weaves its way back to the Roman Empire. If you're not in the Roman Empire, there's a whole other set of rules and customs.
Here's the new rule: Give her the something that makes you both happy. Something meaningful always beats something Julius Caesar invented a couple thousand years ago.
On the first anniversary, couples often add a band that sits in front of the wedding ring. It creates a nice, symbolic progression from the engagement ring, to the wedding ring, to the anniversary band. This is a rich tradition that has been followed for many years. But, if you know a thing or two about being spontaneous, a little twist in tradition makes for a great surprise.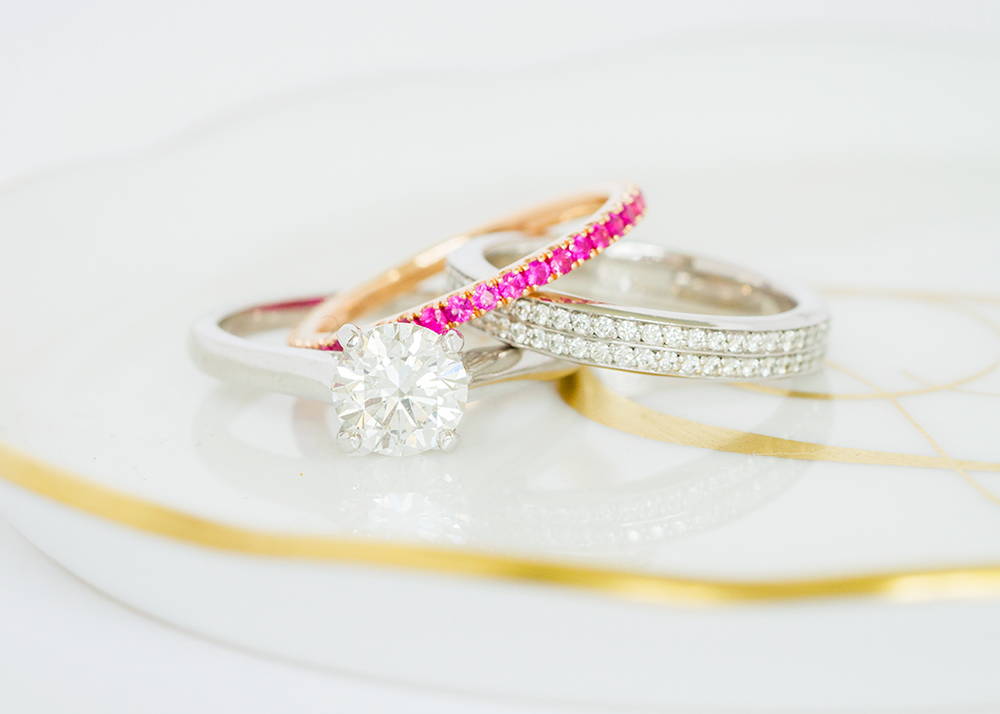 Fire and Ice Solitaire Engagement Ring, Kwiat Pink Sapphire and Diamond Bands
Pick an "off" year for this add-on, and it's no longer a predictable present. This is where Shreve shines. You tell us a couple little things and we'll find you something marvelous.
If she has a wedding band with precious gems, we can show you an anniversary ring in a similar style, with different gems. Simple bands can be offset by a more ornate one. Compliment a wedding ring with a something on your right hand. Add a stone for each year married. Include the children's birthstones.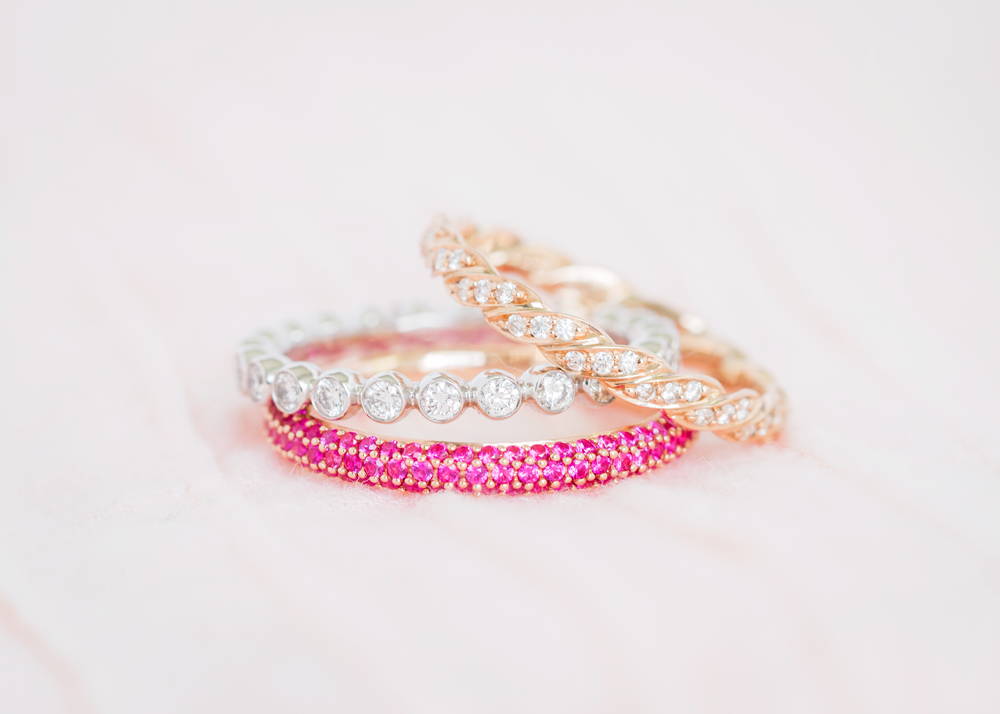 Harry Kotlar Diamond Band, Kwiat Pink Sapphire and Diamond Bands
Don't be afraid to have a conversation with your wife and make the anniversary ring symbolic of the years you two have worked together in love. When the question is: "What's the gift for this anniversary?" …the right answer now is: "Anything you want."
Whether it's 11 years or 51 years, you two share something that is only true of you two. You know things about each other that nobody else knows. You chose this path together, and it's a route that doesn't exist on any map. So why would you adhere to a gift giving guideline somebody made up?
Fire and Ice Three-Stone Engagement Ring, Kwiat Blue Sapphire and Diamond Bands
Go in a direction that is customized to your story and style. Trade in, add on, or twist it up anyway you like. We're here to help you make amazing things happen when you give an anniversary gift.
Old rules, new rules, or no rules at all. Shreve and Co. will make your anniversary celebration as unique as your love. Get the conversation started here.
Or join us for our wedding band event in San Francisco from April 21st – 23rd where we will have expanded collections from Furrer Jacot, Harry Kotlar, JB Star and Suna Bros and others at 20% off.*
*Brand exclusions may apply. Discount only available for this two-day event only.