The king is dead, long live the king! So maybe it isn't quite that serious, but for many years blue has been the king of luxury watch dials. Black, pearl, gold, and silver all had their moment with specific brands or style, but there is no argument, the king of color has always been blue. However, as Simon & Garfunkel predicted, "the times are a-changin". As seen at Baselworld 2019 when Patek and Rolex both unveiled new pieces, Green, in all shades and tones, is ascendant in the luxury watch world. Is green the new blue? Is the king truly dead, do we all hail the new king? Let's find out.
Green is an emerging trend in the world of design, fashion, and paint. Pantone, the provider of the universal language for color and matching services around the globe, announced their top 12 colors for Spring/Summer 2020. Biscay Green and Chive both made the list. Biscay Green is a cool, refreshing aqua green reminiscent of calming tropical waters. Nothing says dive watch like tropical water. Chive is a savory herbal green that imparts a healthy and restorative harmony according to Pantone. This green would be ideal for a luxury dress watch offset by clean lines and rich gold accents. Pantone regularly updates their predictions for the colors we can expect to see in fashion and design for the year ahead, so it is worth to note that green makes up 1/6 of the choices for this 2020 list.
When we think of color couriers, paint companies immediately top the list. They are in the business of making color and designing spaces. Seeing both Behr paint and Sherwin Williams listing green as a major color trend for 2020 is a clear sign of the rise of green. Behr released their 202 color trends, which include 15 hues and 3 themes of green. In their "Restore" theme, Behr has paired five different blue and green tones to "speak to the senses by celebrating sky and earth, offering tranquil setting for a soothing experience". While it is no surprise to see blue paired with calming and tranquility themes, the inclusion of green tones represents a shift towards a new palette. Sherwin Williams has further pushed green into the spotlight with 45 hues in 5 different palettes, all "colors meant to bring joy, serenity, and focus to the mind, body, and spirit". This forecast of 2020 colors includes, blues, terracottas, neutrals, pinks, and deep greens. The rise of green does not mean that us on the decline, or does it?
Blue has been a staple for several years. In fact, Pantone named Classic Blue as the color of the year for 2020, but is blue played out? Once the standout tone to offset a world of black, grey, beige, blue is now seen as a classical/traditional style after years of being the "go-to" element for color for special edition and permanent collections. Blue acts as a neutral in the watch world. Dark blue or navy tones have become a staple in collections with white, black, and greys. Blue no longer signals "fresh" or "individual" in the luxury watch world. We expect to see tones of blue in all major collections. Perhaps this is the key to understanding the rise of green. In the luxury timepiece world, individualism and style are paramount. Consumers want to know that their timepiece is representative of their unique perspective on style. Green helps to stand out in the crowd.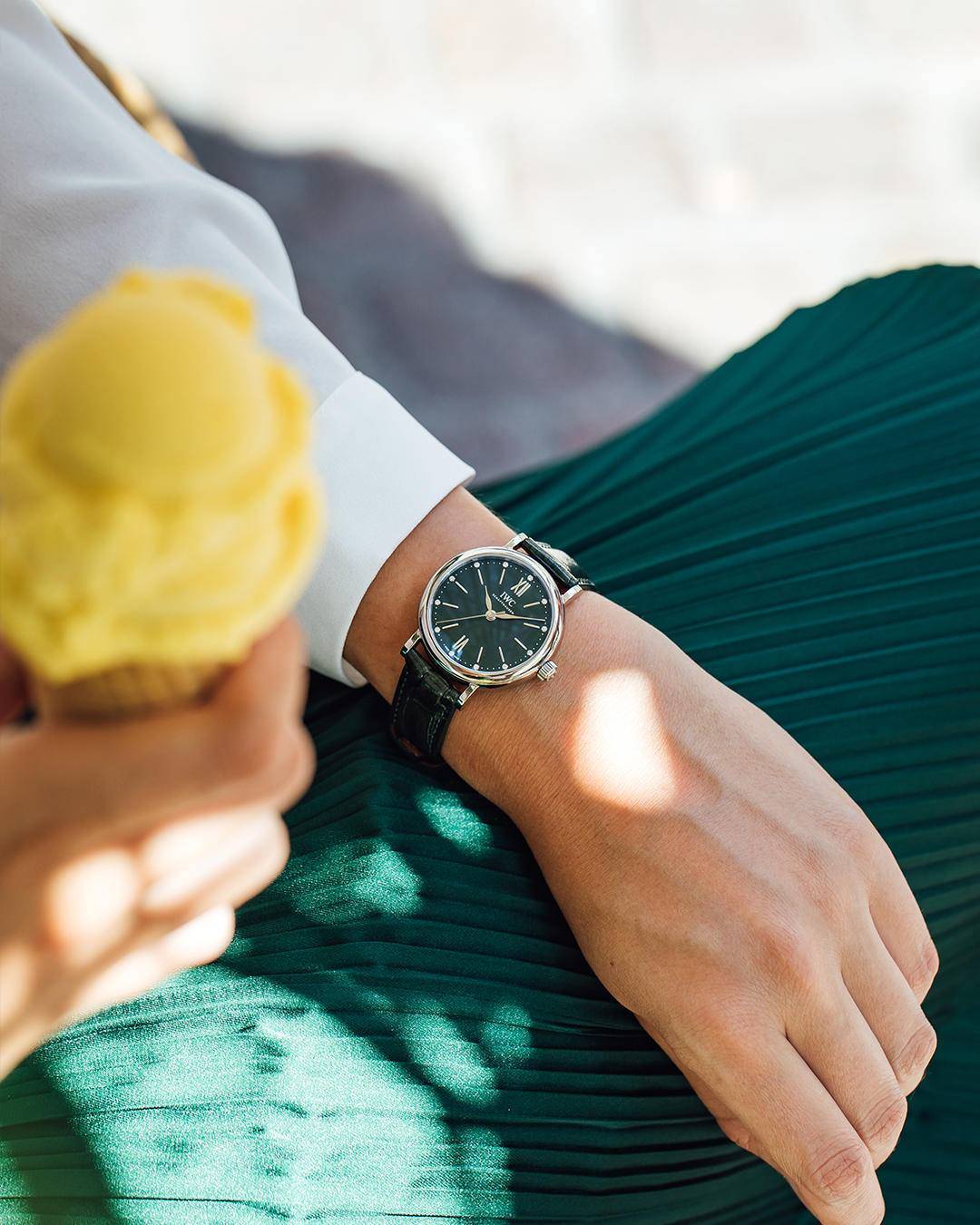 While blue has transitioned into the mainstream of design and become part of the basic color palette for watchmakers, green has become the new go-to color for many reasons. Green represents nature, health, optimism, growth, wealth, luck, and many more sentiments that can coincide with a a new timepiece family or collection. Green is a wonderful complement to many types of metals and materials used in watchmaking. Bronze, gold, platinum, and stainless steel all help green to "pop" more, making the color accents more noticeable. Leather and rubber bands for the watch strap come in a variety of colors, which play nicely with a green watch face. Green contains as much variety in tone as blue, with forest, military, emerald, British racing, and light green as options for accents or watch faces in a plethora more shades and tones. The use of green works for every season. With obvious use at the holidays, green also provides a shade for spring, summer, or fall.
While blue is by no means "out", it has entered a new place, as part of the establishment. Green, with an introduction by luxury watchmakers, has become the new color for accents and style as we move into 2020. Expect to see this new color in runway fashions, style guides, and luxury watch collections throughout the year. The king may not be dead, but we can absolutely hail the new king!