Why the IWC Portofino Should Be the First Watch In Your Luxury Collection
So, you're ready to purchase your first luxury timepiece and you have no idea where to begin? The world of watches is a labyrinth of brands, complications, and general confusion for new buyers. With as many models within each brand as there are hours in the day, you might feel you need an expert to even start the conversation.
Luckily for you, my family has spent the better part of two centuries studying for the part. Today, I am going to tell you about a personal favorite, the IWCPortofino Automatic timepiece. Packaged with history, simplicity of appearance, and style, the Portofino is a superb choice for the first watch in your luxury collection.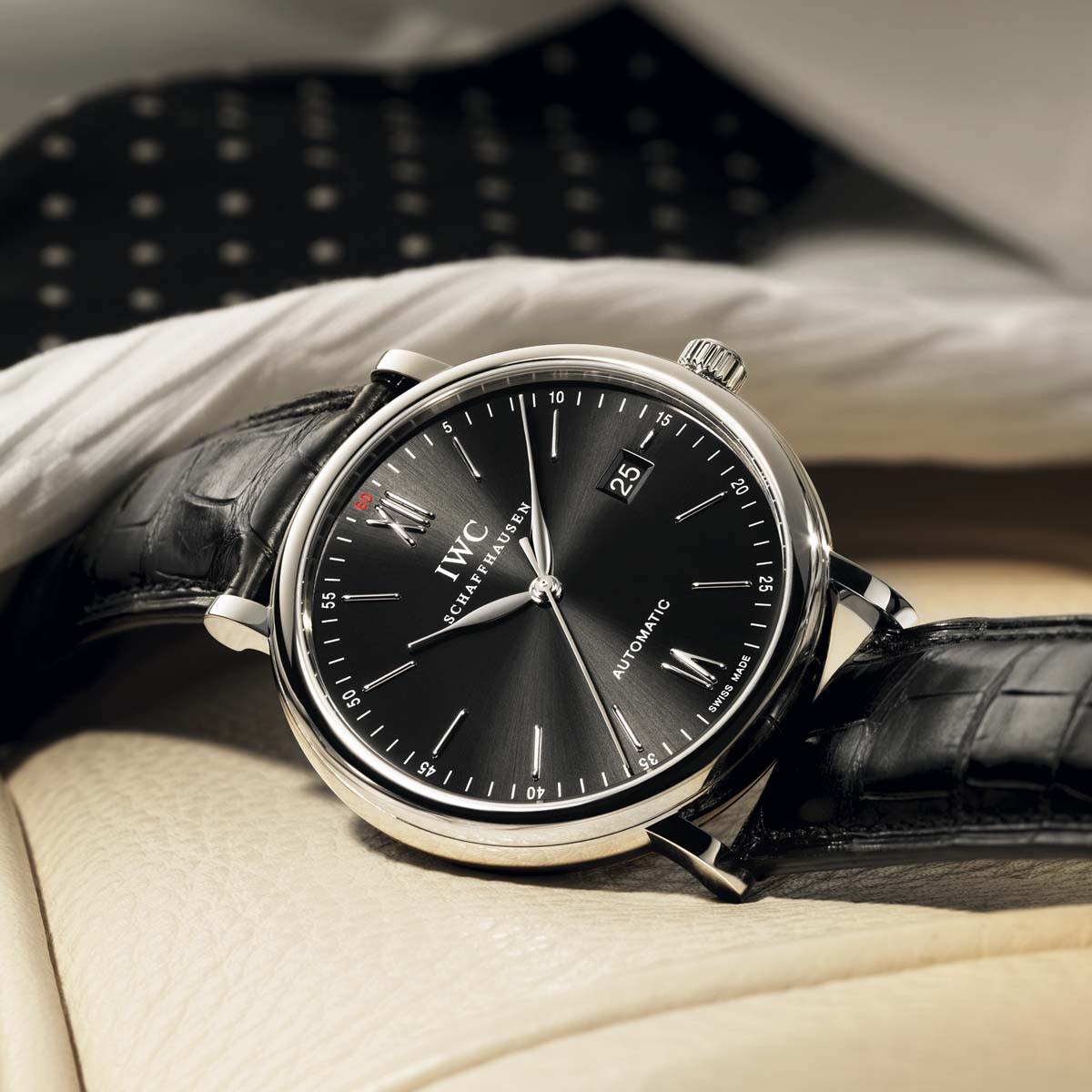 (If you're interested to learn more about first-time buying, check out my post on the 5 MYTHS YOU SHOULD KNOW ABOUT BEFORE BUYING YOUR FIRST LUXURY WATCH)
So, what makes IWC, and more specifically the Portofino, the right choice for first-time buyers? Brand history, timeless appeal, and classic appearance – features that will serve you well for years to come.
The Blend of European Precision and American Ingenuity
Over 140 years ago, young Boston engineer and watchmaker Florentine Ariosto Jones resisted the trend of westward expansion (and ultimately western Swiss watch making) and headed east. With the desire to pair centralized manufacturing with European craftsmanship, Jones left E. Howard Watch and Clock Co., and headed to Switzerland, the cradle of watch making.
He was met with skepticism in the Geneva region, where watch making was perfected in small workshops and home studios. Jones' dream of manufacturing watches in an expanded location while maintaining the precision expected of Swiss timepieces soon found a home along the Rhine, in Schaffhausen.
Schaffhausen had a rich history of clockmaking prior to Jones' arrival, with records showing a clockmaker's guild dating back to the late 1500s. Pursuing his vision, Florentine Ariosto Jones and Swiss industrialist, Heinrich Moser, built a home for IWC in 1875 along the banks of the river on land previously used as an orchard for the All Saints monastery.
Not much has changed a century and a half later as IWC continues to pursue the pioneering spirit of their creators. Couple that with luxury construction and you get a manufacturer with an eye for unmistakably timeless wristwatches – the original vision of Jones and Moser.
Mediterranean Classical Elegance
Portofino, Italy. Audrey Hepburn. Laurence Olivier. They are the essence of class, elegance, and timelessness in our social conscience. This was the demand recognized by IWC in the late 1970s.
Portofino has been a vacation destination for the rich and famous for decades. A small Italian resort town with the laid back atmosphere desired by visitors from around the world, Portofino is luxurious relaxation wrapped around a natural cove in red terracotta tile. The city is simple, dignified in its luxury, and picturesque in beauty.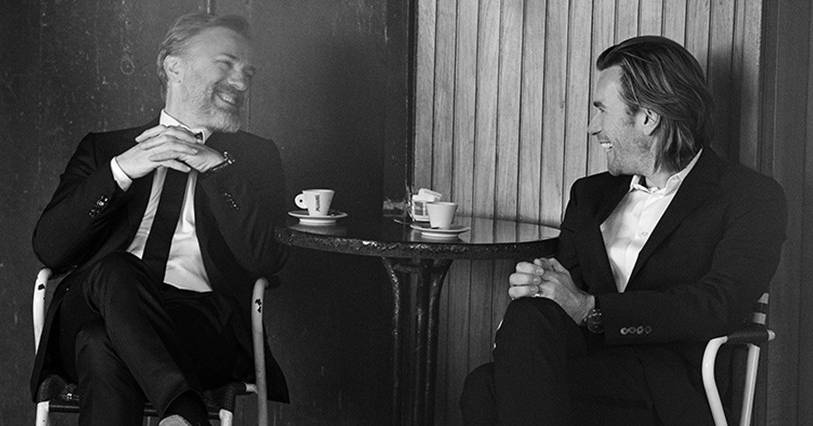 The same can be said for the IWC Portofino, drawing from its namesake an understated Mediterranean elegance and classic beauty that will remain constant for years to come.
Simple. Timeless. Pure. – The IWC Portofino Automatic
Simple, classic lines that reflect an elegant lifestyle without pretension have made the IWC Portofino timepiece a hallmark of understated good taste.
The hand-finished black alligator leather strap provided by Italian shoemaker Santoni may not be the first thing you notice on the watch, but it speaks directly to the craftsmanship and dedication to excellence you will find in all aspects of IWC watchmaking.
Classic elegance is exhibited by a black dial set in a 40mm round stainless steel case. A case height of 9.5mm means the Portofino Automatic will sit comfortably on your wrist during business meetings or evenings out on the town.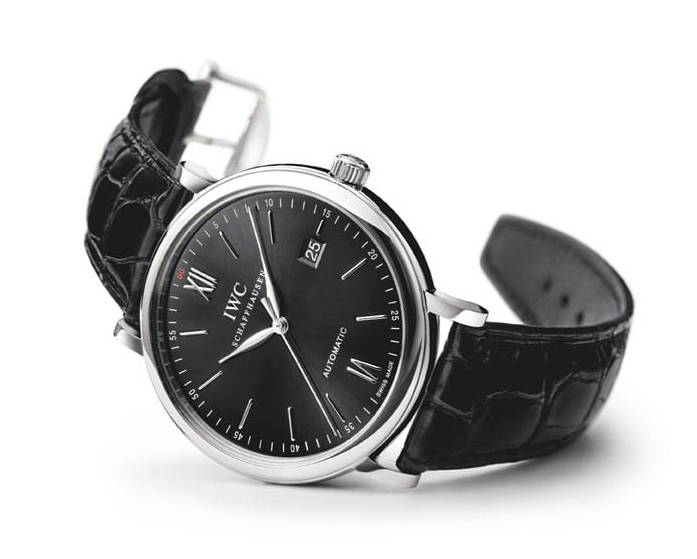 Beauty here is far more than skin deep, with the IWC calibre 35111 providing the movement, a staple of the Portofino collection. The mechanical movement contains a forty-two hour power reserve when fully wound and the date display window rests thoughtfully at 3 o'clock.
The Portofino Automatic is purity in form and function, and the perfect watch to start your timepiece collection. The investment of $4,500 punches well above its weight class for a timepiece that will begin your collection and remain a constant on your arm for decades to come. After all, the Portofino was designed to be understated and elegant for generations.
Now, you're ready to start collecting. Or maybe you have a few more questions?
Feel free to come into a Shreve & Co store and find the right luxury timepiece for your lifestyle. All of the staff can help you try on each one of our picks or anything else from IWC's collection but if you really want to hear about the brand, ask for Jeff in our San Francisco location or Tony in our Palo Alto location. You can also schedule an appointment here.