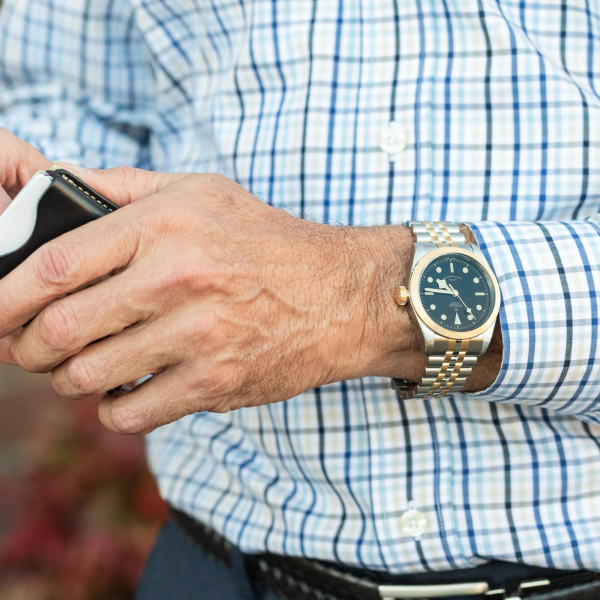 The newest luxury watches are designed in ways never before seen. They make a statement. They have impact. And they grab attention. But what if the newest, latest model doesn't match your style? What if your way of "making a statement" is completely different?
That's where the pre-owned market comes in.
The style and history of a vintage watch has its own kind of impact. But stepping into the used watch market adds a whole new set of variables. Who can you trust? What are the pitfalls? What questions should you ask?  
Let's see if we can help you along with our guide to buying pre-owned watches.
Is it "Vintage" or Just Old?
This is one of those questions that will come with multiple answers. Every seller and collector might give you a slightly different answer, but most agree that a watch that is more than 30 or 40 years old will fall into the category of "vintage." If it was made before 1980, you likely have a vintage watch on your hands. Many feel that if a watch is still in production or parts exist to return it back to like-new condition, it falls under the category of "pre-owned" or "used."
What Condition is the Watch In?
You should expect a watch from the last century is going to show some wear and tear. Many people gravitate to vintage watches because they show the character of a life well lived. When possible, it's good to know any repair history the watch has had. Ask what is original to the watch and what has been replaced. In recent years, the marketplace for "authentic-looking" replacement parts has grown and might require an expert to detect if something has been replaced. Reputable watch sellers should be able to answer these questions for you and should be able to detail any flaws the watch has. This is particularly important if you're purchasing the watch online. Be cautious of suspiciously low prices or deceiving descriptions such as "like new."
Who is Selling You the Watch?
The internet is overflowing with sources for pre-owned watches. They range from private sellers on sites like eBay and Hodinkee to our very own Pre-Owned Watch collection. This is where Google can be your best friend. Look around for others who have purchased from the seller. Ask for references and search online forums for any potential red flags. Unfortunately, sellers on the black market have gotten good at disguising themselves. Be sure you're comfortable with the seller before any money changes hands.
Papers & Boxes = Increased Value
Something that can increase the value of the watch has nothing to do with the watch at all: Original packaging and papers. If the watch still has its original box and paperwork, you can feel very confident you have an authentic piece. Don't let this part detour you, however. The older a watch is, the less likely the original packaging still exists. Some collectors put a huge value on this element, but don't let it be a deal breaker for you.
Older Watches = More Servicing
It goes without saying that the older a watch is, the more maintenance and service it will likely need. Keep this in mind as you're shopping and don't get caught off guard when it comes up.
What if I Get a Lemon?
Whenever possible, ask about the seller's return policy. Most above-board sellers have some sort of warranty or return policy. If the seller doesn't offer something like that, there's a good chance he's pulling a scam or selling a counterfeit.  
There is no shortage of places to find pre-owned and vintage watches. The trick is to find the one you can trust that will sell you a watch you'll love and get many years out of. Take your time and do your research before you fall in love with a watch and make a snap judgement. Our collection of pre-owned and vintage watches is everchanging and our in-store experts are always happy to answer any questions you have.