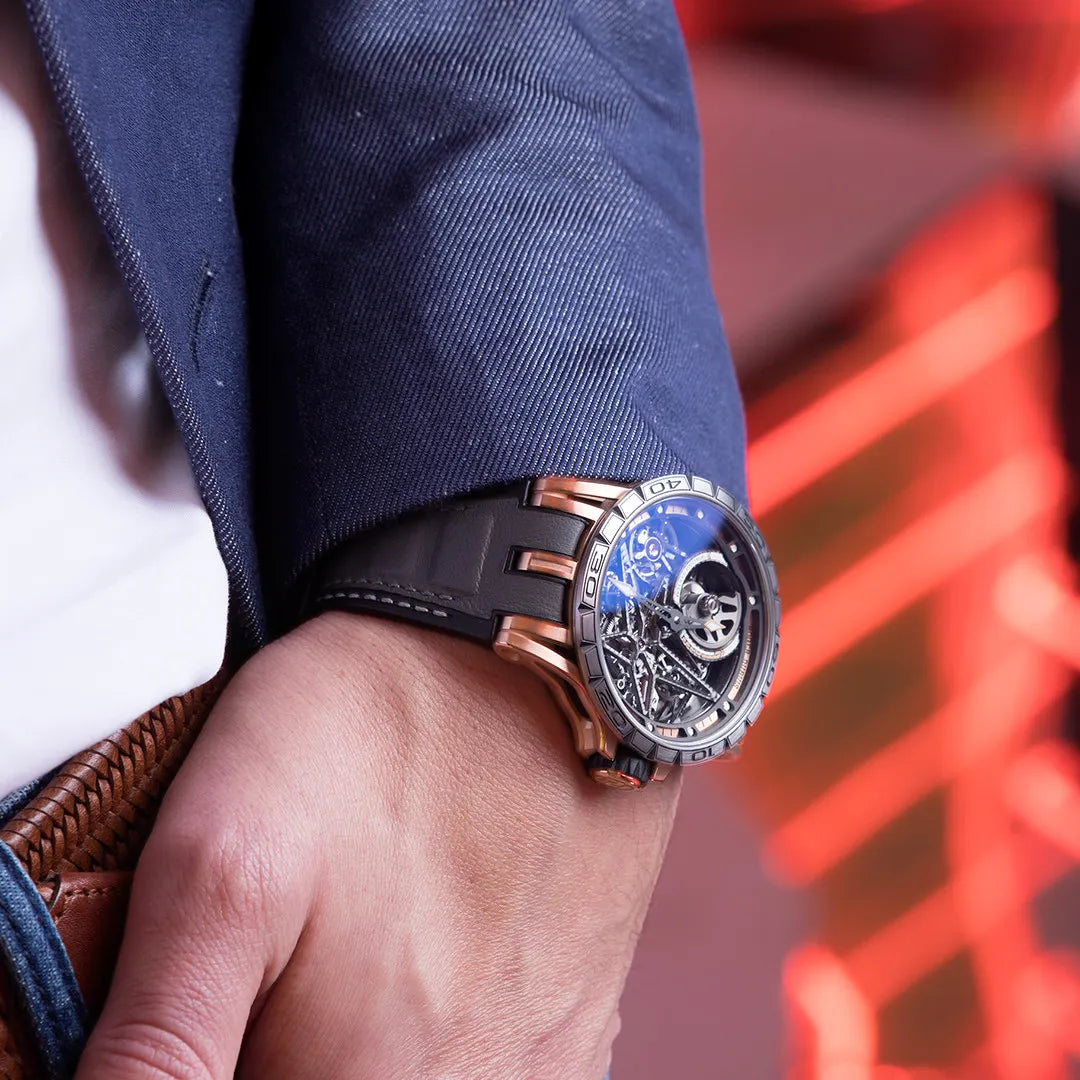 "We're like licorice," said Jerry Garcia of The Grateful Dead, "not everyone likes licorice, but the people who like licorice really like licorice." Trying to be things to all people often means you're nothing to nobody. With that laser focused mindset, comes watches from Roger Dubuis.
To create a watch, knowing only a select personality would wear it seems to be a folly. But, Roger Dubuis knows exactly who their customers are. Nothing about the wearer is common, therefore the watches must be equally unique. If it is your intention to blend into the wallpaper, this probably isn't your watch.
Although these watches dazzle the eye, there's something equally remarkable happening inside. Each watch carries the Geneva Seal. A hallmark found only on wristwatches that meet rigorous quality and finishing standards. As a timepiece, Roger Dubuis watches stand shoulder to shoulder with the best.
If the watch was a car, it would be a Lamborghini. If the watch was a performer, it would be Lady Gaga. Both dramatic and memorable in their fields, while being professional and precise. "From the outset," Roger Dubuis once said, "it was very important that our products have the distinctive aesthetic identity and also qualify for the Poinçon de Genève."
These are not bold just for the sake of being bold, or striking just to get attention. There's a certain architecture to these watches that follow a specific goal. To fit the Roger Dubuis brand, the watch must show distinction. It needs to let people know you appreciate fine aesthetics, while standing out in a crowd.
The Roger Dubuis collection of watches are a new addition to Shreve & Company's Timepiece Collection. They can be found in five collections that are as different from each other as they are to the rest of the watches in the world:
Excalibur – A forceful expression of style and watchmaking mastery and deliberately extravagant.
Monegasque – A contemporary interpretation of watchmaking codes rooted in tradition, La Monégasque places its bets firmly on audacity and excellence.
Pulsion – Timepieces that combine a dynamic touch and the strength, with the revealed complexity of contemporary fine watchmaking.
Hommage – This reinvigorated collection pays eloquent tribute to horology and to the most admirable exponents of both art and science.
Velvet – Fine watchmaking divas that draw all eyes to their exceptional charisma.
Wear one once, and no other watch will ever live up to your new Roger Dubuis watch. Interested in seeing the "tiniest Lamborghini" in person? Visit our San Francisco location and take a test drive.