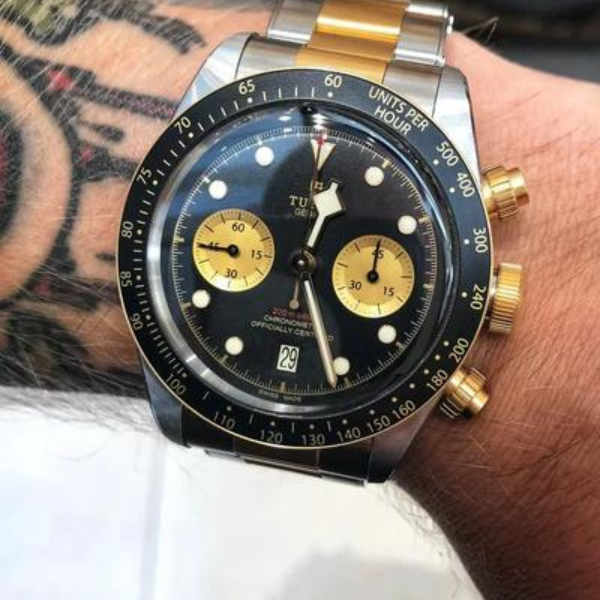 If you're slightly familiar with Tudor Watch, you know it's hardly a secret now that it is owned by Rolex. Established in 1946 by Rolex Founder, Hans Wilsdorf, Tudor Watch became a brand that was not common in the luxury watch world at the time with its purpose to provide the same quality as Rolex while at a more approachable price point. Proven to be a successful approach, Tudor grew into one of the most well-known watch brands in the world by the 1950's.  
A few of the brands first models included the Oyster and Oyster Prince. In 1954, Tudor released one of its most iconic models, the Oyster Prince Submariner, which shared many of Rolex's 6204 Submariner features but at a more market-friendly retail price. This launched Tudor into the military and sporting contexts of the world, in which the Tudor Submariner became the go-to watch for military organizations including the Jamaican Defense Force, Canadian Navy, and the United States Navy.
Tudor Watch was a major player in the luxury watch world and continued to develop and release new models for decades to come, including a few notable arrivals including the Tudor Oyster Prince Ranger in 1967, the Oyster Prince Date + Day in 1969, the manual Oysterdate Chronograph in 1970, the Oysterdate Automatic Chrono Time in 1976, and more. New models were released in the 1980's, 1990's, and 2000's, however in the late 1990's Tudor stopped selling in the American market.
In 2013, Tudor rebranded and announced its return to the U.S market. Their new and improved models were modernized, yet reflected designs of their archives staying true to the brands history. Tudor's current lineup includes the Black Bay, the Pelagos, the North Flag, and the Heritage. Each of these models have a story to tell while being exceptional timepieces. You can explore our full collection of Tudor Watches online or in-store.