BUSTED: The Top 5 Myths of Engagement Ring Buying
You already have a lot going on in your life when getting engaged. Just choosing the ring can throw you into stress and panic. Add on top of that they myths that circulate about engagement rings, and it's amazing anyone can figure it out. Let's clear the air about some of the big myths and make it easier for you.
MYTH 1: You Must Spend 3 Months of Your Salary
Nobody is sure where this one came from, but this myth has no basis in reality. In fact, no responsible jeweler would ever suggest you drain your bank account for an engagement ring. Certainly you are hoping to find the best, but in truth, there is no "right" or "wrong" amount to spend. Make a sensible decision on what you can actually afford and work with a jeweler who can help you find something genuinely special. Keep in mind, you will be spending the rest of your life with this person. You can always upgrade the ring when you are both ready!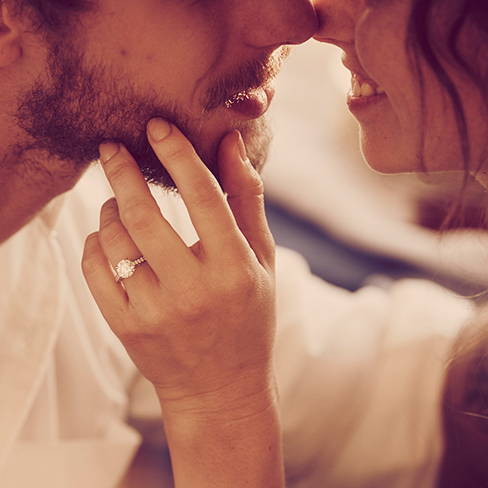 Photo credit: Hearts On Fire
MYTH 2: The Bigger the Better
When it comes to diamonds, size is not the most important factor. The magic in diamonds is in the cut. The cut is the delicate science of understanding how light reflects and flashes. When a diamond is cut at the right angles, it's like a series of tiny mirrors; one bouncing light to the other. Think of the beveled edges you see around the bulb in a flashlight. Each edge positioned to amplify tiny light into a powerful beam. The right cut from an experienced diamond jeweler will make a diamond seem larger than it is. See our article "Why You Can See Some Diamonds from 10 Tables Away" to learn more.
MYTH 3: Your Significant Other Shouldn't Be Involved in the Purchase
Old tradition says, the man shops for the ring and surprises his girlfriend. In the movies, the music swells and the camera spins around the new fiancés as they embrace. OK, that looks good in a Hollywood script, but today people are much more practical. In fact, there are big advantages to shopping together. You can better understand her favorite styles. You can have an honest conversation about budget, and how it might factor into the other wedding expenses. Here's a tip: Pick out the ring together. Surprise her with it at a time you choose.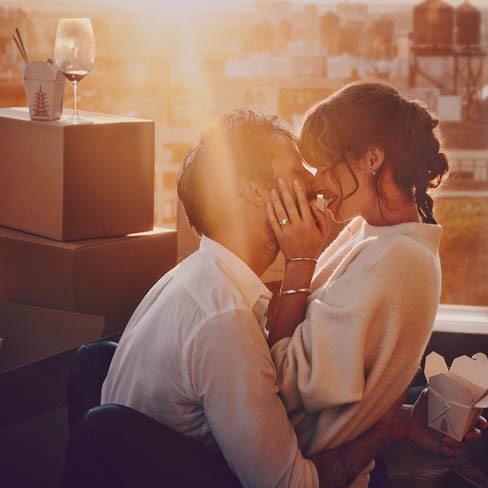 Photo credit: Hearts On Fire
MYTH 4: Yellow and Rose Gold Rings are Outdated
Here's the truth about yellow and rose gold: It's true that they have been the metal of choice for generations, but that doesn't make them outdated. Today, many are pairing a diamond with yellow or rose gold to make the diamond really stand out, and give the ring a classic appearance. Since it has been the choice for many decades, it's a style that is sure to be just as striking 50 years from now. The "throwback" look is very popular today with many choosing to combine vintage or estate jewelry with a new diamond.
MYTH 5: You Must Know Her Ring Size Before you Buy a Ring
As mentioned in MYTH 3, it's quite common for today's couples to shop for a ring together. In addition to letting her guide you to a style she loves, you can also talk about ring sizes. However, if you choose to do the "big unexpected proposal," Shreve & Co. can resize her ring a whole size up or down after your romantic surprise. One way to get it right is to quietly "borrow" one of her rings and our experts can find the size. Alternatively, have her come in and make a wish list for her birthday, Valentine's Day, or anniversary. We'll professionally size her finger and the ring you give her will fit the very first time.
We know you have a bunch of thoughts and fears spinning around your head but we believe that shopping for an engagement ring should be just as easy as it is romantic. Visit our Shreve & Co. stores in San Francisco and Palo Alto and sit down with an expert (and a beverage!) who will help you pick the perfect piece. You can also schedule a private appointment here.