The Ultimate Expression of Love: A Lesson from the Wellendorff Men
Chocolate or roses? Reservations or take out at home? If you're in need of a bit of inspiration, we've got a lesson from the world's most romantic family, the Wellendorffs, on their one-of-a-kind labors of love. We promise, if you love the season of hearts and arrows, these stories are sure to warm your heart.
The men of the Wellendorff family have a long, standing history of presenting their wives with jewelry they had custom made in their facilities in Germany. Their personal expressions of true love have made the Wellendorff brand known for value, design, and sensation. Through four generations of family ownership, their motto and company philosophy "wahre werte", which means "genuine values", has been the biggest source of design inspiration.
Wellendorff's most iconic pieces, the Wellendorff Rope and the Enamel Rings were all designed with a particular generation of women in mind starting with the company's third generation owners, Hanspeter and Eva.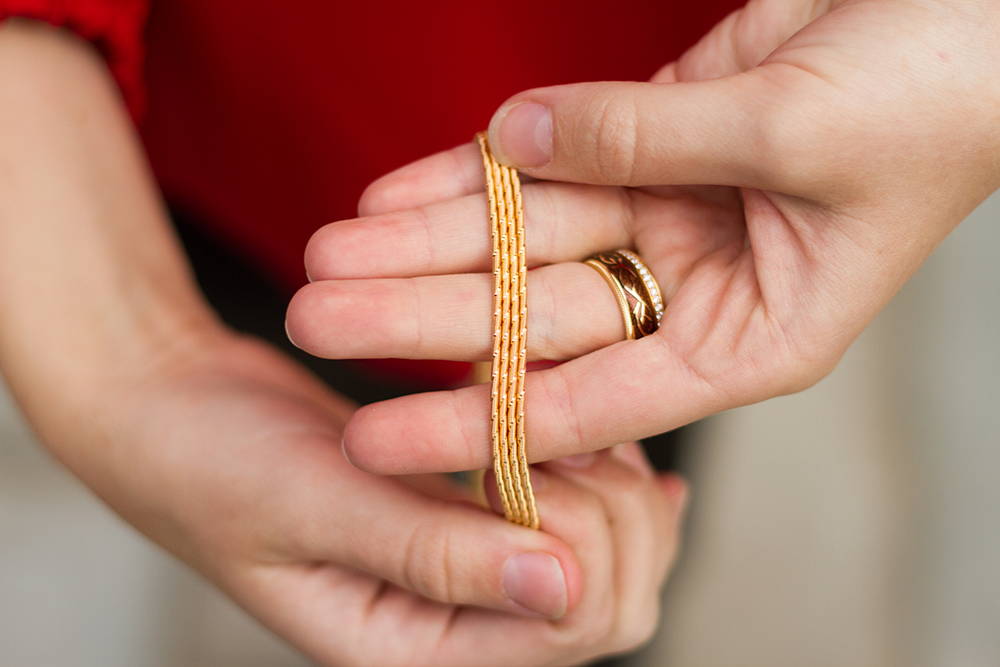 The Wellendorff Rope
The Wellendorff Rope was originally developed as a one-of-a-kind piece for Hanspeter's wife, Eva, in the 1970's. One of Eva's fondest childhood memories was of her grandmother's beautiful curtains that had been accented by silk gold ropes. These ropes fascinated her as the sensation of letting them slip through her fingers was one she couldn't forget.
In 1975, Eva tasked her husband with designing a necklace that felt just as smooth and silky as those ropes she once cherished. Even though the task seemed impossible, Hanspeter, experimented with his goldsmiths for over two years until he managed to create the first Wellendorff Rope in 1977. The necklace was one of the most innovative pieces of jewelry at the time and has since become a classic staple of the brand.
"Still today, each time I touch it when I put on the rope, it's like my skin is being caressed by the gold. It's always a magical moment! I guard this necklace like a treasure and still enjoy wearing it today," says Eva Wellendorff.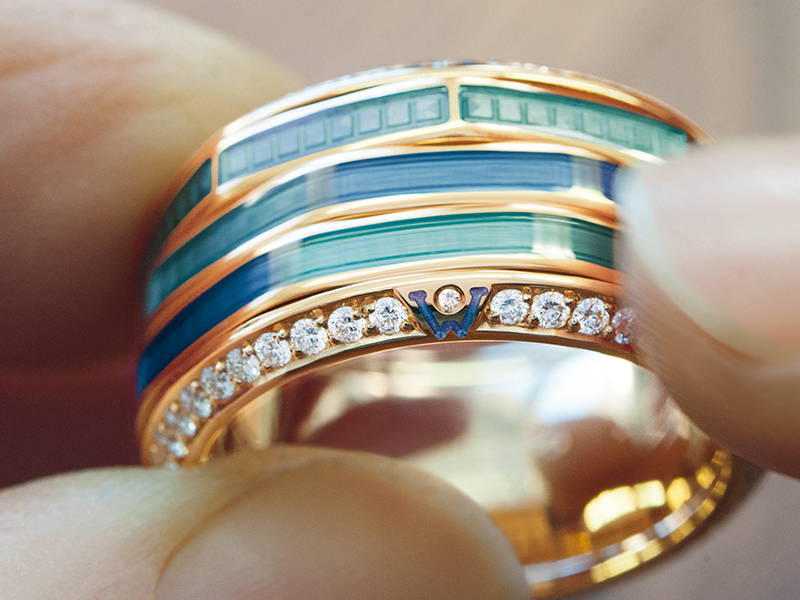 The Enamel (and Spinning) Rings
Not only are Wellendorffs' designs expressions of love, they often represent family milestones. When 4th generation owner, Christoph, and his wife, Iris, first got married he wanted to encapsulate their young love with color. "Iris was 24 years old at the time, and I wanted to present her with youthful yet sophisticated jewelry," he explains.
Although his father, Hanspeter, was reluctant to do so, Christoph urged him to experiment with colorful enamel, which eventually became a brand signature. Now, the Wellendorffs choose a motif for a limited collection of enamel rings every year.
But Christoph didn't stop there. Twenty years ago, when his wife was pregnant with their first child, Alexander, he wanted to present her with another piece of jewelry that would express his excitement about becoming a father. "All our jewelry has to have a personal connection to give meaning to what we do," Christoph says.
Inspired by an old German fairy tale, Christoph went to work designing and manufacturing a spinning ring, one that "after turning the ring three times would grant a wish to the wearer". The Wellendorff spinning rings are made of at least four individual rings that are closely connected, while remaining free to move. They also feature alternating layers of gemstones and Wellendorff's signature colorful enamel patterns.So, while you may not be able to design or manufacture your own signature piece of jewelry, you can use the Wellendorff family as inspiration for your own "labor of love."
Looking to Show Your Love this Valentine's Day?
There's still time! Feel free to come into a Shreve & Co store and get a how-to on crafting your own romantic gesture. All of our staff are ready and willing to help you select and personalize a gift for your significant other. We'll even help you tell the story. You can also schedule an appointment here.