Vintage Engagement Rings 101: Tips & Tricks for Selecting the Perfect Ring
An engagement ring is lifetime commitment, and not one to be taken lightly – not that we ever take diamonds lightly. Recently, we've noticed that more of our customers have chosen to celebrate their relationships with vintage, also known as estate, engagement rings over modern, new designs. Whether they choose one because they cherish the history that comes with it, because they are cost less or because the style just can't be recreated in modern settings, this trend is here to stay.
While quality, beauty and history are just a few of the reasons why estate rings are well-suited for engagements, many couples opt for this trend to mirror the uniqueness of their own relationship. A vintage engagement ring can symbolize the distinctness and sincerity of a couple's love for each other while also standing out from other contemporary rings. Each one is one-of-a-kind, crafted by jewelers who believed that fine jewelry should be luxurious and original.
We understand that buying an engagement ring can be overwhelming and that buying an estate engagement ring can be an even more intimidating – with more choices. There is nothing more rewarding than finding the perfect original ring for your significant other.
To help you avoid any hesitations you might have about selecting an estate engagement ring, we have created a list of the most important questions that you should ask before buying any vintage piece.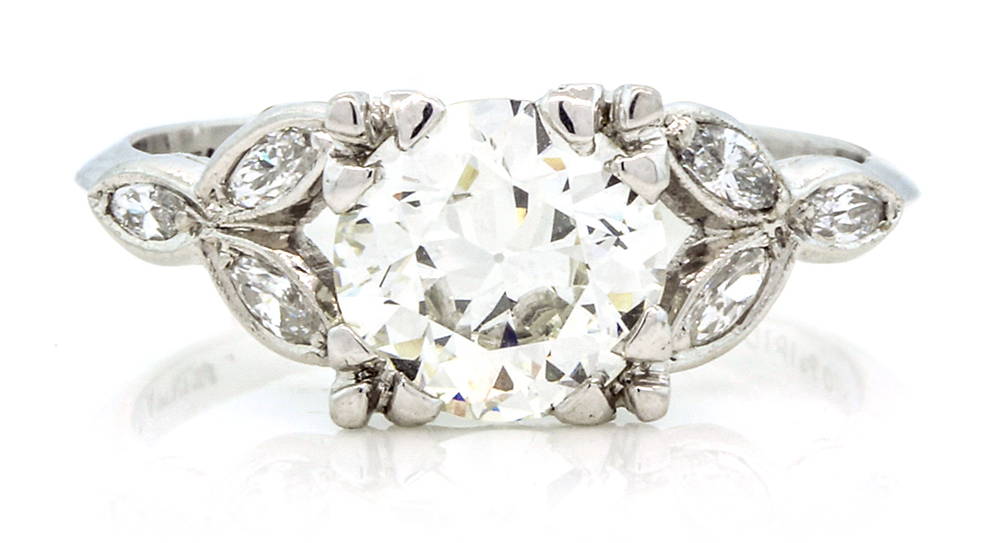 Question One: Is This Engagement Ring Vintage or Vintage Style?
Even though they make look similar, vintage – or estate – engagement rings are authentic and have been preserved from a previous design era whereas vintage style engagement rings are modern rings designed to replicate antique details. Either type of engagement ring would make an excellent choice for your significant other but if your heart is set on an antique, make sure to ask which category the piece comes from.
Question Two: What Time Period Is This Ring From?
After you have confirmed that piece is indeed an original estate ring, ask about it's history. Each jewelry design era has it's own distinct style and manufacturing techniques. If you are looking for a piece with feminine lace details, ask to see our Edwardian collection.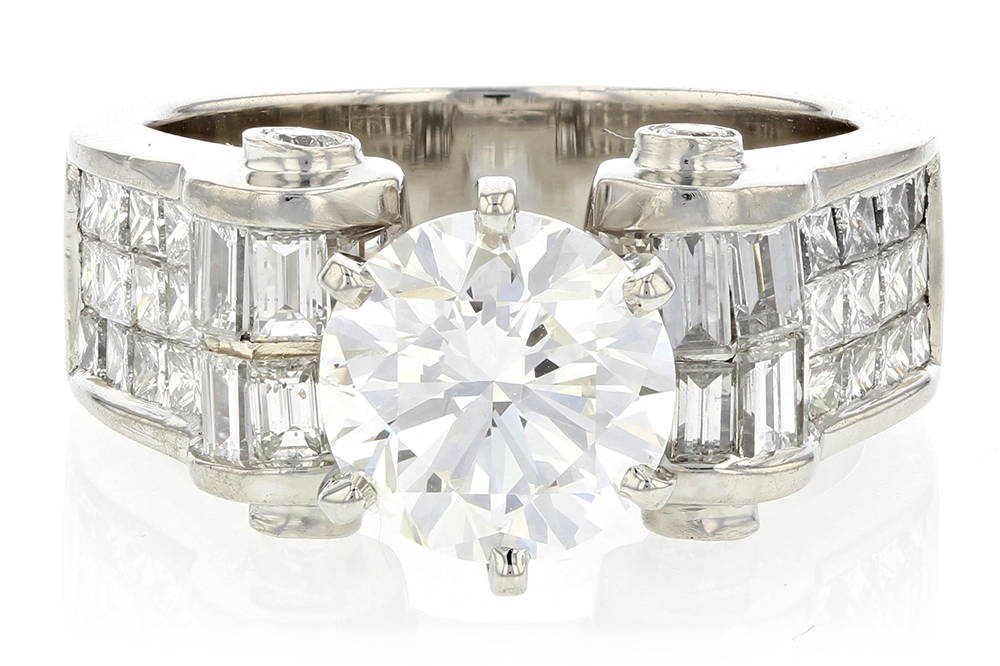 If you are looking for a design reminiscent of The Great Gatsby, ask to see our collection of Art Deco rings. You can also read more about the different design eras in our previous post – A Look at Estate Jewelry – Why More People Are Opting to Buy Second Hand.
Question Three: What Is the Size of the Stone and it's Quality?
Unlike, diamonds cut today, a large portion of the diamonds you see set in estate engagement rings are not evaluated for the 4C's. This is mainly because grading systems didn't exist during many of the previous design eras. To understand your piece a little better, we recommend you focus on the ring as a complete piece. Ask about the carat weight of the diamond, look at it under various lighting and next to other engagement rings to see what stands out best to you.
Question Four: How Was This Diamond Cut?
The cut of a diamond in a vintage engagement ring can tell you a lot about the piece's history. In fact, there are three common cuts found in estate rings – Mine Cut, European Cut and Ideal Cut.
A Mine Cut diamond is often described as a gemstone that was cut in the mind where it was discovered. These types of diamonds are also known as "candlelight" diamonds because they have a soft, romantic glow when highlight by light.
An Old European Cut diamond often has as small table, a heavy crown and a grand depth. Much like round brilliant diamonds cut today, Old European Cut diamonds face up brighter and have an eye catching sparkle when set.
Finally, the Ideal Cut diamond was developed in the 1920's to accommodate very specific proportions. They were designed to showcase the best balance of brilliance and light dispersion and are the closest to modern stones crafted today.
Question Five: Can This Ring Be Sized?
Before you purchase a vintage engagement ring, make sure to ask for the size of the ring and whether or not it can be sized up or down. In general, most engagement rings can be adjusted two sizes up or down but if your ring has lots of intricate details around the band or is relatively thin, it make not be able to be sized at all.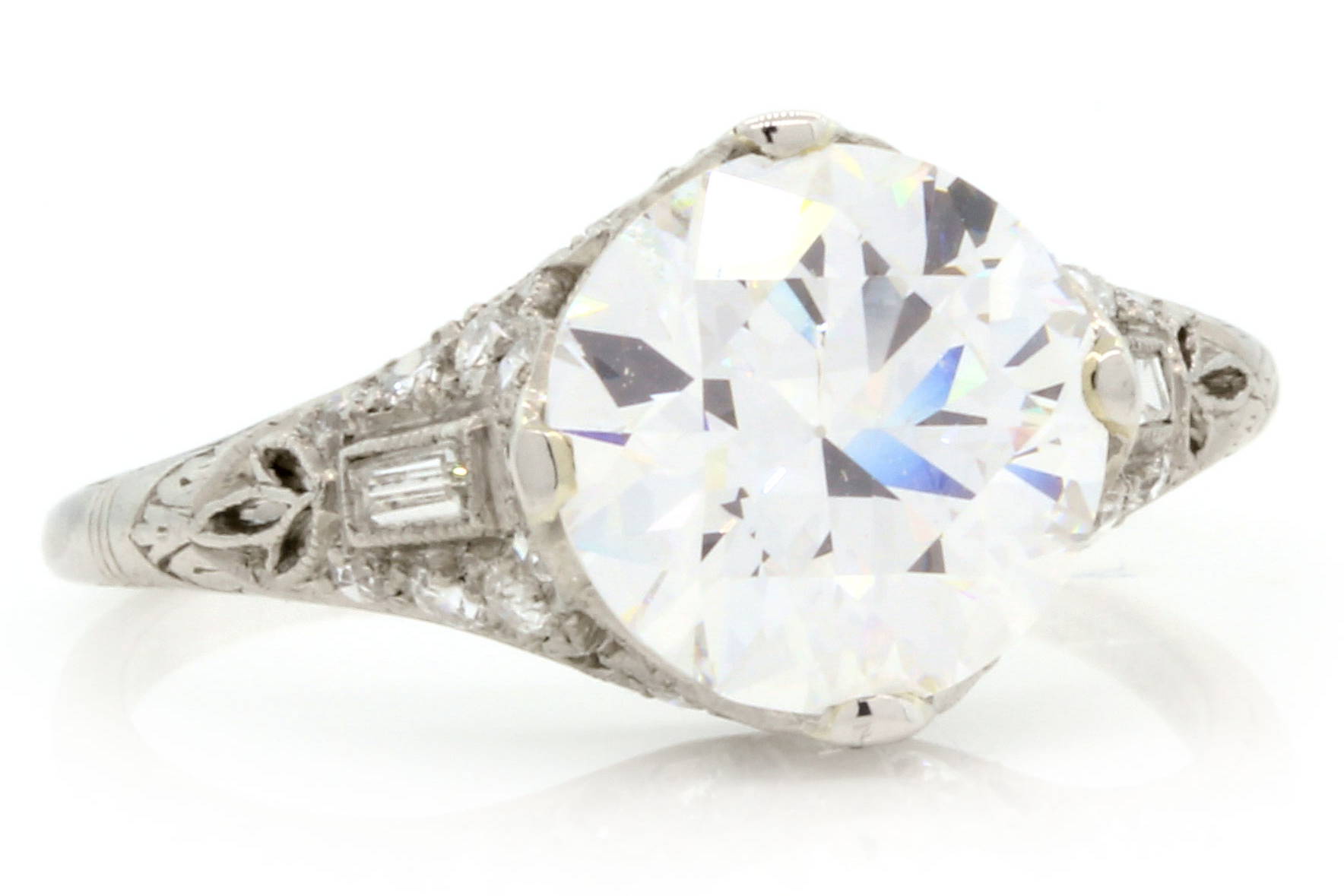 What if you don't known your significant other's ring size? We can also suggest some tips and tricks in store for finding the right size.
Take a Look at the Best Estate Collection in California
Each ring in our estate jewelry collection was originally hand-made and has been selected by our jewelry experts taking into account beauty, craftsmanship, gemstone quality, and originality. No two rings are the same.
Join us for our annual estate event at our NEW San Francisco location on March 2nd, 3rd and 4th. We'll have an expanded collection of pieces from all the major design eras and our Estate manager, Pete, will be on location to give you the history of each and every piece. If you can't make it to our event and would prefer a private showing, schedule an appointment here.